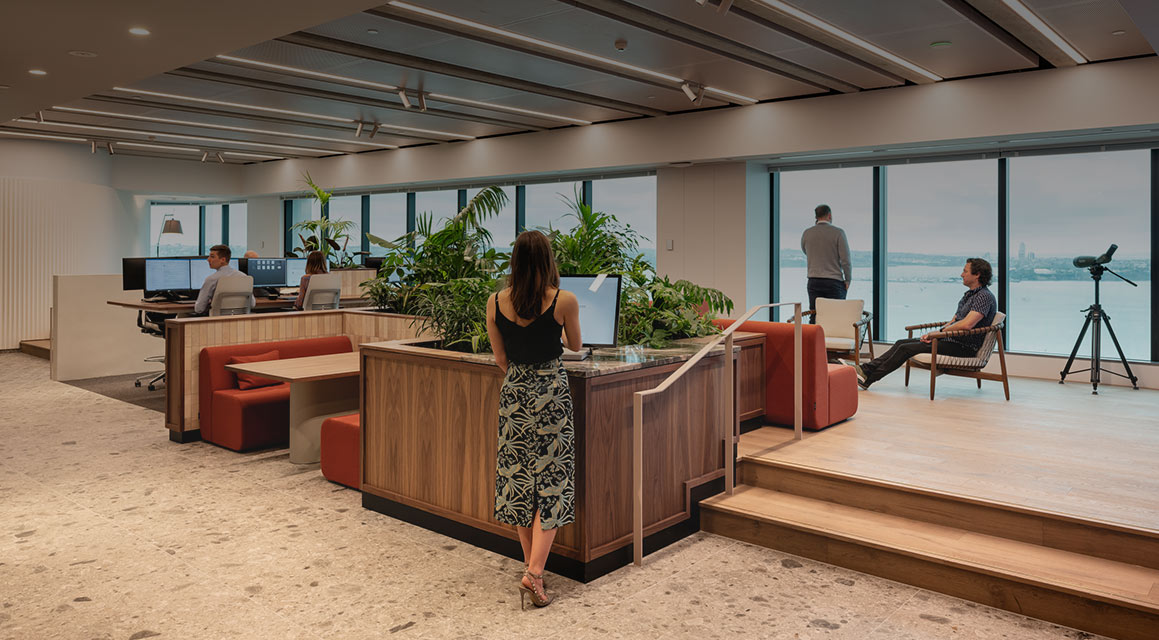 The ultimate guide to commercial interior design
What is commercial interior design?
Commercial interior design refers to the creation of workplaces: offices, laboratories, hotels, and shops.
Designers develop these spaces to be engaging and effective for employees and customers alike and to deliver business benefits such as greater innovation, faster problem-solving, a positive culture, and profitability.

Design isn't just about aesthetics, although that's part of it. A series of processes are involved, beginning with:


Discovering what's needed;
Creating a design aligned to these goals;
Then fitting out the resulting workplace.
At Unispace, we do all three phases in-house, with one unified process and one source of billing – so there's no need to work with multiple firms.
How does commercial interior design transform business outcomes?
There are a number of ways that commercial interior design positively impacts a business: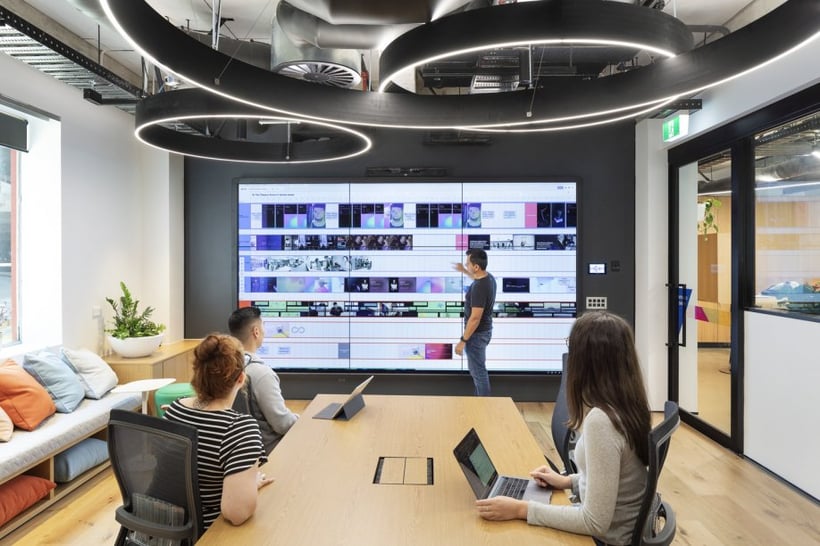 Business productivity
To be competitive, knowledge-led businesses need faster, better decision-making. And the right design for your workplace can play a big role here.

It's not as simple as creating an attractive workplace where people feel happy (although it helps). It can mean bringing teams out of silos, connecting networks, or shortening the gap between research and development and production. It depends on your goals: at Unispace we'll always tailor your workplace to you and your industry.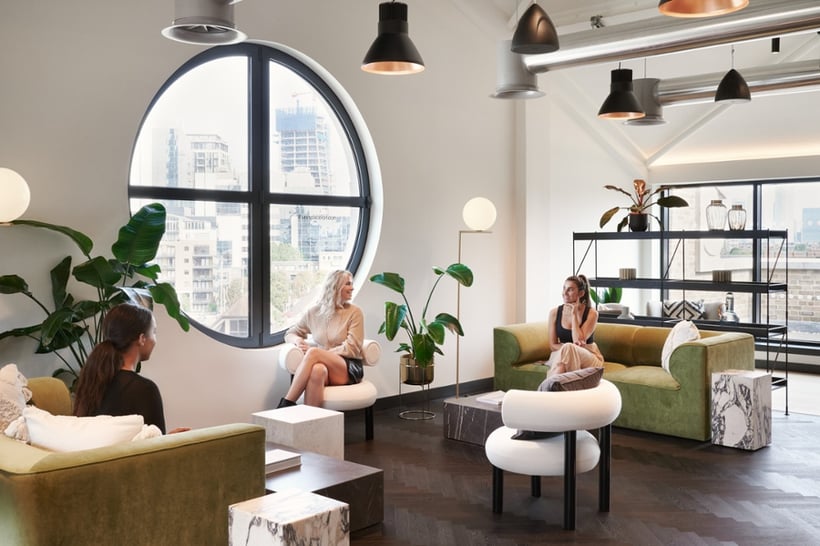 Company culture
Good design will enhance a company's culture, reinforcing belonging and community. Poor design can weaken or dismantle that culture.

Since the pandemic began, hundreds of executives around the world have told us that culture shock is one of their biggest worries; for example, what to do about the role of the HQ, the heart of corporate culture.

Businesses need to create value where home working cannot. So the future workplace will need to sustain and enhance culture reinforcing belonging and community.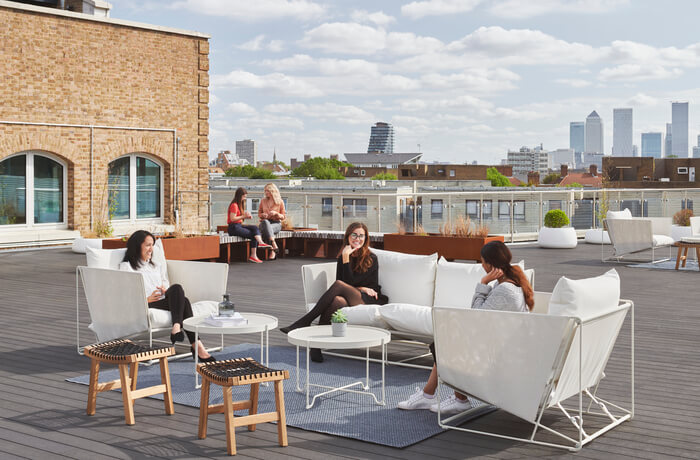 Employee wellbeing
Good office design will affect your employees' mental and physical wellbeing, which in turn impacts their performance and your company's productivity and reputation. So we design healthier, more human workplaces.

Getting your commercial interior design right can mean attractive amenities; comfort and ergonomics; the right spaces and technology for each person; and natural light and fresh air.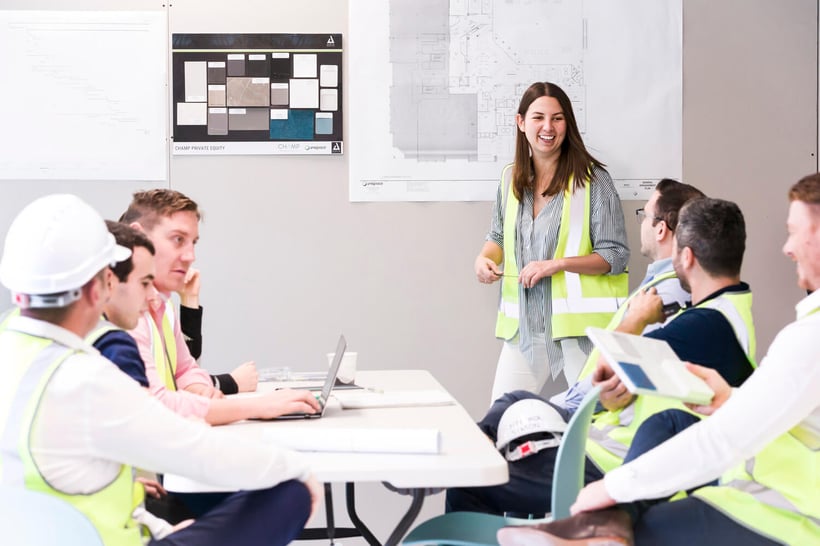 Collaboration and innovation
The exchange, development, and incubation of exciting new ideas are crucial to commercial success. As businesses move to hybrid-working in the post-Covid world, the role of the office will shift to reflect this more than ever.

The growth of remote working makes this more challenging. Commercial interior design is all about how people work, not just aesthetics. The right environment and technology can create the spaces, times, and moods that enable people to produce their most exciting work.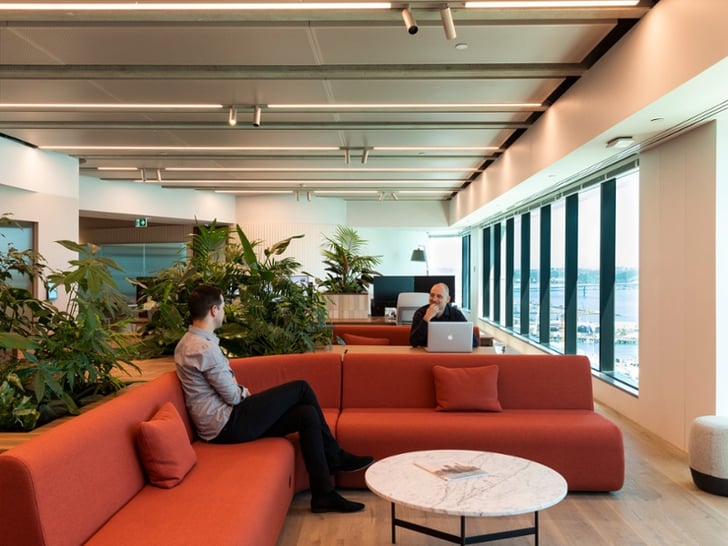 Sustainability
Buildings use 42% of all electricity; by 2025 they'll be the biggest emitters of greenhouse gases. We build sustainability measures into our designs (which will also reduce your utility costs).

Using smart technology, for example, we can automatically close and re-open zones to deliver the most cost-effective footprint – or use daylight and fresh air to offset costly HVAC and lighting.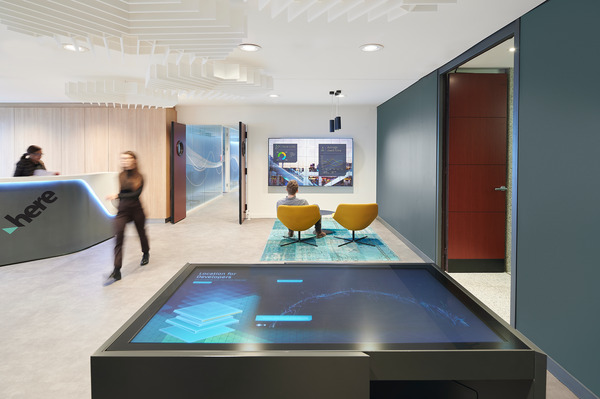 Safety and security
Smart technology within the workplace will deliver safer, secure and self managing environments. For example, frictionless biometric monitoring and access systems can keep people and IP secure.

We can embed monitoring for heat, smoke, leaks and floods. While sensors and analytics can track where people are, manage your occupancy and future office needs, as well as keep everyone safe.
Things you may be wondering about commercial interior design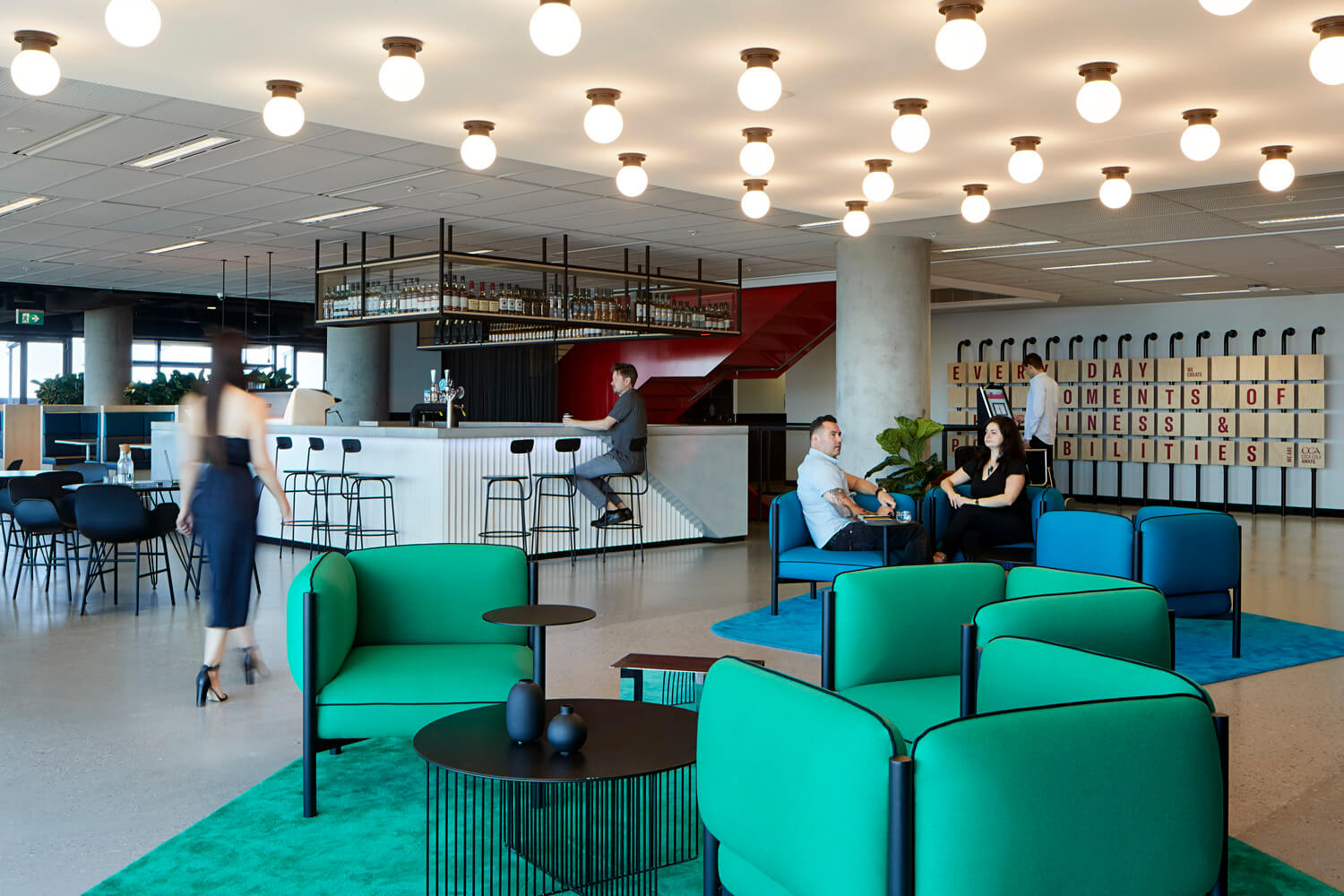 Productive and effective workplace design for the
new 9-5
The future workplace is almost unrecognizable from 12 months ago. The 9-5 has been replaced with remote working, and flexible multi-purpose spaces.
Designing for productive effective workplaces should consider:
The latest technology - from 3D printers and personalized lighting systems, to artificial intelligence and virtual reality.
Design for the agile and hybrid worker - empower staff to work where.
Modular furniture can make your office even more flexible. A conference room can double up as a private office with moveable partition walls.
Health and wellbeing - dedicated spaces for staff to power down in the office.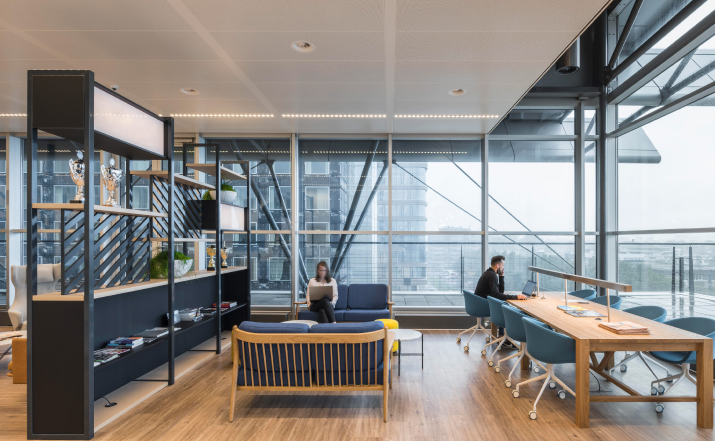 Commercial office space -
design and planning solutions
Designing your workplace needs precision and planning and the right technology to help you do this.

An integrated approach to design and construction is key so that you know your design is in safe hands when you hand over for construction. Integrated technology will do this for you, providing clarity on costs, making sure your design is affordable and buildable so you can work to schedule. We integrate our Predictive Analytics platform which tells us how much and what space a client needs with construction and design software like OpenSpace and Procore and our very own uniBIM platform.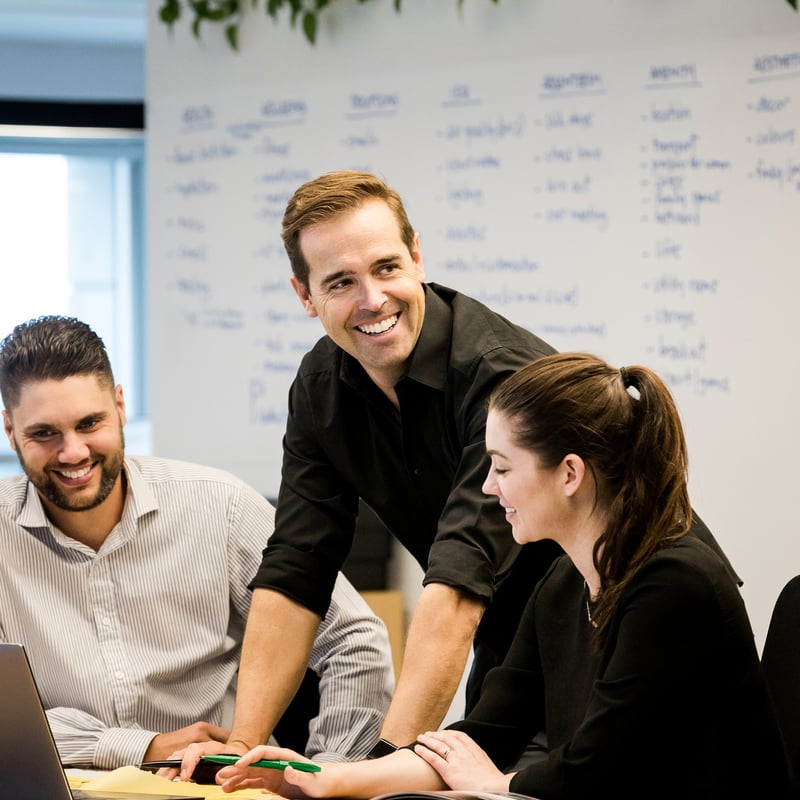 What is the role of an interior designer?
Building the right project team
An interior design team will be responsible for creating a design that brings your vision to life, and making sure you have fun along the way.

As well as a design director leading your project you may have other members of the team responsible for technical and creative outputs. Technology plays a huge role in speeding the process up for the designer and client so you can see designs, make changes and apply these to your new space in real time.

Each design phase is as important as the next, to ensure your design is buildable, and takes into consideration base-building elements like heating, water and air ventilation. It also needs to be affordable, reflect your goals, brand and culture.
Interior design technology
The commercial interior design technology revolution.
Great design includes a solid investment in the right technology that releases added value at every step of a workplace transformation project, from concept to completion.
Invest in the right technology for your commercial interior design project. We use transformational technology to deliver:
Greater transparency
Assurance
Predictability
And speed.
Our own 3D modeling platform, AI, and predictive analytics help to improve understanding, discover efficiencies, and reveal the cost impact of any design changes at any stage. By sharing renders and walkthrough tours, and showing real-time project progress we streamline decision-making.

We also embed the latest smart technology in a design – making the end result more agile, productive and secure while delivering greater sustainability and cost savings.


More about design technologies here
Commercial interior design in a post-COVID world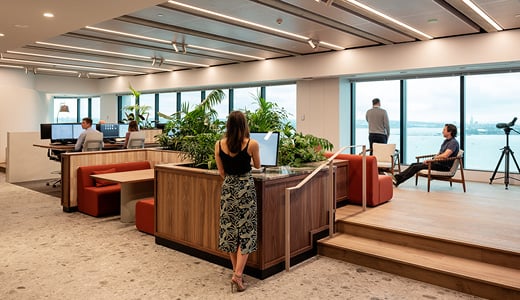 The office of the future - a workplace guide
What does the future office look like post COVID-19? Taking existing knowledge about design, people and ways of working, we mapped out our prediction for the future office.
We wanted to offers solutions to big commercial interior design questions such as:
What will the office of the future look like?
How will people use the office in the future?
How can your office design maintain your culture?
Download our guide to the future workplace and explore a more flexible, intuitive and human-centric approach to interior design.