Coccinelle
Coccinelle engages Unispace to deliver a new headquarters that honors the past while looking to the future.
A heritage building that brings Coccinelle's brand to life
Coccinelle is an Italian fashion brand founded in 1978, with a focus on handbags and leather goods for women. The company's location has always been in Milan's historic city center and recently moved from Via Borgonuovo to Corso Venezia.

It was important that the new design respect the building's history while reflecting Coccinelle's brand.
Embracing function and fashion in Coccinelle's new space
Coccinelle's new space surrounds a central courtyard and is divided into three areas: a new showroom, offices for commercial, sales, and administrative teams, and a workspace for the style and creative teams.

Each private office space features a performance-level sound-absorbing partition panel between desks, absorbing distracting noise and cushioning the acoustic reverberation common in large spaces with exposed timber and concrete.
For collaboration, we created a break area for employees, guests and clients that featured a pink kitchen with a terrazzo floor facing a long, padded, lounge-style bench with chairs and other seating options.
Understanding that the design is in the detail
The design strategically updated the eighteenth-century building's historical elements while embodying the Coccinelle brand. To reflect this balance, we added bespoke pieces such as contemporary lighting, tables and chairs in brass, steel and pink to create a harmonious contrast with the rich stuccos and floors.

The large frescoed halls were converted into showrooms for Coccinelle's collections with light suspended frames to highlight products on display without affecting the ornate decoration on the walls and ceilings.


Reach out to us for more information
Client
Coccinelle
Service
Strategy
Design
Construction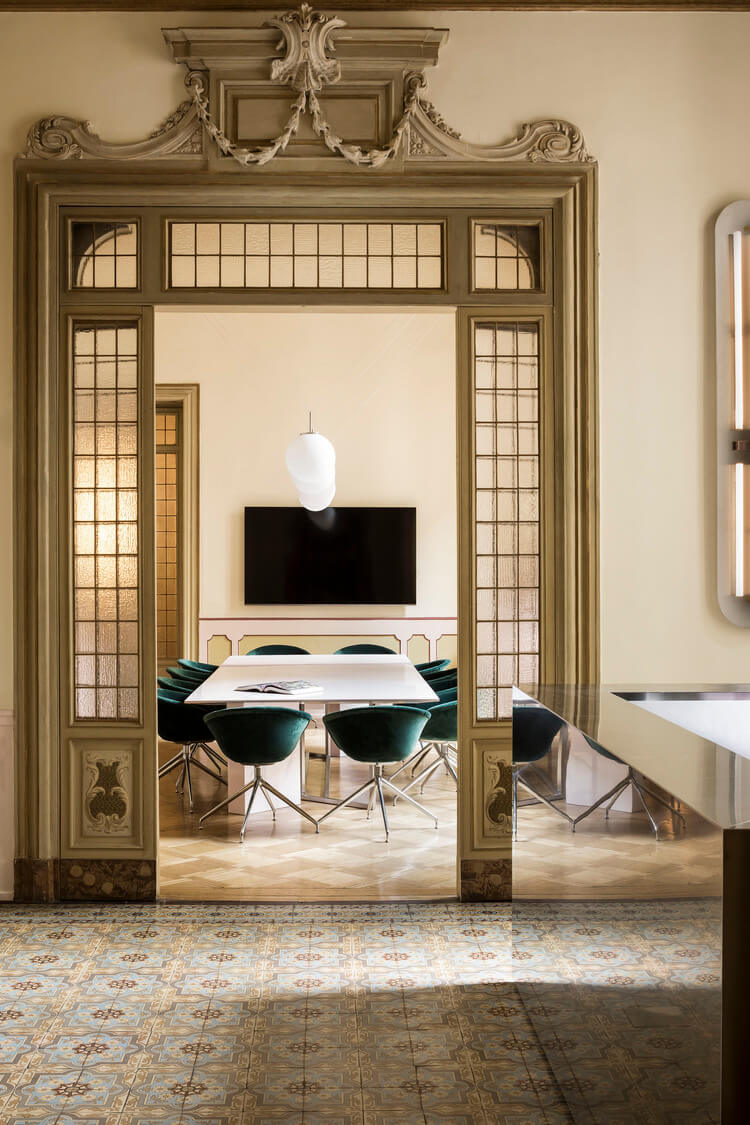 The design interventions respect the building's history while adding bespoke pieces that create a contrast between the old and the new.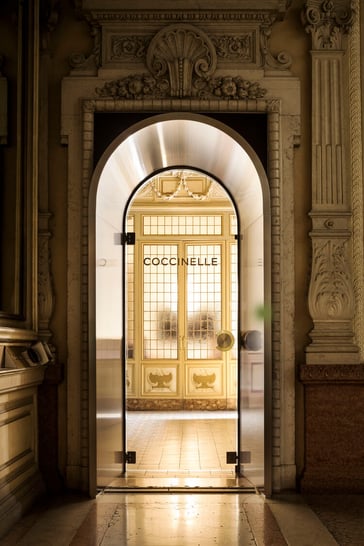 A dramatic entrance features an arched steel tunnel with a pink glass door that opens into the reception area.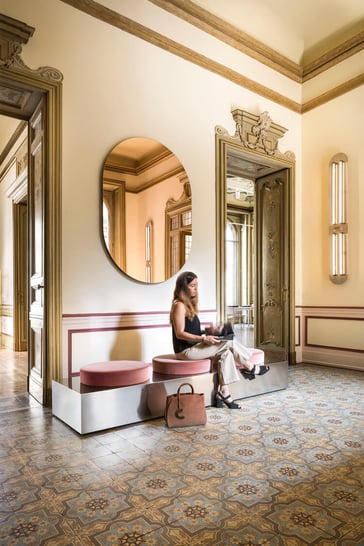 The reception is marked by three elements: a steel counter, steel bellies with circular velvet cushions, and a large blown glass chandelier with spheres supported by brass chains.
The frescoed halls serve as showrooms with spotlights that were delicately installed to minimize the impact to the walls and ceilings, white tables with custom brass legs, and seats in various colors that complement Coccinelle's products.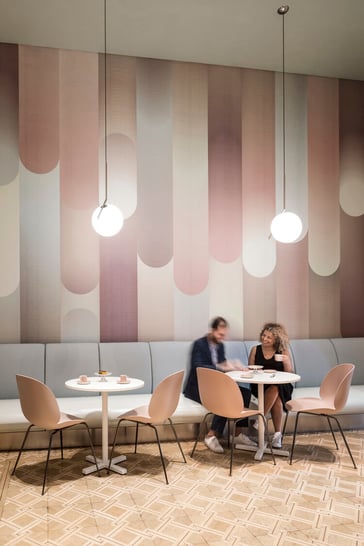 Between the creative office and showroom is a break area with terrazzo floors, a lounge-stlye bench, and contemporary wallpaper that contrasts with the antique floor.