Tripadvisor
Tripadvisor sought out Unispace for a complete office redesign, turning this Singapore office into a destination for collaboration.
Translating global workplace guidelines to meet regional workplace needs
Unispace has collaborated with Tripadvisor across multiple projects globally, and supported the development of a global framework for their future workplace. The HIVE ABW Guidelines have become Tripadvisor's new global workplace design and construction guidelines.
As a consequence of our work on the guidelines, the local Unispace Strategy team was entrusted to work with Tripadvisor on a pilot project in Singapore to establish how they could be best translated to incorporate local nuances and needs.
The Unispace team was also tasked with reducing real estate costs for Tripadvisor, this was achieved by validating how they worked and decreasing their real-estate footprint by half.
An integrated approach was taken to develop a workplace strategy and intelligent design that ensured the smaller footplate met the new needs of their team as they return to the workplace after an extended period of working from home.
At the heart of the project was the desire to create a destination for collaboration.
Critically, the Singapore Tripadvisor team emphasized the need for the new office to play a more social role in their operations moving forward, serving as a collaboration hub for colleagues to gather and interact for work and leisure.
There are elements of work-life that employees miss out on when working 100% remotely. A few standouts are:
- the collaborative in-person meetings
- ad-hoc informal breakouts
- casual encounters in the corridors and communal spaces
With these in mind, we wanted to create a flexible, yet energy-evoking space that would allow for planned meetings, informal team gatherings and an agile work process. 
As Tripadvisor welcomes their people back into their reimagined office, they enter an intimate and engaging space that can be likened to a tropical resort ambiance.
Tripadvisor's design preference was for a softer hospitality feel. Materials and artifacts were strategically selected by the Unispace design team to incorporate local Southeast Asian influences.
Singapore based artisans and suppliers were also approached during the sourcing process, with the finalized office containing select pieces of furniture and artworks created by local craftsmen. 
Throughout the project, sustainability remained a key focus - a good number of existing furniture items and IT equipment were repurposed, in order to minimise environmental impact.
Reach out to the team for all projects in Asia
Client
Tripadvisor
Completion
December, 2021
Service
Strategy
Design
Construction
Photographer
Owen Raggett
"A key to the success of delivering a project in another country, in this case Singapore, working with a US-based client, is communication. The process with Unispace was very smooth from start to finish. The use of technology tools such as OpenSpace and Procore allowed us to take weekly walkthroughs of the space in detail and track the progress in real time. The meetings each week were well orchestrated and extremely productive. Overall, a really sound process from the onset."
Nicholaus Lupi, Principal - Workplace Design & Construction, Tripadvisor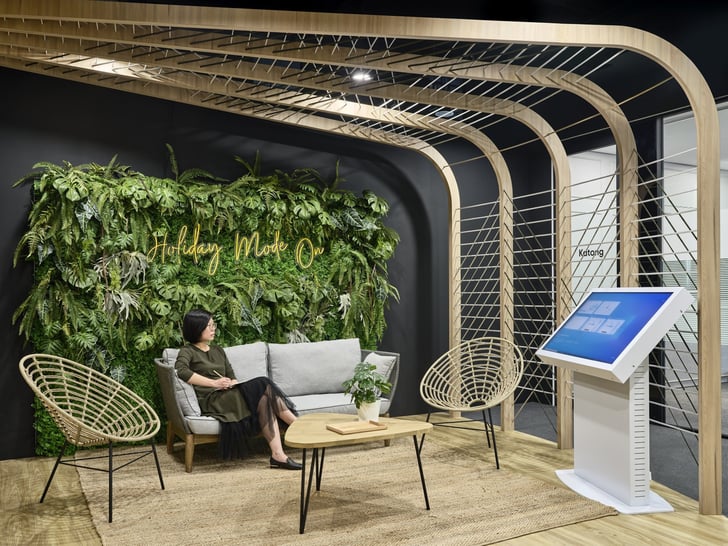 Upon entering the space, guests are greeted with a cane canopy and vertical green wall paired with a selection of tropical furniture giving off the vibe of a comfortable resort-like concierge.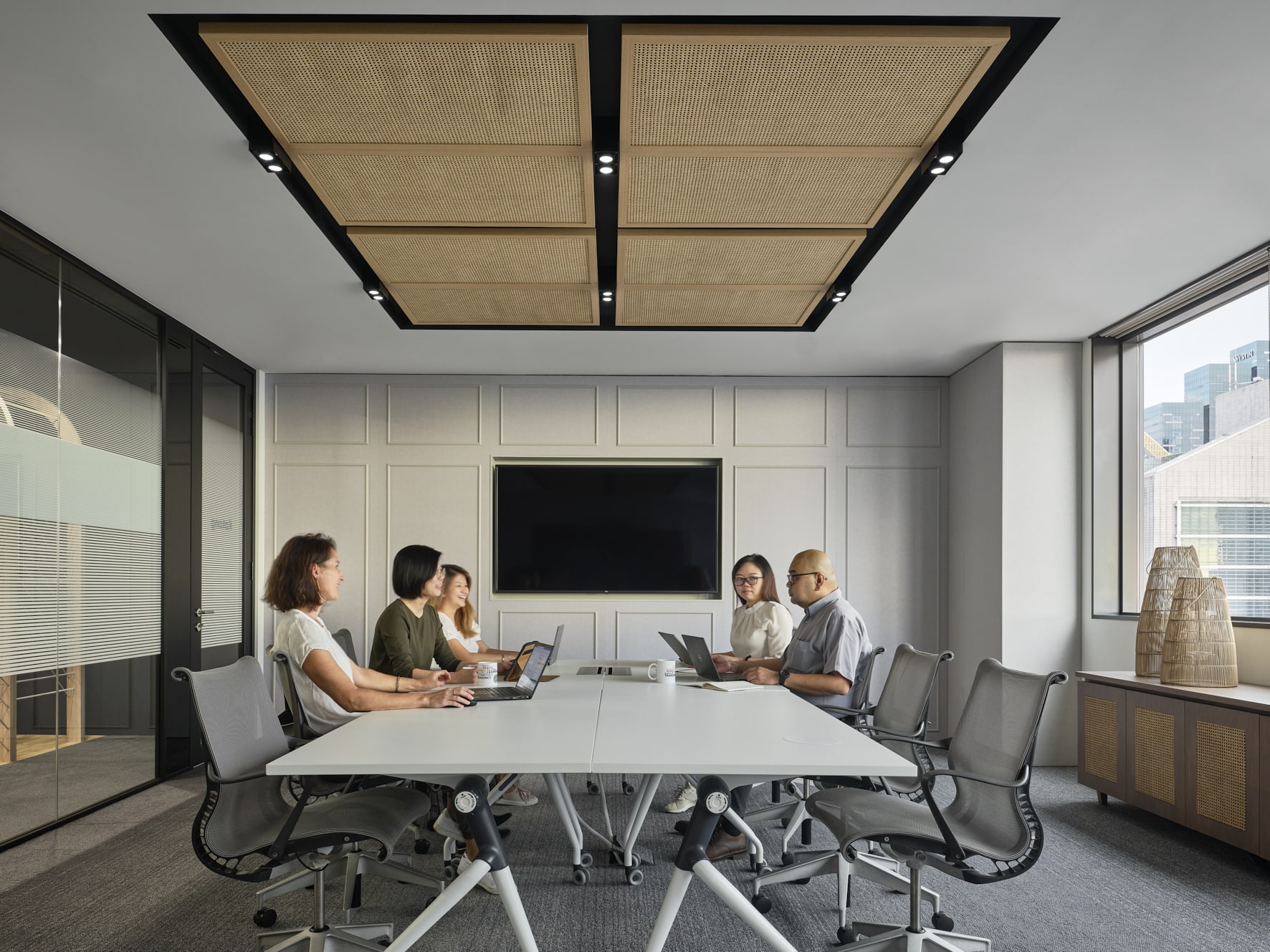 Design meets function with locally sourced rattan materials elevating the tropical textures of the space. Not wanting to apply a typical acoustic treatment to the ceiling, the rattan actually helps to temper noise.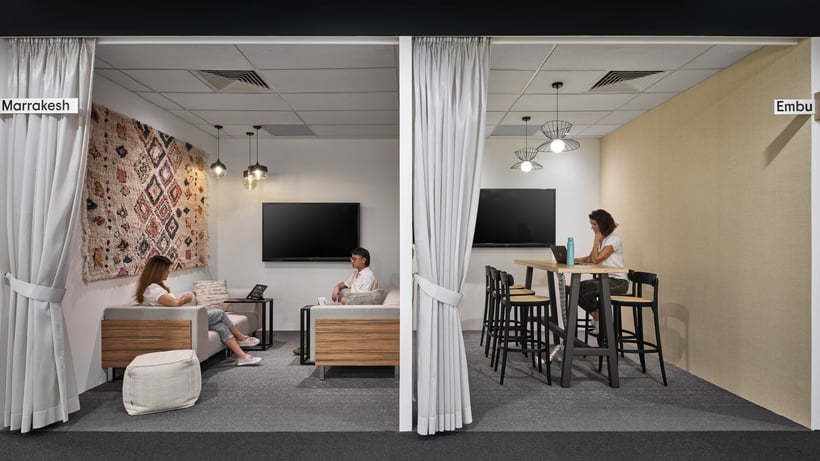 The layering of globally sourced artifacts, combined with different styles of furniture in these informal meeting rooms, changes the experience of each meeting.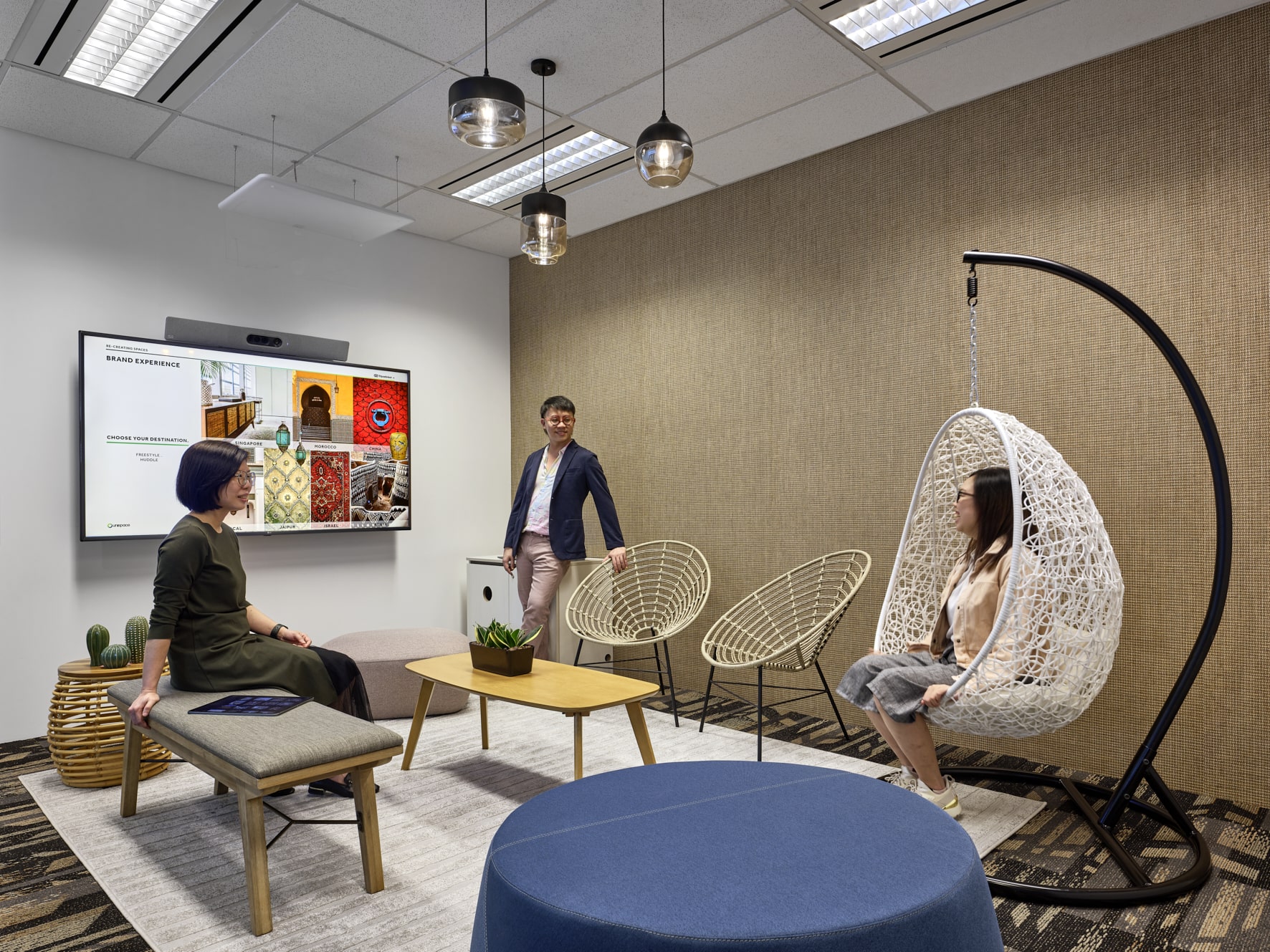 Mis-matched furniture enunciates a cozy setting for chillout sessions and informal huddles, aligning with the client's fun and adventurous culture.