Archetype
Going beyond the workplace to create a space that truly lives and breathes Archetype's culture.
Increasing collaboration while bringing Archetype's brand and culture to life
Archetype's previous space was static, pre-built with assigned seating, challenging acoustics, and a lack of the agency's trademark branding.

Archetype needed a workplace that provided a fluid variety of options for employees, as well as a space that upheld their industry-leading brand and agency culture.
Embracing an integrated, iterative design method to deliver a differentiated workspace
Our integrated methodology was crucial to achieving Archetype's project goals. Leveraging our iterative design process we provided Archetype with progressive snapshots of the space via a 3D virtual model that allowed us to implement changes rapidly. This streamlined process helped Archetype's stakeholders visualize the space and expedited sign off, enabling the shift to the Agile workplace model.

Shrinking the office footprint while increasing collaboration and employee experience
This decision, in turn, enabled Archetype to substantially shrink their footprint, reducing the office size by 1,500 sqft. The refreshed space increased collaboration and engagement in social areas, including: a large communal entry, café, and stepped meeting zone.
Our design corralled the larger conference rooms around a central, unassigned creative zone for brainstorming and spontaneous use. In the new Agile workplace almost all rooms and spaces are bookable, and there is also a specific quiet zone area for focus work. In lieu of a typical reception desk, Unispace incorporated an streamlined entryway touchscreen for visitors.
An engaging design that features Archetype's brand
The refreshed Archetype space pays homage to its Park Avenue location's raw, industrial feel through key design features: exposed columns encased in wire mesh, floors restored to their original terracotta, and signature hanging melted iridescent globes serving as a transition point between the café and workplace. Unispace engaged a graffiti artist to create a mural that weaves vibrant colors with Archetype's branding and New York icons, like Lady Liberty.
Reach out to Ross Markham for projects in New York
Client
Archetype
Location
New York, NY USA
Team
Design - Hannah Hackathorn
Awards
New York DRIVENxDESIGN Awards – Architecture/Commercial/Constructed, Gold Award - 2018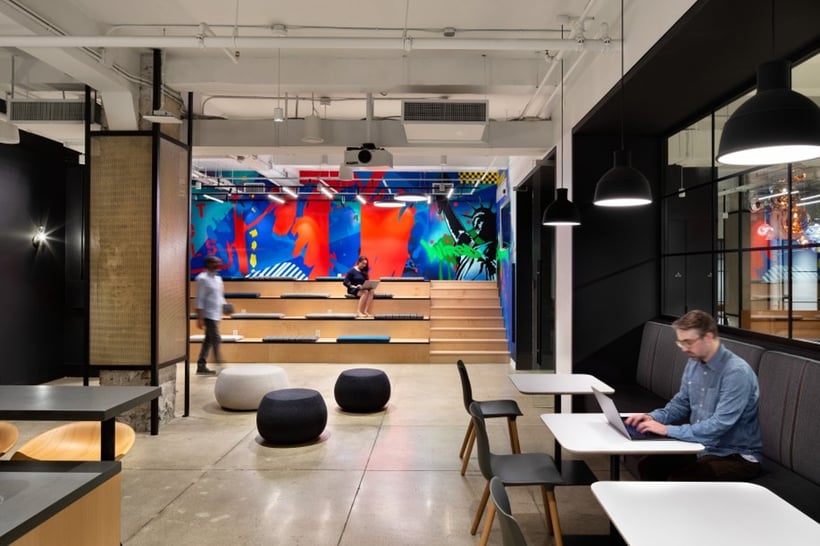 Upon entering the space, visitors and employees are greeted with a cafe and a stepped meeting area. This space hosts everything from all- office get-togethers to informal coffee meetings and movie nights.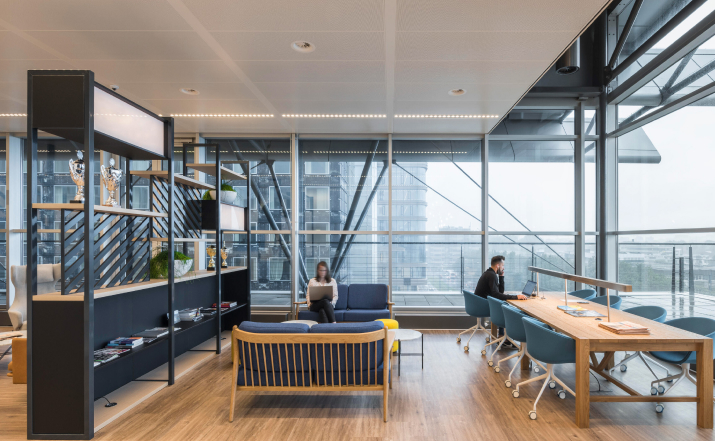 Large conference rooms surround a central, unassigned creative zone, with pinnable and writable walls, projectors, and various seating options; it's perfect for brainstorming and spontaneous collaboration sessions.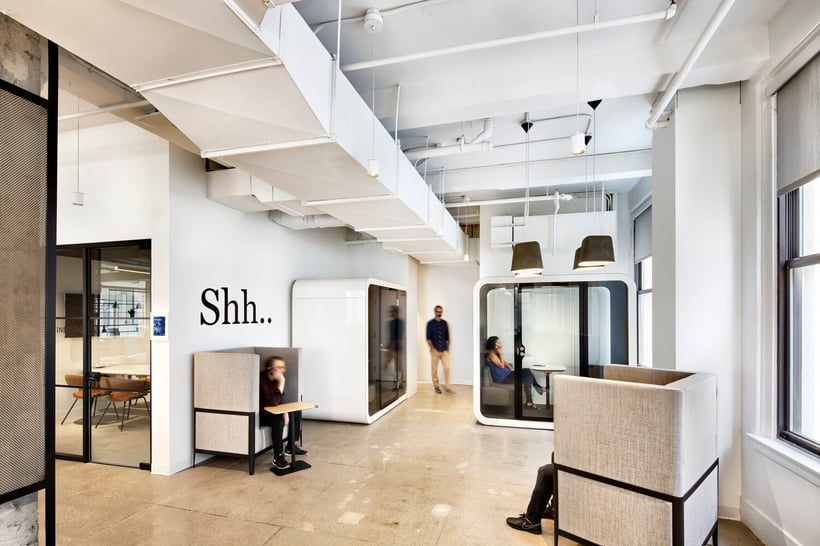 The quiet zone for focus work uses the MEP duct infrastructure as a barrier to separate the quiet zone from the general workplace. The system produces white noise that couples with noise canceling furniture to create an ambiance that promotes focus.