Boston Scientific
As innovators at the forefront of the MedTech world, Boston Scientific were looking for a highly advanced space that could keep up with their equally innovative people.
Starting on the right foot
As part of our global partnership, Boston Scientific worked with Unispace to increase their floorplate to factor in projected team growth, and create a new workspace and MedTech training centre for their team in Dusseldorf.
In order to find the right space, we first launched a feasibility study looking at several buildings before settling on the perfect location in the new Ratingen business district, just a stone's throw away from the airport.
After launching a global survey in 2020 with Boston Scientific that gathered over 15,000 responses, we utilised these results to understand how their employees wanted to most effectively and happily work in Dusseldorf. The outcome was mostly hybrid, informing our designers to produce a future-proofed and accurate desk-sharing ratio, department adjacencies and room count.
The survey also helped to update Boston Scientific's global guidelines to incorporate post-pandemic behaviours. Dusseldorf's office was the first to incorporate them.
Spaces for science
The lower floor became a showcase space for Boston Scientific to present their MedTech products and to train team members in their 'Institute of Advanced Science'. The Institute included a highly advanced laboratory with special laser-proof blinds, fully medical-grade surfaces and a double air lock entry for maximum safety for the lasers and equipment.
Spaces for people
On the upper floor, the Town Square cafeteria was a flexible space for dining, socialising or ad-hoc meetings and touchdown work, plus the furniture could be rearranged for events if desired. Open-plan workspaces were nestled between dedicated project areas for collaboration, focus and problem-solving with a quiet library space for mindfulness or focus work along with touchdown booths and flex areas for collaboration space and team gatherings.
Reach out to us for more information
Client
Boston Scientific
Location
Düsseldorf, Germany
Service
Design
Delivery
Construction
FF&E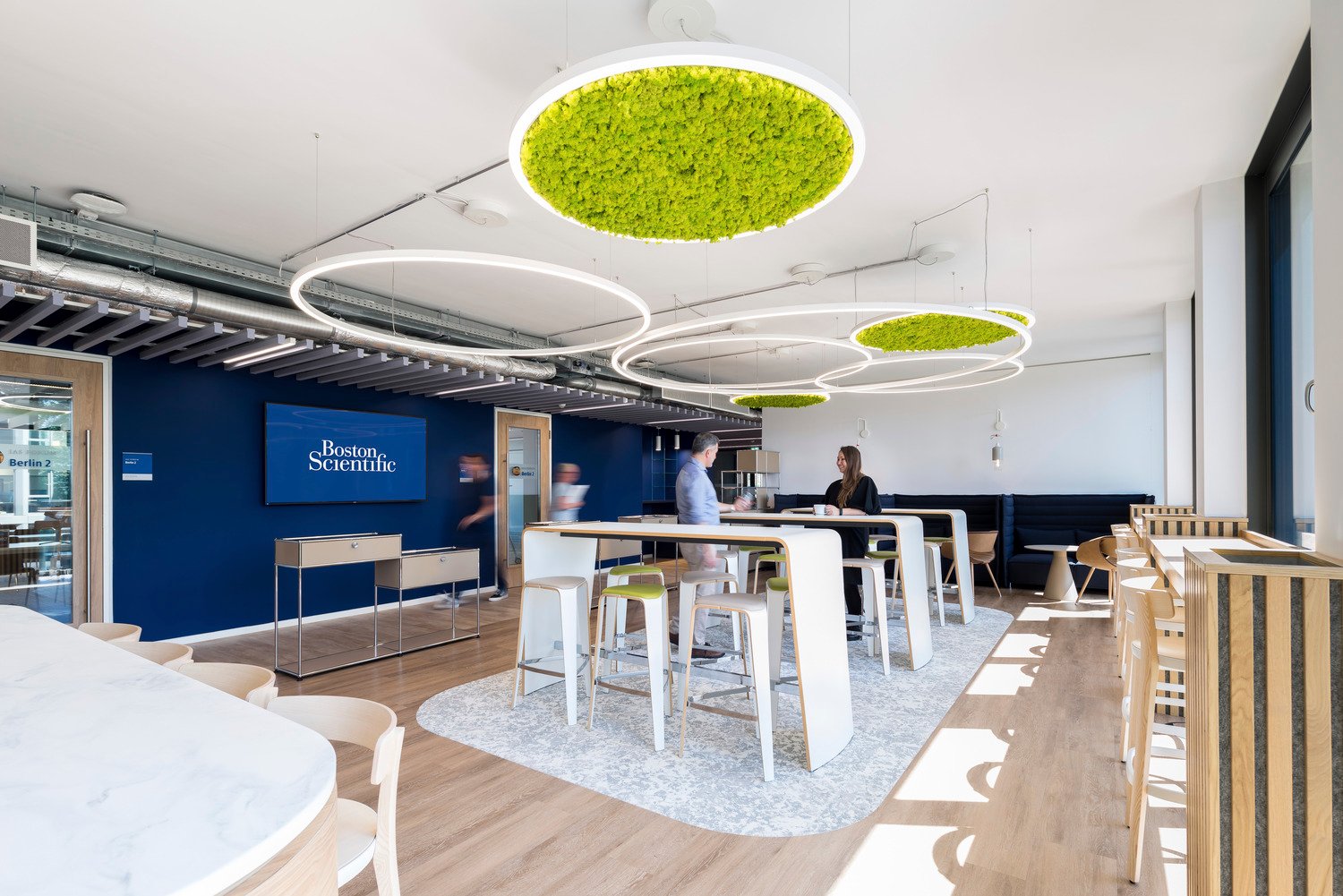 Overhead acoustic panels were strategically positioned to guide team members throughout the space, playing with the floorplate rhythm and flow. Acoustic moss panels over collaboration and social spaces were also used as beautiful yet efficient sound absorbers.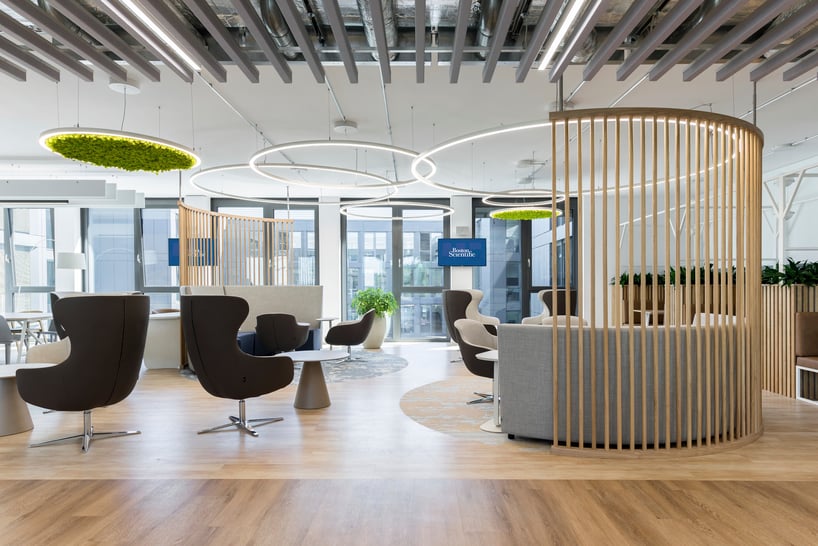 Seamless project management
Whilst on site, Boston Scientific was regularly updated with OpenSpace, our live-capture tool that recorded real-time progress of the construction. Perfect for teams that are based further afield, reports included timeline and cost updates to manage expectations, minimise risk and keep constant communication. It's also a great opportunity to keep colleagues engaged with their exciting future workspace.