Essity
Instilling a new way of working isn't always easy, but Essity's teams are thriving in their refreshed space, built to showcase their brand, improve productivity and promote everyone coming together.
The brief
Essity, global leaders in hygiene and health products for consumers, partnered with Unispace to refresh their existing space and introduce agile working to their teams. As working preferences changed, their space was no longer optimised for their people, with empty desks taking up space and their real estate not quite reaching its potential. We proposed a brand-new layout for the entire building, dedicating the ground floor to become a branded experience for clients and visitors that showcased Essity's products and brands, while the first and second floors would allow Essity's teams to feel at home.
A new way of working
We introduced agile working to break down barriers and encourage a seamless flow of teamwork and collaboration throughout the space. Change management was a major stage in the project to ensure Essity's teams would make the most out of their new home. We implemented workshops, interviews and surveys with Essity stakeholders at all levels to learn everyone's working preferences, and to build a unique space optimised for the whole team. Once their new workplace strategy was in place, we presented these new ways of working to the company in one of their town hall meetings, sharing best practice in behaviours, noise levels and working patterns to maintain a desirable workplace for everyone.


Live together
The first design pillar was focused on instilling health and wellbeing into the workplace. Situated at the edge of Utrechtse Heuvelrug National Park, Essity's location was the perfect place to attract talent with countless walking routes and relaxing spots for teams to maintain a healthy work-life balance. During the change management phase, we encouraged teams to use the National Park for walking meetings, informal catch ups and lunch breaks as a green escape. Promoting better health in their new office was key. We added a dedicated wellness area on the ground floor that included fitness mats and balance balls for yoga sessions, a foosball table and ping pong table for breakout sessions with colleagues and a relaxing lounge area to socialise or take time out for themselves. As you walk into the building, the first thing visitors see is the large spiral staircase that connects the whole building. This central feature encouraged colleagues to take the stairs as a healthy alternative to elevators when moving around the building. The large ground floor restaurant serves healthy food and drink options throughout the day and was positioned as a central hub for colleagues, clients and visitors to come together. The decor was embellished with biophilia and natural timber for a relaxing space to socialise, with a separate express coffee bar for a quick pick-me-up serving hot drinks to go. Natural light was crucial, replacing walls with light curtains to take advantage of the floor-to-ceiling windows and complement the light, brightly coloured furnishings for a more inviting space. Acoustics were also important to improve productivity and minimise distractions. Neighbourhoods were created using acoustic barriers, keeping quiet focus areas in the corners of the floorplate while high-traffic, noisier areas were in the centre, drawing people together.
Dream Together
The second design pillar represented creativity and collaboration within the Zeist office, with the goal of creating a hub for productivity and forward-thinking idea generating. This is where their new way of agile working came into play. We introduced more flexibility to allow colleagues to choose a different space each day that suited their working preference. On the first and second floor, workstations were mixed with collaboration areas, cosy work lounges with soft furnishings for touchdown meetings, stand-up presentation rooms for problem-solving and focus rooms for private phone calls and independent work. The building has a butterfly-style shape that created natural sections for each team discipline in the wings, while the central spine acted as a main thoroughfare for noisier social spaces, and the outer corners were set aside for quiet zones. On the first floor, one corner was dedicated as a 'silence area' for focus work with library rules — no talking, no calls and no music to preserve its purpose. In the centre of each wing, circular spaces for knowledge sharing were designed with light curtains for subtle privacy to problem-solve using whiteboards, pin boards and interactive screens. Essity requested a film studio that was built into the space and equipped with everything needed for maximum creativity, including directors' desks and furniture for hosting webinars.
Be Together
Reflecting Essity's brand identity and products was the third design pillar to develop a sense of belonging amongst teams. The whole ground floor was designed to host clients and visitors, showcasing Essity's brand and products. As soon as visitors enter the space, the reception proudly presents a logo wall of Essity's brands behind a show-stopping grand reception desk in a double-height space. To the right, the impressive spiral staircase leads up to a brightly coloured, inviting mezzanine space where colleagues can meet visitors and host ad-hoc informal meetings, after stopping by the express coffee to-go station first. As part of the hosting experience, clients can view Essity's products in the experiential display area with supermarket-style shelves, to present how well their products and packaging stand out in stores. Designed on wheels with presentation screens embedded on all sides, these shelves can be reconfigured to create new spaces for collaboration and breakout sessions. We installed a heritage wall near reception with the company's milestones and past advertising campaigns as a tribute to everything the brand has achieved so far. Situated within a thoroughfare leading to a client meeting space, this ensured high footfall to showcase Essity's impressive journey to clients and visitors. The ground floor also housed the large theatre that can be reconfigured to host events, town hall meetings, breakout sessions and more.
Care Together
The final design pillar is linked to Essity's commitment to their global responsibility to create a sustainable workspace. We reused their previous walls and materials to cut down on unnecessary waste, while joinery was screwed in place rather than glued, to keep the option of reusing at a later date. Any new joinery that was added came from a local, sustainable supplier to minimise Essity's carbon footprint. Workstation desks were all reused and upgraded to sit-to-stand for better posture and to remove the need for replacement, extending the lifespan of each desk. Our design team incorporated naturally preserved moss and recycled cork into the acoustic wall panels, opted for stools made from recycled felt and used hemp into the upholstery as a more sustainable material, as well as reap its health benefits for Essity's colleagues. The result is a truly future-proofed space that can be used and reconfigured however Essity chooses, promoting creativity, innovation, their brand values and most importantly, the essence of tillsammans.
Reach out to us for more information
Client
Essity
Location
Zeist, Netherlands
Service
Strategy
Design
Delivery
FF&E
Construction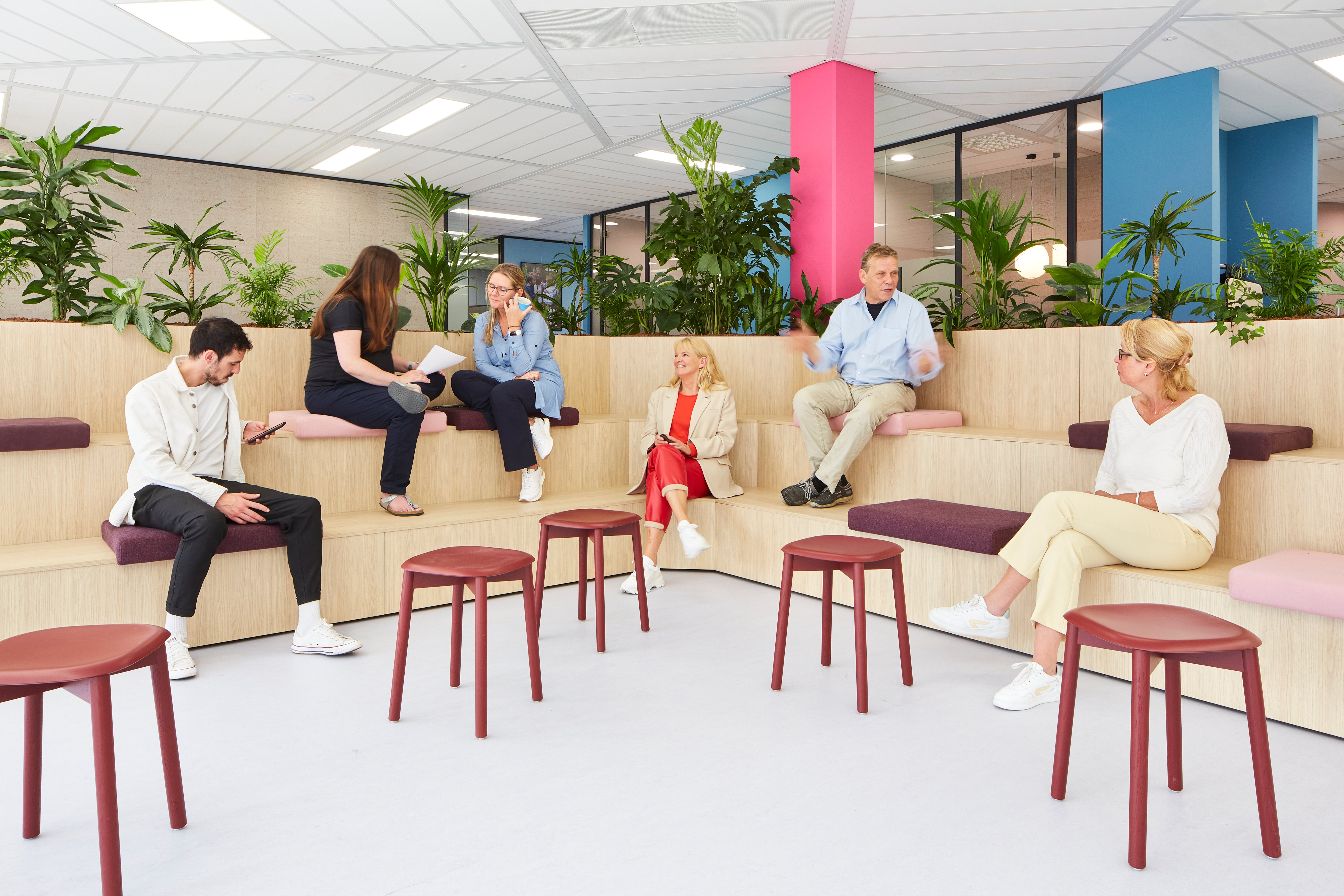 Headquartered in Stockholm, we wanted to
tie Essity's Swedish roots to their new workplace. We created four design pillars connected with the theme of 'tillsammans' (the Swedish word for 'together') to reflect inclusivity, collaboration, teamwork and essentially, One Essity.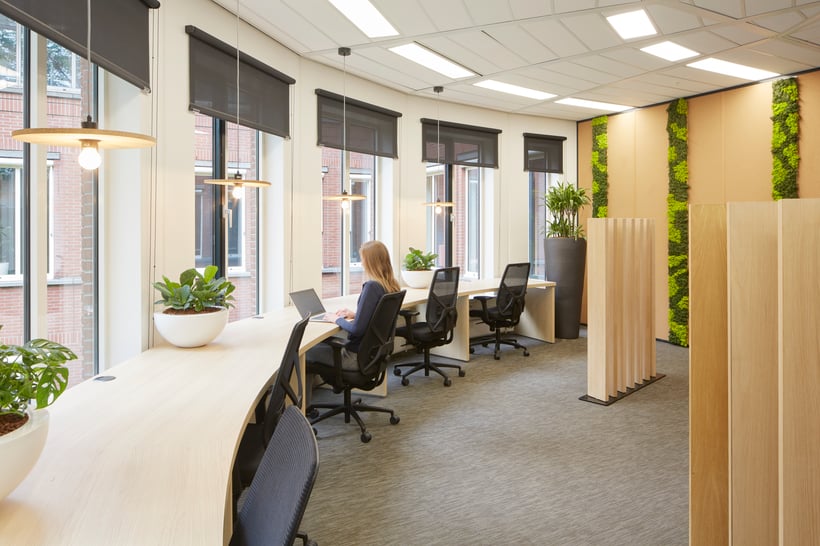 Each type of area — Live, Dream, Be and Care — was given its own design palette to establish the different purposes and
behaviours intended in the space. For example, 'Care' areas consisted of earthy tones and natural timber to connect to sustainable working, while 'Be' spaces reflected Essity's bright colours to further connect with the brand. The idea was to use design in subtle, strategic ways to help colleagues come together and be their best selves.