PwC Workplace of the Future
Technology and experience design come together in PwC's three newly built offices.
Relocating three major offices and creating a destination experience with integrated and personalized technologies.
One of Australia's leading professional services firms, PwC Australia brings the power of their global network of firms to help Australian businesses, not-for-profit organizations and governments assess their performance and improve the way they work.
PwC Australia set out to take advantage of a true transformation opportunity as they relocated three major offices in sequence: Brisbane, Sydney and Melbourne. The task was to create an authentic 'destination experience' for PwC clients via integrated and personalized technologies. The new client experience needed to elevate the PwC brand (building relationships, creating value) and leverage PwC's global purpose (build trust in society and solve important problems).
Experiences designed to provoke conversation and immersing clients in the workplace of the future.
Over the three new office locations we designed and developed an ecosystem of 'Signature Experiences' each able to provide deep user engagement and content delivery via adaptive personalization and proximity detection technologies. The Experiences are designed to be both functional and experiential, provoking client/consultant conversation while authentically immersing clients in the workplace of the future. The experiences include a Welcome Wall, Waterfall, Media Fountain, Innovation Pool and Mobile App.
Showing commitment to innovation, technology and client engagement.
PwC went under a significant change and transformation process during the lifespan of this project. In that context, the Signature Experiences have played a significant role in helping PwC to shift perspective from a curator to creator of rich media experiences. As PwC and its competitors shift gear, embracing design thinking and digital delivery, the Signature Experiences have demonstrated a timely and significant commitment to innovation, technology and client engagement.​
Reach out to us for more information
Client
Pwc
Location
Melbourne, Sydney, Brisbane, Australia
Service
Concept Development
Back-End Development
Environmental Design
User Experience
Animation
Prototyping
Creative Direction
Information Architecture
Technology Systems Design
Front-End Development
Data Visualization
Engineering
"We wanted the technology to serve our desire to look after our clients, rather than to showcase who we are."
Joseph Carrozzi, Market Managing Partner, PwC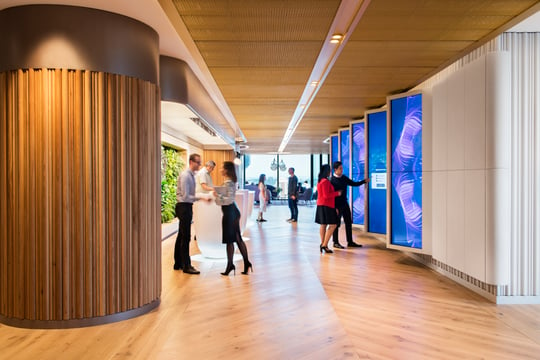 Expectations are set for an extraordinary visitor experience via a future forward check in process, complemented with rich graphics and messaging, animated on a unique interactive digital canvas.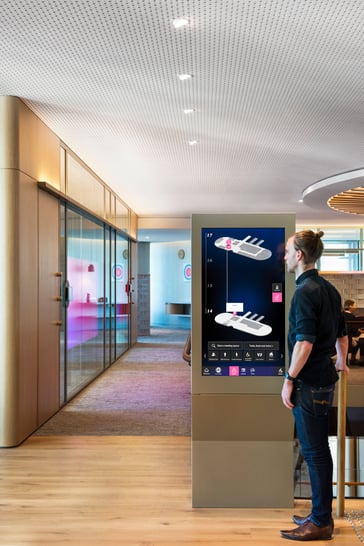 Next generation digital totems bring interactive maps, events and polls to life. Predicative logic: The user is automatically directed to their meeting room as Media Fountain cross-checks the time and meeting calendar.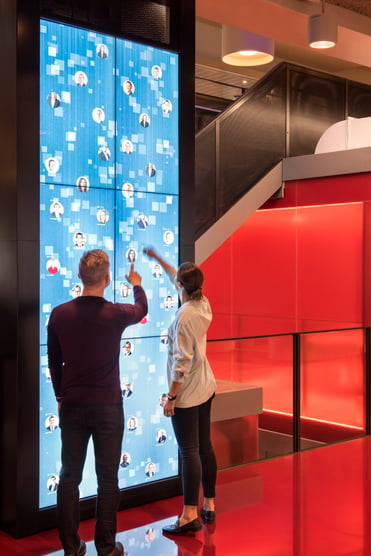 A visually layered cascade of rich, interactive content encourages exploration and sharing in a delightful, immersive and personalized way.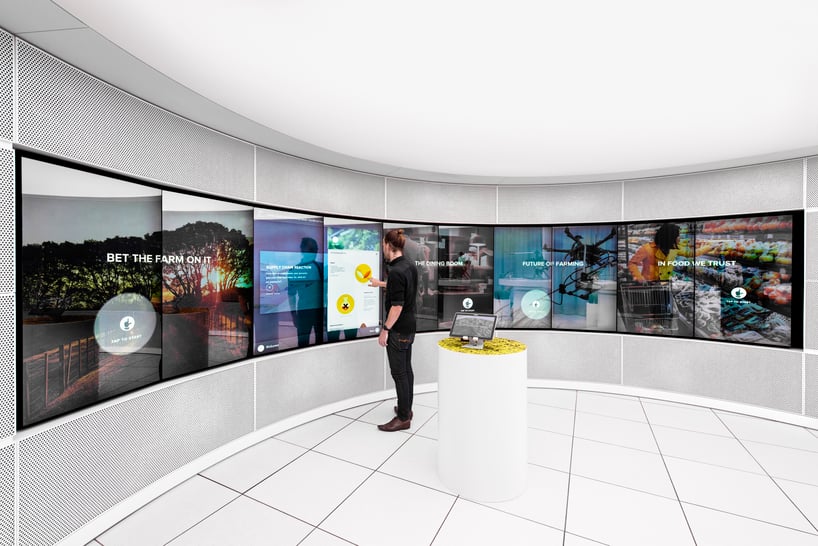 Visitors are immersed into a high-tech sensory environment where they can explore and interact with the very latest emerging technologies and PwC partner innovations.
A one-of-a-kind presentation environment with advanced AV and VC control, presentation tools and flexible display capabilities that help deliver immersive, high impact presentations.