Creating a Destination Workplace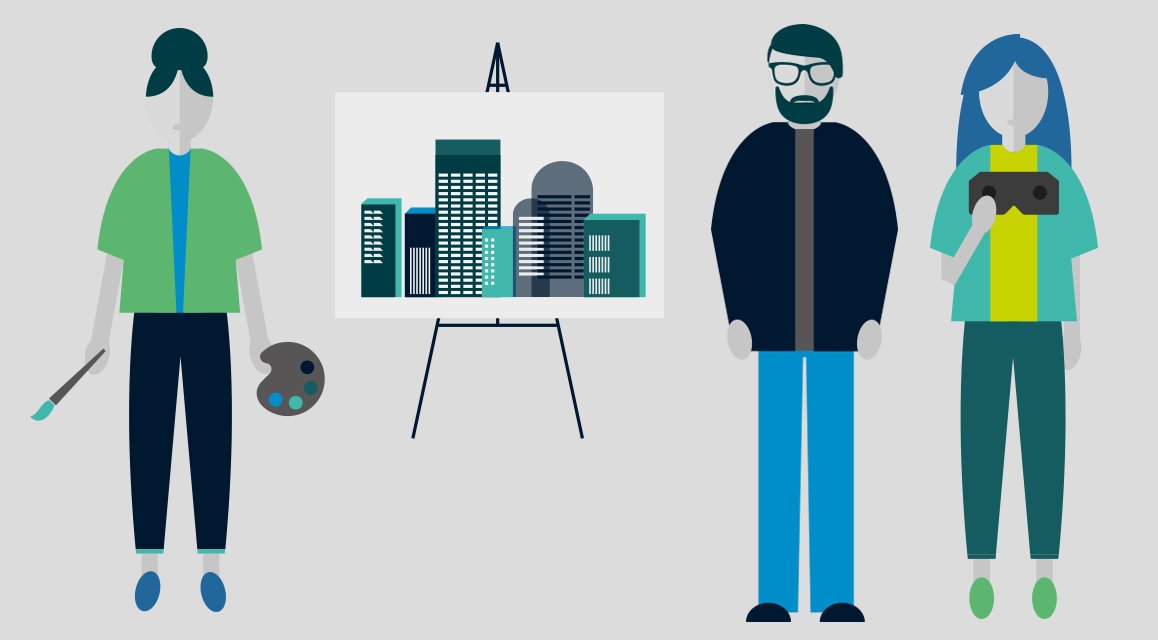 London-based Strategy Principal Sam Sahni explores the importance of resetting expectations of where we work and how we can create a future-proofed workplace. A Destination Workplace.
The concept of work and how it comes to be in a physical environment has extended beyond the traditional 'boardroom and open plan' office. The journey of creating contemporary workplaces has shifted, with increasing numbers of organisations seeking environments more holistically encompassing, filled with behaviour and experience focused spaces.
The magnetic-pull of these work hubs, along with organisational culture, is supporting talent retention, empowering people and generating a positive brand perception, not to mention creating spaces people love to spend time within - they foster knowledge sharing and challenge teams to adapt space to suit their own working patterns.
We know all about activity-based working. What could possibly be next?
I'm continually asked this question. As the role of workspace is increasingly called into question by the rise of coworking and growth in flexible working, I believe companies face a significant challenge in drawing people back to the office – organisations need to provide a compelling reason to get employees to show up and play a productive role.
Increasingly, space utilisation rates are dropping as people seek out alternate locations for work, whether that's a coffee shop, home office or client's meeting room: anywhere other than their own corporate office.
The real challenge with workplace is not the space model itself or even productivity. It's about creating a collegiate model that encourages team members to work side-by-side, to learn from one another and benefit from the experience.
How do we go about creating Destination Workplaces?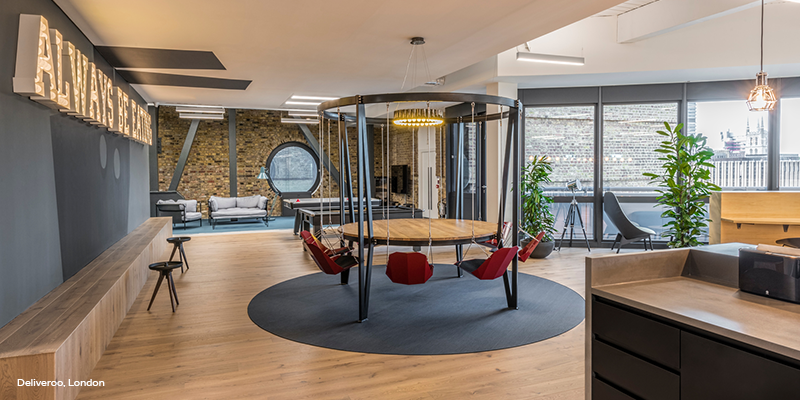 Sharing economy - cultivating culture and experience: Tech and media companies have done a remarkable job of creating 'fans' and a culture of success that draws them to the brand - and high-profile headquarters are at the heart. What are the elements making these campuses so successful in attracting top talent? For one thing, they don't make work feel like work. Set out like communities with laboratories, event spaces and forums, spaces are devoted to the collective experience, to share the brand, learn and connect.
They also reflect the culture of the organisation. Moving beyond the misplaced hype of workplace gimmicks such as slides or table tennis, they reflect the best side of the business, producing spaces that encourage employees to congregate and feel part of a greater whole.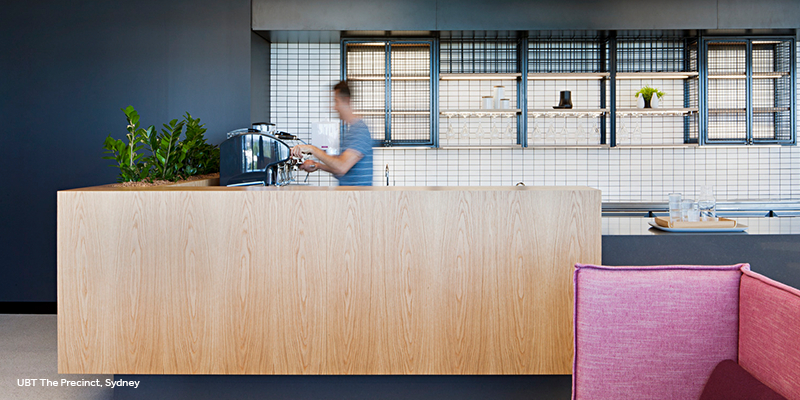 Read about UBT The Precinct, Sydney
Why home is so important: For city offices, corporates need to shift their perception of the office and think of it more like home. Lifestyle must meet workplace through better food, better coffee and access to infinitely crucial nutrition. Many organisations are still getting a handle on home working and even considering bans – but bear in mind workers are making this choice for a reason: it's easier to get a variety of tasks completed in the home environment. Progressive organisations should be asking why this is the case. What has been broken in the corporate environment that makes the isolation of home working preferable?
Blurring workstyles, sharpening choice: There is a lot to learn from the retail environment and the hospitality industry. Take Unispace's experience working with Deliveroo in London, where we configured the space to be inclusive and engaging, while giving team members a variety of different spaces dependent on what their day might require. They're welcomed into their work environment, connected if having a meeting, and then given their own tailored experience of the space. No one meeting zone is quite the same: be it the war room, on the risers on the 'Rooball' pitch, or sitting in hanging baskets in the canteen. Offering people choice is critical to enticing them back to the corporate HQ.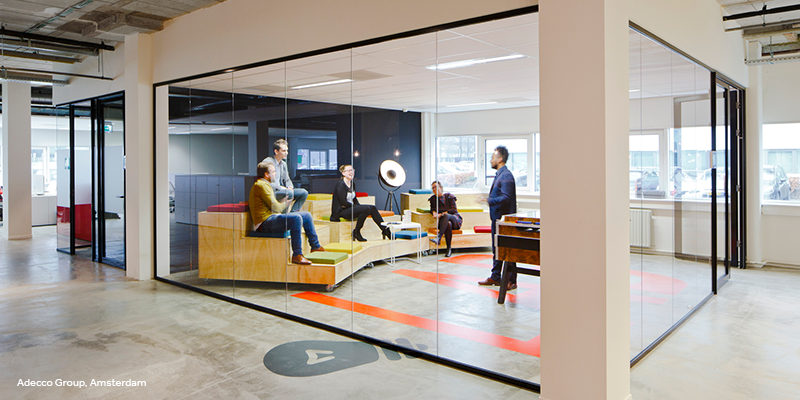 Read about Adecco Group, Amsterdam
The public forum: Learning from others by osmosis was obviously a key draw to the office for previous generations. Market knowledge and experience was accumulated by time spent in the work environment and listening to those around you. The information available on the internet and the astounding number of communication channels removes physical restriction and, in many ways, makes learning environments limitless. Where does the physical workplace end and the digital one begin?
The potential for workplace to inspire learning is also a topic that should allow us to challenge misconceptions of Millennials in the work environment. There are crude assumptions made about this generation that fail to consider how inquisitive and open they can be. Millennials have had more access to data and online resources than any other generation – they have become sophisticated curators and, as such, need to be in a workspace that continues this evolutionary process.
Millennials' familiarity with a dazzling range of communication devices means that the workplace must strive harder to produce experiences and become a learning destination for them. This is not because of the short attention span cliché, but because they are so used to digesting information quickly. The distinctions between work, play and rest have blurred.
Despite this, research in Leesman's report 'The rise and rise of Activity Based Working' is an intriguing antidote to some perceptions that Millennials want more flexibility in how and where they work. The data suggests that younger people, under 25s, are the ones who have a preference to be in an office, considering themselves 'resident' in their work style. This appears to be driven by the fact that they want to learn from peers, but also comparatively, they have less variation in the tasks they perform.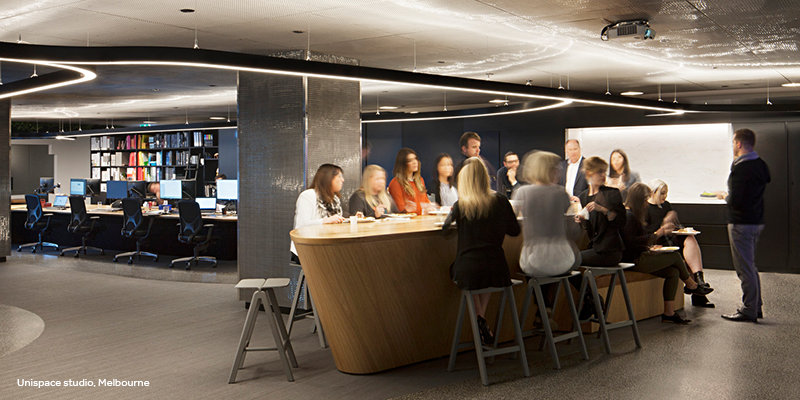 Read about our Melbourne studio
Creating bond through workplace: Good workplace can bond employees in ways that virtual communication cannot replicate. It reconnects employees to the company and offers an organisation the chance to showcase its culture. What we're seeing at Unispace is a trend towards focusing on effective community building, a workplace that is designed with time and experience in mind. A place people want to be, not have to be.
This can be achieved through impactful branding, the staging of work as an event itself and giving access to memorable moments. With more than one billion people worldwide now working remotely, why should they bother turning up to an office?
Staff need to want to be there when big moments happen – an event, a talk, a moment in time that fuses them to the brand and conveys emotional power – an experience they cannot immerse themselves in virtually. A brilliant business idea may be spawned at the coffee shop, however it's the workplace where we share this idea with others, build consensus, make decisions and work together to turn it into reality.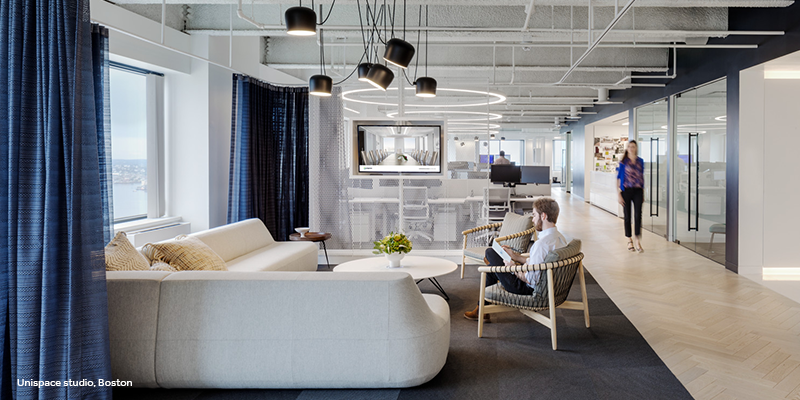 The Destination Workplace model
If I was going to contemplate a framework for a Destination Workplace, no doubt the subjectivity in what it would look like would differ from individual to individual, let alone organisation to organisation. There are numerous aspects we could integrate into this model which would aid teams when curating these experiences.
Let's think about the nature of what we look for outside a 'typical' office space—forgetting reception lounges, desks and boardrooms for just a moment—when our lives are so critically digital. Perhaps spaces such as a touchdown genius or tech bar to support us with day-to-day IT equipment, be it personal or professional, becomes as essential as having an onsite doctor and dental surgery.
When it comes to wellbeing, we integrate exercise rooms or on-site gyms, facilitating your favourite spin class or being able to visit a physiotherapist for a sports massage. In turn, mindfulness and meditation may have their own area with a zone purely to contemplate, involving Wi-Fi 'Not Spots' and spaces designed to encourage creativity and artistic expression.
In life, we strive for balance, so as we spend increasing time in the workplace and less away from our private lives, is there an argument for providing areas to support socialising? Be it with colleagues, clients or friends: office bars or themed meeting rooms which aid imagination and discourse are being included in the design of the office. Do we agree to provide subsidised or free food to our people, so they can cook with their colleagues in a purpose-built kitchen rather than heading out?
Living the brand experience
Destination Workplaces will (in a non-gimmicky way) make use of a 'push and pull' model to draw people 'back to the ranch' whilst still enabling autonomy. This supports the organisation and people within it to share and co-create, and ultimately, immerse them to really live the culture and brand experience.
For more on our research around workplace settings please see our recent white paper 'Form following function'.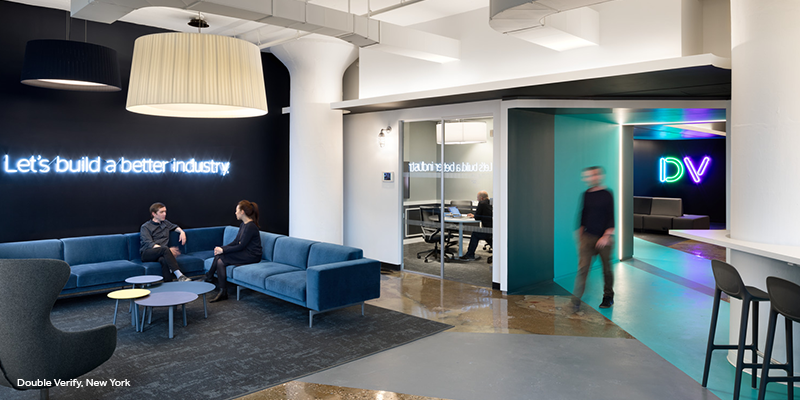 Read about Double Verify in New York, and how digital integration unlocked their space
About Sam Sahni
Sam is our Principal, Strategy based in our London studio. Highly experienced within the consulting and construction industry, Sam's knowledge comes from exposure to a variety of sectors including Finance, FMCG, Real Estate and Engineering, proving him a dynamic leader, with the ability to build business, develop client bases and take accountability for complex projects. A thought leader among his peers, Sam has also been an author of organisational white papers and has presented at a number of industry conferences.