Returning to the office: lessons from Unispace Auckland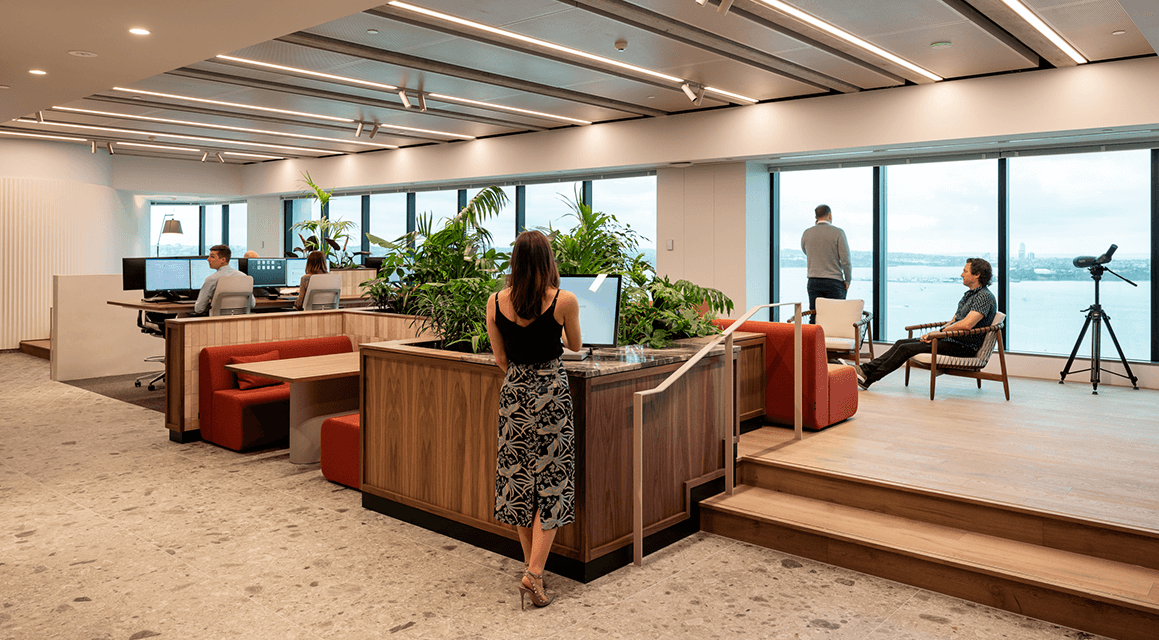 For many businesses, especially those in Europe and the US, 'returning to the office' is set to be one of the big themes of early 2021. While some Government vaccination programmes are now being rolled out, we look to New Zealand, where they managed to return to the office without one. What can we learn about creating Covid-responsive workplaces that employees genuinely want to return to?
New Zealanders are amongst the first to see the sunrise each morning and the first to see in the New Year. New Zealand was the first country to grant women the right to vote and the first country to introduce the eight hour working day. And, in recent weeks, courtesy of Unilever, it has also become the first country to see a four day week for five days' pay trial, with performance measured based on output rather than time.

While Covid-19 business restrictions and closures have shaken up traditional working practices not once, but twice (and counting) in many regions, in New Zealand, business confidence is returning, restrictions are being removed, and the nation is leading the charge towards Covid-recovery.

So, as a vaccine is rolled out globally and conversations about returning to 'normal' increase, what can we learn from New Zealand about how to reopen and reconfigure our physical offices?
Defining future workplace needs
Even prior to Covid, many offices were struggling to support employees' evolving workplace needs. Now, following a year of home-working, many businesses face a genuine struggle to encourage teams back into the office.

At Unispace, we know that offices are going to be less frequently attended and with less requirement to support activity-based working, so we've developed our Propeller framework to help organisations arrive at the workplace of the future.

"Propeller maximises the potential for in-person connectivity and collaboration within the office, providing benefits that remote working simply cannot deliver. Rather than automatically shedding space – a particular concern in many regions whilst pandemic phase social distancing restrictions remain in force – Propeller reimagines existing spaces to create a shared working environment for problem-solving and innovation to socialising." Explains Rob Aird, Managing Director APAC, "It's about creating a destination that employees actively want to be in – experience-based working."
Learning from our colleagues in Auckland
We saw clear value in harnessing the benefits of Propeller internally at our Auckland office where, thanks to New Zealand's leading efforts in the battle against Covid, an imminent return to work was on the cards.

"No country has been able to fully avoid Covid, but New Zealand was able to fight back faster," says Aird. "We've done a great job of embracing new norms, and that's exactly what you're now seeing across the business community. We know that there will be no return to how physical offices were used in the past, so these spaces are being quickly reimagined to better support our new needs. And we're able to help our clients deploy these insights too.

"Our Auckland office serves as one of the first built examples of a Covid-responsive workplace designed to our Propeller framework. The studio demonstrates how organisations can support the 'hybrid' office model, blending physical and digital elements to give teams the best opportunity to thrive when in the physical office, and the ability to seamlessly connect when working remotely."
Creating efficiency by adopting Agile workflow methodology
In New Zealand, our response has been to adopt Agile workflow methodology – maintaining our core way of working, but pragmatically bringing the physical and digital worlds together to introduce virtual sprints and scrums, both internally and with our clients, sub-contractors and partners.

This approach is fully supported by the technology we have deployed across the Auckland workplace:
Adopting virtual Kanban boards on programmes such as Microsoft Planner integrated into Microsoft Teams – enabling everybody in the meeting – virtual or in-person – to see and interact with the planning board
Introducing Agile virtual scrums and sprints to our everyday project planning – increasing touchpoints and communication, decreasing email traffic and rework through greater team exposure to all aspects of the project
Online / offline scrum supporting environments – workshopping areas for any size of group, with whiteboard and VC capabilities that are accessible remotely
For any organisation that doesn't want to leave remote-based staff behind as physical offices reopen, following our Auckland team's lead and adopting Agile workflow methodology could be a great way to keep everyone involved and connected, providing you take the time to integrate the right tools and technologies across your workplace.
A new frontier for shared experiences in the workplace
With offices set to be used less frequently and with more emphasis on collaboration and socialisation, enhancing the employee and client experience will be an essential part of post-Covid workplace design. In Auckland, we drew upon best-practices from industries such as travel, hotels and hospitality, even engaging famous NZ chef Al Brown to draw upon his decades of experience growing successful restaurants.

"These design elements can be found across the entire office, right through from the co-working area front of house, to our hospitality and catering spaces where local trainee chefs are being given real-life service experience as they help us to bring to life the concept of the destination workplace," says Simon Pole, Global Design Director.

Creating experiences will be a key function of the office in future as it becomes a vessel to bring people together. Events areas and space to host guests will be key in enabling this. we included an innovation hub – a tech-centric open meeting space – which comes with an open invitation for our clients. Perfect for agile workshops and collaborative events to draw people back to the office and connect with one-another.

This type of design is about creating something that's more than just an office space to facilitate ongoing work. Unispace Auckland demonstrates how hospitality can be used to take the workplace experience to the next level, improving culture and wellness as well as productivity, and supporting stronger relationships with clients and partners by actively inviting them to share the environment.
Post-COVID, the majority of office-based meetings will also involve a team member that is remote – so how can you include them in a way that is productive and meaningful for everyone involved? In Auckland office we've created spaces that support those working from home, building areas to support 'virtual meetings' so those working from home can still be part of the action.


Covid-responsive design in action
Returning to the office can only happen if employers have implemented a range of Covid-secure measures designed to keep staff safe at work. We used these measures to our best advantage and made them an organic part of the office design.

The primary initiative behind the post-Covid office has been to make settings multi-use, to maintain sqm rates. From unassigned 'duo-desking', which serve as both individual workpoints and for colleagues to work side-by-side on project related tasks, to AV/technology enablement in all open, enclosed, formal and informal meeting settings. The spaces create a buzz within the office, attracting people back for activities that are best done in collaboration.
Increased 1:1 space. We've increased these spaces to support the change in work styles.
Bespoke workstations to allow for a socially distanced layout. In Auckland we designed custom manufactured workstations that improve the flow of the office while keeping our team safe.
Coworking spaces allow clients and staff to collaborate effectively in New Zealand. Our co-working space is clearly delineated from the rest of the office, by raising the floor to the building glazing line. This creates a deck-like area housing a variety of individual and group workpoints, and also doubles as a premium event space overlooking the waterfront.
Bigger meeting rooms to accommodate socially distanced meetings. In New Zealand ours are fitting with custom acoustic ceilings to ensure minimal sound degradation for anyone accessing the meetings remotely.
Video conference areas to support those still working from home. We have built custom acoustically treated curved pods to create more spaces for video calls without requiring additional meeting rooms.
A safe courier drop point for deliveries.
A dedicated cloakroom for client and visitors.

Technology at the heart of the workplace
One thing that 2020 has taught us is the importance of good technology. Businesses need to invest in the right tech to empower their teams and improve efficiencies.
At Unispace Auckland, everything from the video screens and speakers to the lights and venetian blinds can be accessed and controlled via AV panels or staff laptops. Everywhere you go, technology is seamlessly incorporated into the office design to improve efficiency and let people get on with their jobs, including:
Space availability technology - in line with our agile working principles, colour-coded desk sensors detect occupancy and/or indicate how long a desk has been vacant for, while simultaneously serving as wireless mobile charging points.
Space utilisation and future planning - The office is also able to capture ongoing data insights on utilisation to inform future space requirements. Room occupancy sensors track how many people enter meeting rooms; Wi-Fi triangulation sensors provide heatmaps showing where people are congregating or whether certain spaces are being neglected.
"We've used technology to help us achieve an incredibly flexible working environment where anyone can rock up and work in our space at a moment's notice, without compromising safety," says Pole. "Because the true impact of the pandemic on employee behaviours and working patterns is not yet clear – for any organisation –we're taking a data-driven approach to understanding the spatial implications of these patterns and determine everything from the number of meeting rooms we need, to peak times where additional social distancing measures or policies may be needed."

This technology, which is already being used across leading workplaces including PwC, The Edge and Deloitte, can be deployed anywhere in the world and scaled according to organisational need. For Unispace, determining accurate space usage and requirements is the core priority; for larger workplaces, the same data can also be used to develop more accurate 'Find me' systems.


Turning the design and construction industry on its head
Of course, supporting 'return to office strategies' or delivering workplace refresh projects during a pandemic isn't easy, wherever you go in the world.

With vaccinations now receiving approval in several markets, organisations looking to implement changes to their physical working environment in 2021 will need a flexible and fast-moving delivery partner capable of operating through all Covid-related conditions.

That's why, early in the pandemic, we saw the need to develop a new construction process that would significantly reduce delivery time, even on projects involving multiple subcontractors and suppliers. We call this our UniLean methodology, applying lean construction principles to our unique turn-key methodology to minimise waste, enable sustained, continuous improvement and create greater value for everyone in the construction process.

It's a methodology designed to ensure success in the difficult months ahead, irrespective of a client's location or specific workplace needs.

"With Unispace Auckland, we were able to deliver a complex 736sqm workplace in just six weeks, despite work being carried out against the backdrop of the country's highest Covid-19 Alert Level," adds Pole. "We've been able to test and refine our new UniLean methodology in Auckland and, as we move into 2021, we're now set up to help organisations everywhere as they seek a return to the office via Covid-responsive workplaces. It really was the perfect pilot for us."