In recent years, Unispace Global Design Director Simon Pole has noticed a steady increase in the number of clients implementing sit-stand furniture solutions, lured by the promise of employee wellness and more productive workplaces. In this article, he explores where the trend has been going and if the hype is justified.
The concept of sit to stand desks has received a lot of attention in recent years. Some of it promotes healthier and happier workers or potential benefits for the digestive tract, while other commentary discusses the fact that Neanderthal man didn't sit at a desk and human spines haven't evolved to sit down all day.

If I took a cynical view, it would be that the furniture industry saw an opportunity to launch some new products and promote them heavily based on "sitting is the new smoking", a term coined in 2014 by Dr James Levine, director of the Mayo Clinic-Arizona State University Obesity Solutions Initiative.
Take Australia, where understanding and implementation of new agile workspaces is arguably the most advanced in the world. Gen Y aspirations, increased costs of living and commercial property rents, growth in tech investment and a need to retain talent often lost overseas combine to create a perfect storm influencing Australian businesses to drive down space requirements and overheads. This, married with a national culture that focuses outwardly on the US and Europe and a youthful heritage, have seen the Australian workplace industry quickly evolve, with some of the best examples of agile workspaces in the world.
This advancement has had a significant impact on the furniture industry, and in turn on the requirements to craft a diverse landscape of furniture options that support agility and the mobile technology solutions demanded by these new ways of working.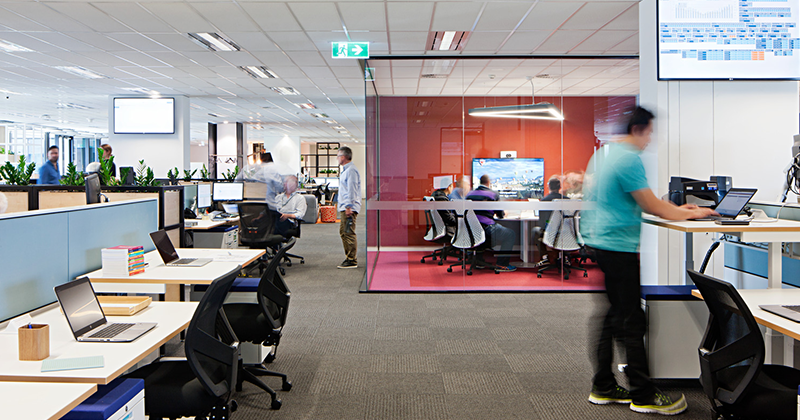 Recently, I've seen clients move in two main directions. Firstly, those that adopt an agile approach and give up desk ownership, with a nominal desk sharing ratio overlaid on departments who work flexibly, say 10 desks per 12 workers and they choose where to work depending on their task. (This allows people to move between sitting and standing settings.)
The second direction is taken by organisations who understand that, because collaborative work styles have increased, spaces must be designed to support this, and due to work preferences, they choose to retain desk ownership yet reduce desk sizes in order to create additional spaces for collaboration and/or socialisation.
Those choosing the first agile approach are not desk-bound and have mobile technology allowing their people to choose a desk, a bench, a leaning ledge, a standing desk, booth or a meeting room, and these can be fixed-height options (not the more expensive, electric versions). These clients typically ask for 10-20% of long term work points to be sit-stand to cover special requirements. This saves money on electronic desks but offers an investment in the diversity of other spaces, plus promotes movement and knowledge sharing.
Alternatively, those that retain desk ownership are investing in quality, electric sit-stand desks. This is based on the assumption that their people are desk-bound and spend a majority of their time at the desk and should have the ability to adjust as they wish. This tends to be implemented as a 100% solution for parity and flexibility across the organisation.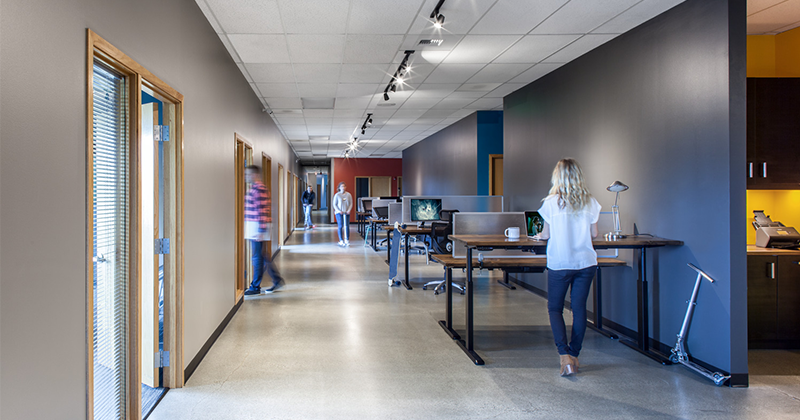 Interestingly, in 2011 European standards were updated to reflect new recommendations for desks and their measurements. The revised EN 527-1 standards became necessary due to increased knowledge about sedentary office work and the changing body measurements. The previous standards from 2000 looked at seated working positions only, but today's measurements now specify standing work and sit-stand desking as the new norm.
The current feedback is that sit-to-stand makes workers happier through simple customisation and the ability to control their environment. However, there's no long-term studies around performance or health benefits directly related to using sit-stand desks in the workplace and this must be taken into account during decision-making. Alan Hedge, Professor of Ergonomics at Cornell University has, however, found several benefits of using electric sit-stand workstations including reduced discomfort over the course of the workday, especially later in the day; reduced severity of musculoskeletal discomfort, especially lower back and neck; and improvements in (self-rated) productivity.
Based on his years of research, for optimal comfort, productivity and health Professor Hedge recommends 30-minute blocks are approached as a mix of 20 minutes sitting (with good posture), 8 minutes standing (for sit-stand workstations) and 2 minutes of standing and moving (gentle stretching, walking etc.)

Recent research published by the University of Toronto (Smith et al., 2017) has also found that people who stand for prolonged periods at work are twice as likely to develop heart disease as people who primarily sit. What this demonstrates is that any extreme is likely to be harmful in the long term and that a healthy workplace encourages balance and choice.
To further support long term behavioural change and positive outcomes, the medical community is now calling for research into whether facilities such as bathrooms should be moved further away from employees, if emails could be replaced by hand-delivered messages to promote walking and if the Internet of Things and biometric technologies could be used to prompt regular movement within the workplace.
And, before you go and buy a treadmill desk, note that 2010 research by Leon Straker, Curtin University Professor of Physiotherapy, saw reduced productivity while walking and using a mouse or a keyboard, including a 14% decrease in mousing speed and 106% increase in errors. Maybe some activities are separated for a reason?
Healthy workplaces stress the importance of activity and provide something all employees crave: choice. They accommodate walking meetings for those teams who dislike spending long hours plastered in the same seating arrangements and offer adjustable desks for the growing number of people who prefer working standing up. The most progressive workplaces employ people-friendly organisational policies, like convenient access to in-building fitness centres and explicit endorsements of the importance of work-life balance.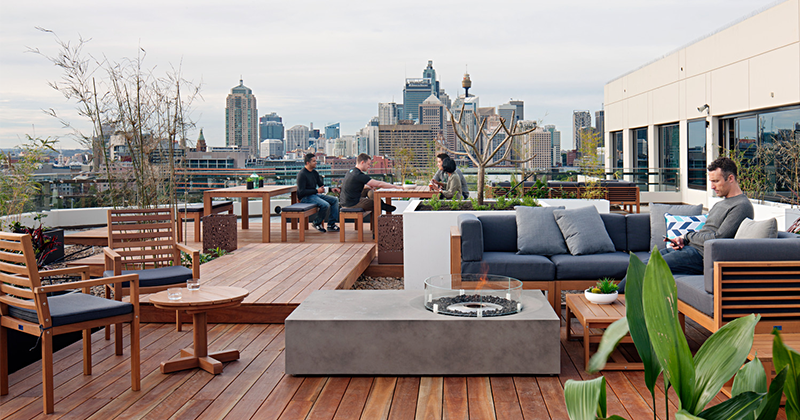 A healthy workplace uses open stairs to connect workers with one another, and these avenues encourage walking and impromptu interactions. Healthy workplaces exude a free-flowing relaxed quality that complements the cadences of daily work, while offering workers welcome opportunities to break out of their individual moulds and take a moment here and there to recharge and refresh.
Choosing the right solution for your organisation is about more than just looking at the latest trends. It's about assessing the way your people work, interact and socialise to ensure you're investing in the best elements for your team's productivity and wellbeing.
About Simon Pole
With over 20 years' experience leading exceptional and complex projects throughout Europe, the Middle East, Asia and Australia, Simon's aim is to enhance workplace performance for clients, ultimately changing the way businesses do business. He's passionate about the science behind workplace efficiencies and leveraging the attributes of great design to enhance the working environment. With one foot in strategy, and the other firmly planted in design, he acts as a translator from the initial executive workshop, through the briefing stage, to realisation of the finished environment.