We're excited to announce that Merck and Unispace have won a Gold award in the 2020 Sydney Design Awards - celebrating innovative and creative building interiors.
"This workspace has been designed to encourage productivity, creativity, and employee wellbeing, and is aligned with Merck's global mission to apply its scientific expertise to making a positive difference in people's lives," commented Leah Goodman, Merck Healthcare's Managing Director and General Manager for Australia/New Zealand.
The design and delivery of Merck's Macquarie Park headquarters was an exciting and challenging undertaking. After outgrowing their old premises, global science and technology company, Merck needed a workplace that was inspiring and vibrant, but that also considered the needs of both the Life Science and Healthcare teams they were uniting under the same roof. This meant transitioning their workplace to one of closed, siloed offices to activity-based working. Our design and delivery teams ensured a seamless transition to this new way of work by designing the office around colour-coded, task-specific neighbourhoods, or zones. This enabled staff to move from high-traffic areas such as the breakout and open workspaces, to low-traffic areas like focus pods and closed meeting rooms with ease and minimal disruption.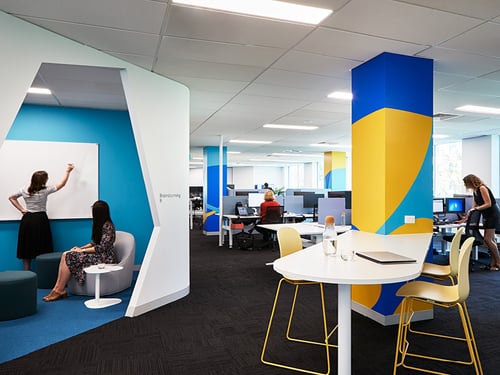 Having recently rebranded, Merck's Macquarie Park site was the first to have their new branding interpreted and incorporated in their workplace. With their guidelines featuring a number of bright colours, our designers had to ensure only 3 colours were used in each 'zone' and used a mix of vibrant and softened tones to create a warm and welcoming atmosphere.
A standout piece was the design and integration of a bespoke water lab in the space so staff could conduct lab work on-site. The lab required custom-made sinks, filtration trays, and a safe and efficient drainage solution to be implemented. Science and technology themed elements were also incorporated into the rest of the space, with the walls and ceilings featuring organic curves and recesses to represent the structure of 'cells.'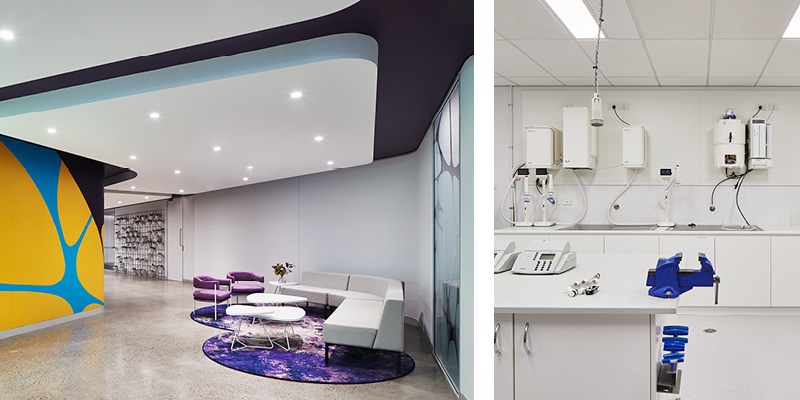 The new workplace has also had a positive impact on their teams throughout the current pandemic, with Leah Goodman saying: "The flexible office design has allowed us to easily adapt to the 'new normal' of physical distancing and implement a phased return of staff to the office in a COVID-safe way, with staff feeding back to us how secure and comfortable they feel coming back to the office."
Take a look at the project in the video below, or read the case study here.