Allens
Completed in just six months, Allens' new Perth space was co-created with their employees across all levels and departments.
An upcoming lease expiry was the catalyst for Allens' new Perth office. After relocating, the resulting reduction in floor space meant they needed to make bigger changes to their working style than they had first envisioned.
With this in mind, Unispace held a series of co-creation workshops with a cross-section of staff to determine their needs. The workshops were so well attended that Allens asked us to open the sessions up to all employees, resulting in 80% of Perth staff in attendance. These comprehensive responses formed the basis for all strategy, design and construction decisions for the project.
The leading law firm's objectives for the new space included attraction and retention of top talent, improved client experience, creating a space to support and ensure high performance, and nurturing culture and community. Sustainability and respecting local culture were also important drivers of the project.
The project evolved through deep design cocreation between Allens and Unispace. It was through the strategy workshops that Allens truly uncovered what they needed from their Perth space and the way of working they were interested in implementing; this was done through:
- Understanding the evolution of office design/commercial interiors
- Conceptualizing where they fit within that framework
- Deciding what aspects of their existing space and way of working they wanted to keep, toss, or create
- Exploring possibilities in terms of architecture and technology
- Selecting which space types work best for them
- Benchmarking against similar firms
As the project continued through the Covid-19 pandemic, and Unispace and senior Allens staff located in Sydney and Melbourne were unable to enter Western Australia, a second round of workshops was held virtually using Miro boards, whiteboarding, voting panels, real-time surveys, and straw polls. Maintaining high levels of engagement and participation, Allens Perth employees were empowered to determine their unique solution, tailored to the particular needs of practice groups, partners and community even if that meant doing it virtually.
It was clear that for any design solution to be effective, the open workspace environment needed to be highly considered. Balancing acoustic and visual privacy with the need for collegial 'buzz' created a challenge within the new open plan environment.
To achieve this, the design team combined non-standard desk configurations in H and T shape formations based on the Allens staff preferences, with central dividing spines for an additional buffer. Storage and planting were equally positioned throughout the space to provide further sound and visual protection, whilst keeping project files and resources within arm's reach. This is further complemented by several modular rooms, set inbound from the façade which ensured democratic access to natural light, giving long stay seats the best positioning.
In addition to creating a high-performing space for employees, a key driver uncovered during the strategy phase was improving the client experience, with several options modelled to determine ideal space usage. A space for 'off matter' conversations saw a client lounge positioned centrally within the front of the house, providing a comfortable space for informal client meetings. Rather than separating the client spaces and the employee breakout area, a 'heart space' is centrally positioned within the front of house allowing for views from the lobby to the Perth landscape beyond, connecting staff and clients to the local context. This social space is named 'Koort Mia', a direct translation for 'heart space' from the traditional custodians of the land, the Noongar people.
Sustainability was another important aspect of Allens' new Perth office, with the project underpinned by their Environment, Social and Governance (ESG) brief. This meant using local materials and furniture wherever possible, as well as the re-use of high-quality pieces. During the on-site delivery of the project, we diverted 80% of the waste generated from the construction process away from landfills to further support Allens sustainability objective. This approach was not only environmentally conscious, it was also instrumental in achieving practical completion on time, despite Covid-19 related supply chain issues.
The project aligns with Allens' Reconciliation Action Plan, and the local Indigenous community is represented in several ways throughout the project. We ensured these factors were met by sourcing products from Indigenous-owned and/or controlled companies, creating a carefully curated collection of Indigenous art, and working with a local Elder to define room names for the client-facing and work areas.
Moving into the construction phase, it was key that the project meet the lease expiry date of December 2021. However, as the building was brand new, construction was unable to begin in August as planned. With Western Australia's borders closed, there was no way for key team members to be in Perth. This meant our team needed to condense the program to meet the deadline, which involved engaging contractors early, increasing project control group (PCG) meetings to weekly and status updates to daily, safely extending shifts into overtime, and completing WHS (workplace health and safety) weekly.
Supply chain issues added further pressure to the project, especially for bespoke items and materials such as marble. To manage, long lead-time items were procured well ahead of time, and where this wasn't possible, we found temporary solutions, for example, borrowing task chairs from trusted suppliers. Being aware of this issue early on meant we could anticipate delays, especially for products shipped from overseas, avoiding delays and unforeseen costs.
At the conclusion of the Allens Perth project, the feedback from the leadership team and Perth employees have been overwhelmingly positive. With such a high level of collaboration between Unispace and Allens staff, that's no surprise – they have created a space that nurtures their way of working and their culture now and into the future, with a strong connection to the local context. It's a space that is a joy to work in.
Reach out to us for more information
Client
Allens
Location
Perth, Australia
Service
Strategy
Design
Construction
Awards
Design Institute of NZ Best Awards - Project > 1,000sqm - BRONZE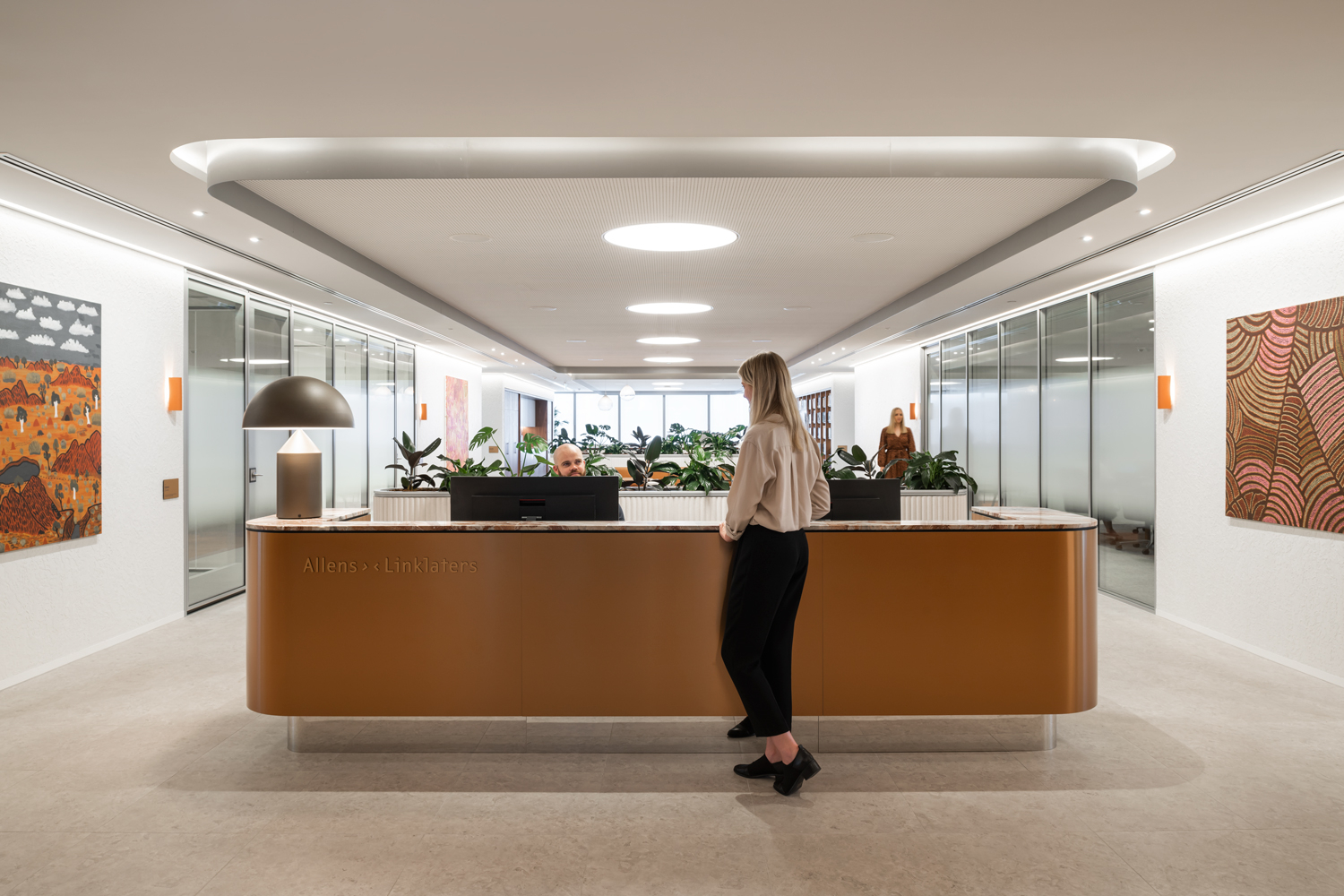 The look and feel of the project is inspired by the local area. Perth offers a rich palette that our team used to inspire the development of the materiality of the project.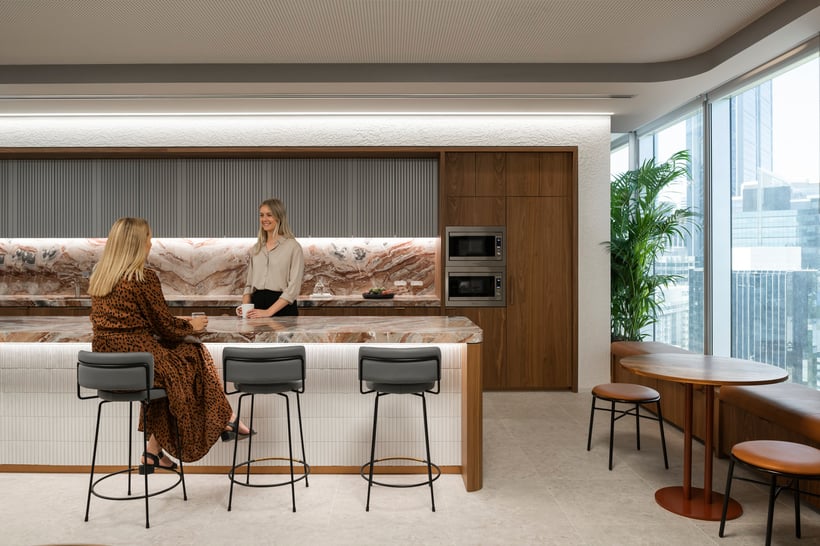 The kitchen utilises the project colour palette including warm timbers, rusted oranges and bronzed metals and provides a space for breaks and casual engagement.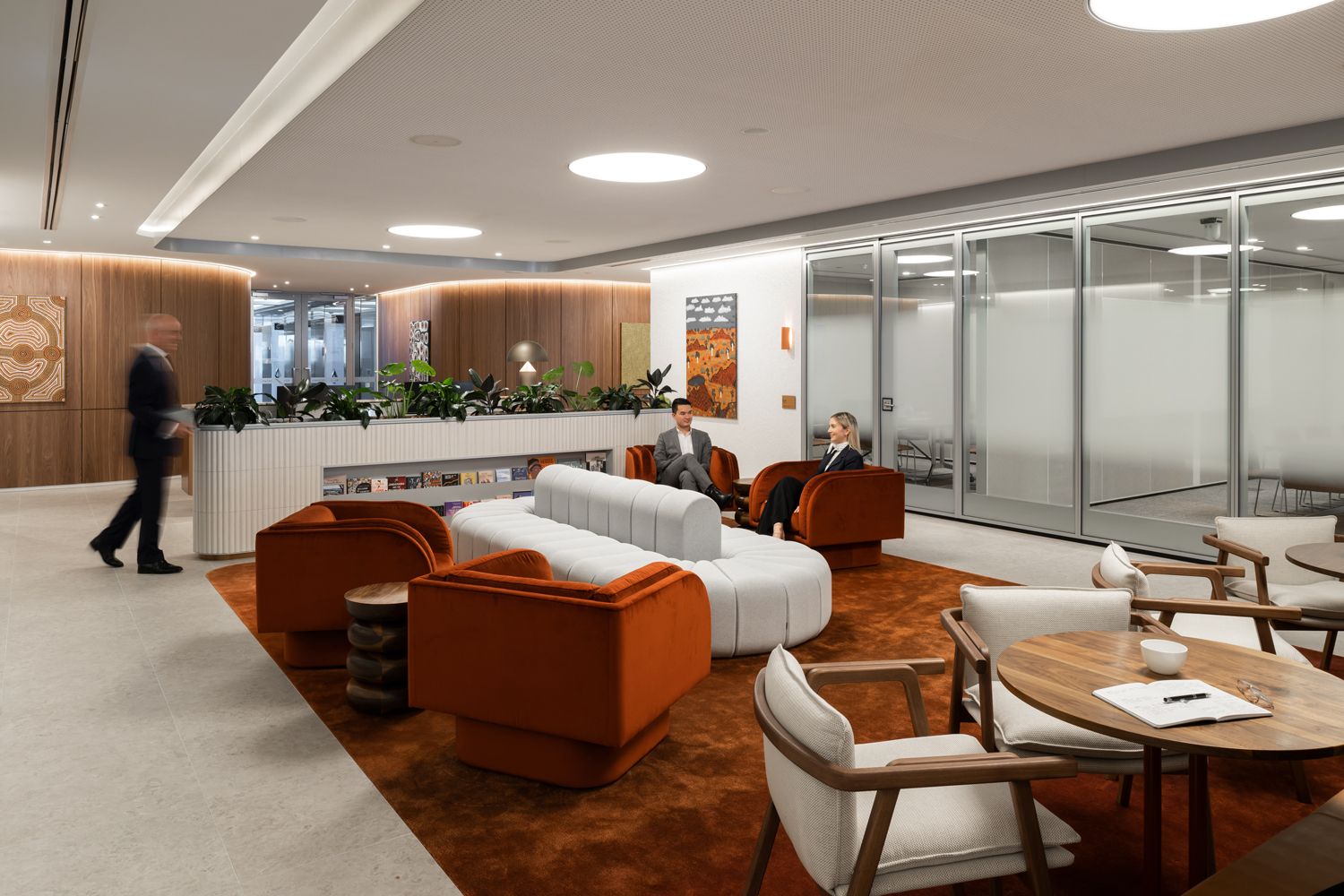 A space for 'off matter' conversations saw a client lounge positioned centrally within the front of the house, providing a comfortable space for informal client meetings.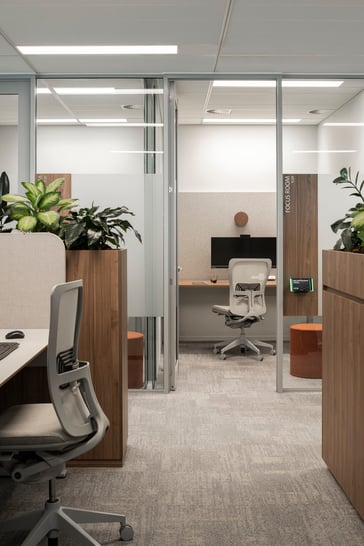 Workstations throughout the space feature central dividing spines and utilise storage and planting to provide further sound and visual protection to ensure an adequate focus environment for employees.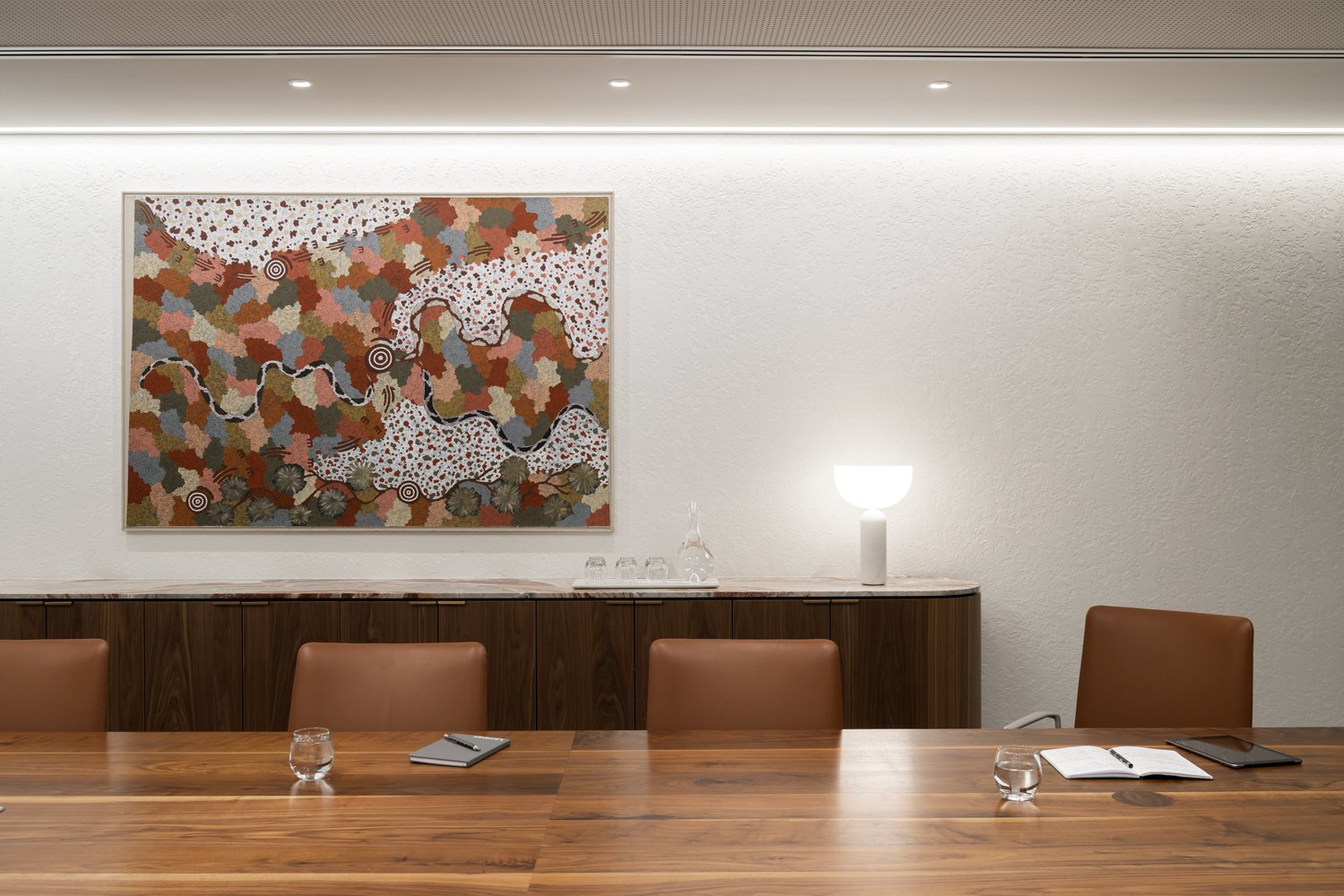 A carefully curated collection of Indigenous art features throughout the front-of-house client space. In addition, we actively specified products from Indigenous-owned and/or controlled companies or those that had rigorous action plans to support local communities.