Astellas Pharma
Astellas Pharma looked to further strengthen its real estate footprint, by collaborating on their next project with Unispace in Warsaw.
Transitioning to a new way of working
After successfully collaborating with Unispace on their award-winning 13,000 sqft Madrid workplace, global pharmaceutical firm Astellas Pharma, invited us to design their new office in Warsaw, Poland. For this workplace, they would be looked to move to a smaller floorplate in the city, with the goal of limiting formalities amongst colleagues by removing individual offices and fixed desks. With Unispace, they hoped to embark on the next stage on their growth journey and a new, progressive way of working.
This was evident in our previous projects where we conducted robust research as part of an initial workplace strategy phase. During this study, we wanted to directly understand from Astellas Pharma's employees what precisely they wanted (and didn't want) from a new office. We held research sessions within the wider business and conducted a key surveys, which received a 90% response rate. The pandemic naturally played a part in people's opinions as to what a healthy work / life balance now looked like, with most employees highlighting the need for an agile workplace. We then interviewed key stakeholders to identify business drivers and working patterns to understand how we could align these with the workspace related needs of their people. The outcome of this research was enabling Astellas Pharma to have a very clear picture as to the needs of their employees, ensuring the plans presented would result in an agile, dynamic and collaborative workplace.
The outcome of this research was enabling Astellas Pharma to have a very clear picture as to the needs of their employees, ensuring the plans presented would result in an agile, dynamic and collaborative workplace.
Encompassing the brand
The project had the potential to be a straightforward venture from the start. Located on the fourth floor of the commercial complex, Business Garden Warsaw, the new space in Poland was a blank canvas ready for Unispace to transform immediately. Supported by the inspiration directly from our recent project in Madrid, this allowed the workplace concept and design to be created, presented and brought to life, in just four months.
Astellas Pharma maintain a solid set of design guidelines within their business which is pleasantly reflected across their offices globally. Reds, whites and greys pave the way for the ultimate feel of the space whilst allowing vibrant primary shades to shine through on both the structures and in furniture. After working with Astellas Pharma previously, Unispace understood that the established branding had to be cherished whilst creating a new modern feel by way of the local materials and fittings.
A successful collaboration
Delivered in just four months, this partnership has been the creation of a workplace that facilitates greater collaboration and cooperation between all team members. It is a space which breaks the traditions of an old fashioned office atmosphere to a newer, sustainable way of agile working. It's a place where employees and guests are encouraged to unwind and carry out their daily tasks and commitments in one of the various working environments, supported by materials which ensure the wellbeing of their end
users.
Reach out to us for more information
Client
Astellas Pharma
Service
Design
FF&E
Choosing the right materials
Timber details and acoustic solutions were so well received in the Madrid space that they were also reflected throughout this workplace in Warsaw. Cladded in timber, the welcome desk lies behind the client area which sits beneath acoustic baffles to create a calming and welcoming first impression for guests. Sound absorbing wall panels cloaked as pieces of artwork are displayed throughout the office in meeting rooms to support wellbeing, managing reverberation control in the hope of boosting productivity in the office. Noise absorbing light fittings also inhabit the rooms as functional decorative pieces, providing the answer to a work environment with better acoustics without sacrificing design aesthetics.
A distinctive element of this design, which sets it apart from Astellas Pharma's other workplaces, is the exposed concrete ceiling. This feature is part of the business complex's design and must be retained across the entire building to preserve its industrial feel. Sound controlling baffles were installed into the ceilings, primarily to heighten acoustic performance but in doing so, also enhancing the design of the space.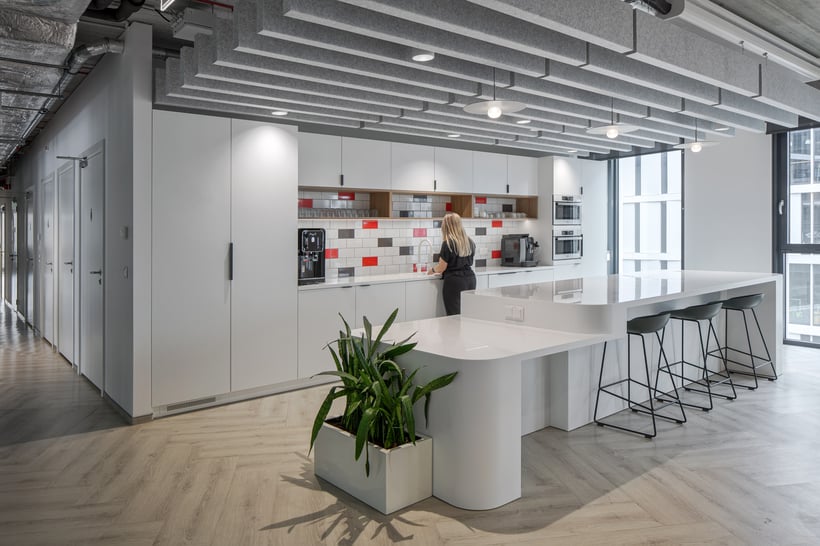 Welcoming new spaces
The whole floor consists of a mixture of boardrooms, open spaces, phone booths, focus areas and collaboration zones, supported by five storage rooms which were crucial for this office. The layout has been designed to encourage and support the various needs of each colleague, depending on the activity. The purpose of the private focus rooms is so they can be used as individual offices by colleagues when needed, and reverting to an available shared space when not in use.

In the original plans, the kitchen was designed to sit on one side of the office. After communicating with the landlord and realising there were connectivity issues in that section of the building, the area had to be reimagined. The design team saw this as an opportunity to deliberate and rethink how the kitchen would best be placed with the aim of ensuring the growth of peer relationships within the workforce. After being restructured and newly positioned in the centre of the floorplate, the communal kitchen is now the beating heart of the office. The remodeled space not only functions as a kitchenette for mornings and lunchtimes but also as a breakout area to encourage collaboration between colleagues, even during downtimes.