Carlson Wagonlit Travel
A bold, dynamic workplace that highlights Carlson Wagonlit Travel's spirit of global adventure and commitment to customer service.
Supporting Carlson Wagonlit Travel as they expand into new markets
Carlson Wagonlit Travel (CWT) specializes in business travel management, and meeting and event management for leading global organizations to "make the world work for you."

CWT approached their move to a new location in Singapore as an opportunity to bring the feeling of excitement, optimism, and discovery back to their workplace. As Unispace had previously worked with CWT in London, we could leverage our knowledge of their workplace goals in combination with our global platform and local expertise in Singapore to ensure seamless project coordination.
Reducing overall office footprint while increasing employee experience
Our team was engaged to design and deliver a cohesive workplace that supported collaboration across CWT teams, while also reinforcing the corporate brand and culture in the built environment.
CWT's previous office felt dated, and was split across four underutilized levels. Unispace undertook a workplace strategy initiative to evaluate suitable properties, ultimately determining the ideal size requirements for the new CWT workplace.

We recommended optimal zoning to maximize performance, engagement, and collaboration. Shaped by our strategy findings, CWT selected a workplace model that consolidates its space to one level, reducing its overall footprint.
A space that reflects the CWT journey and feels like the destination
The design concept centers on the CWT theme of 'the journey and the destination.' The layering of rich, natural, tactile and bold colors inferred a sense of adventure. Vibrant graphics reflect CWT's brand, products, and industry partners. This is complemented by a branded carpet feature that outlines the workplace's journey, connecting teams to the breakout and collaborative areas.
Reach out to the team for all projects in Asia
Client
Carlson Wagonlit Travel
Service
Strategy
Design
Construction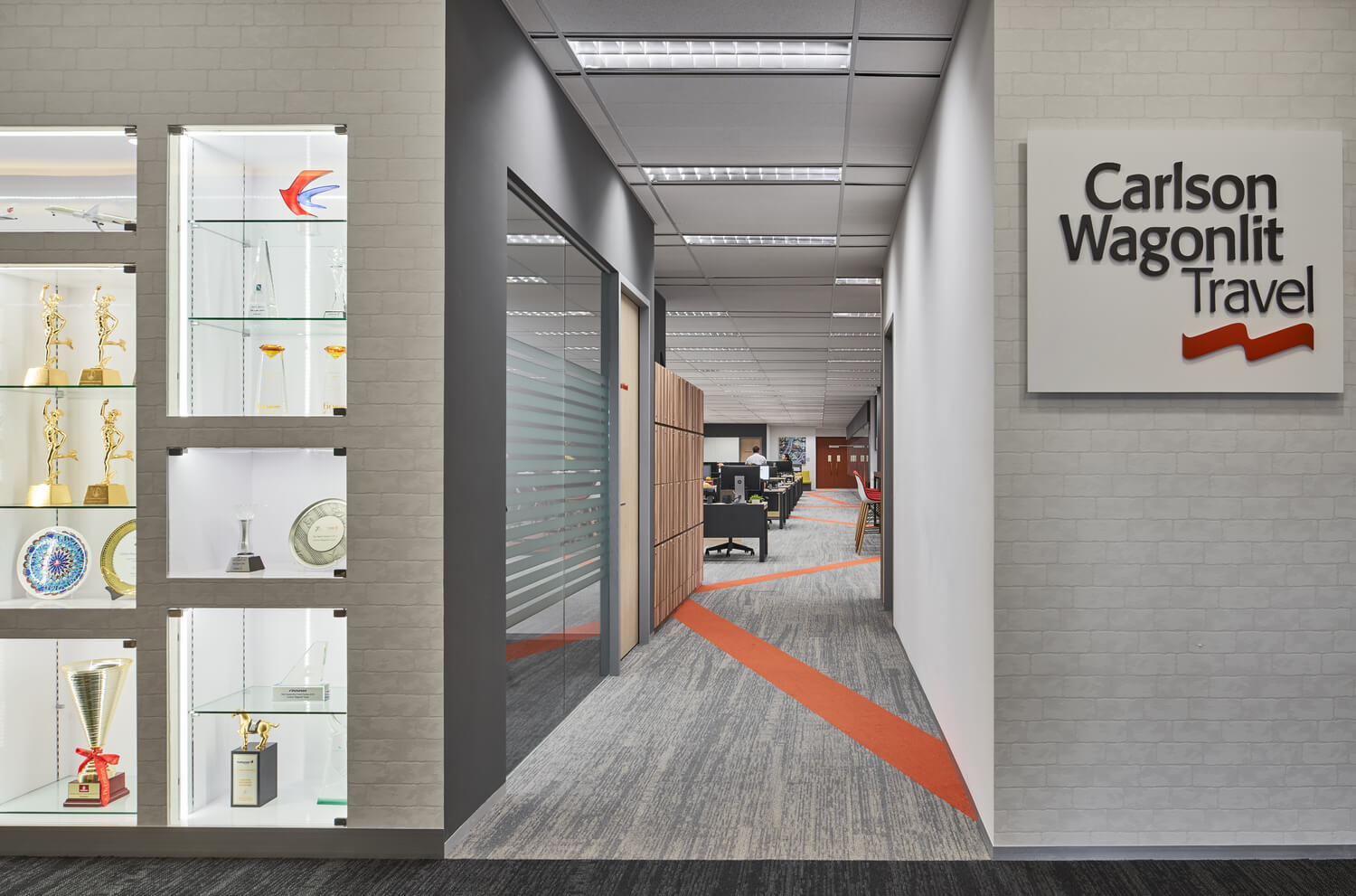 Vibrant graphics reflect CWT's brand, products, and industry partners.