Coca Cola Amatil
Coca-Cola Amatil's five-floor transformation creates a destination workplace reflective of the brand.
Renovating their existing space to be a workplace of the future that inspires and connects staff to their brand
From coffee, to water to, energy drinks and alcohol, Coca-Cola Amatil's is an FMCG powerhouse. As part of their project objectives, Coca-Cola Amatil wanted a new workplace to demonstrate their industrial might while being an inspiring and efficient environment to work in. Finding an alternative premises to accommodate their people was proving a challenge. As a result, they extended their lease and appointed Unispace to help revitalize the existing space, including designing for flexibility and longevity.
Discovering real estate cost savings allowed Coca-Cola Amatil to remain at their location in a more efficient workplace
During the strategy phase, our team established the project objectives to inform the design of the new space. By looking at the existing space and carefully listening to Coca-Cola Amatil's requirements, we saw how they could not only remain where they were and accommodate everyone comfortably, but they could also give up one of their six floors.
Senior managers now sit among their teams in an agile workplace. Teams are encouraged to integrate and collaborate through lounges, tea-points, retreat lounges, drinks emporium and terrace; with technology seamlessly integrated into the design and building to communicate brand messages and facilitate learning. A designated client floor gives visitors a dramatic welcome into a light-filled space with sweeping harbour views.

Efficiency in design helped reduce the environmental footprint by reusing existing materials/furniture, such as repurposing Coca-Cola bottles to create breakout chairs and using old workstations for bench-style seating.
A one-team approach to meet the deadline and minimize disruptions
Guided by Coca-Cola Amatil's efficiency goal, our team did an in-depth strategic analysis to work through different scenarios to best deliver our design. With our construction team engaged from the beginning, we produced programs, progressive budgets, and a staged construction approach. While this meant more time on-site, it also meant fewer moves for the client and less disruption to the business.

Coca-Cola Amatil's new workplace has changed the way they work by bringing people together more easily.
Reach out to us for more information
Client
Coca Cola Amatil
Location
Sydney, Australia
Awards
DrivenXDesign Awards Interior Design – Corporate Gold - 2019
"I'm most proud of the fact that this has achieved what we wanted it to as far as team engagement. We've also given back a whole floor to our landlord, which has saved us millions of dollars in rent each year."
Matt Toohey
General Manager, Coca Cola Amatil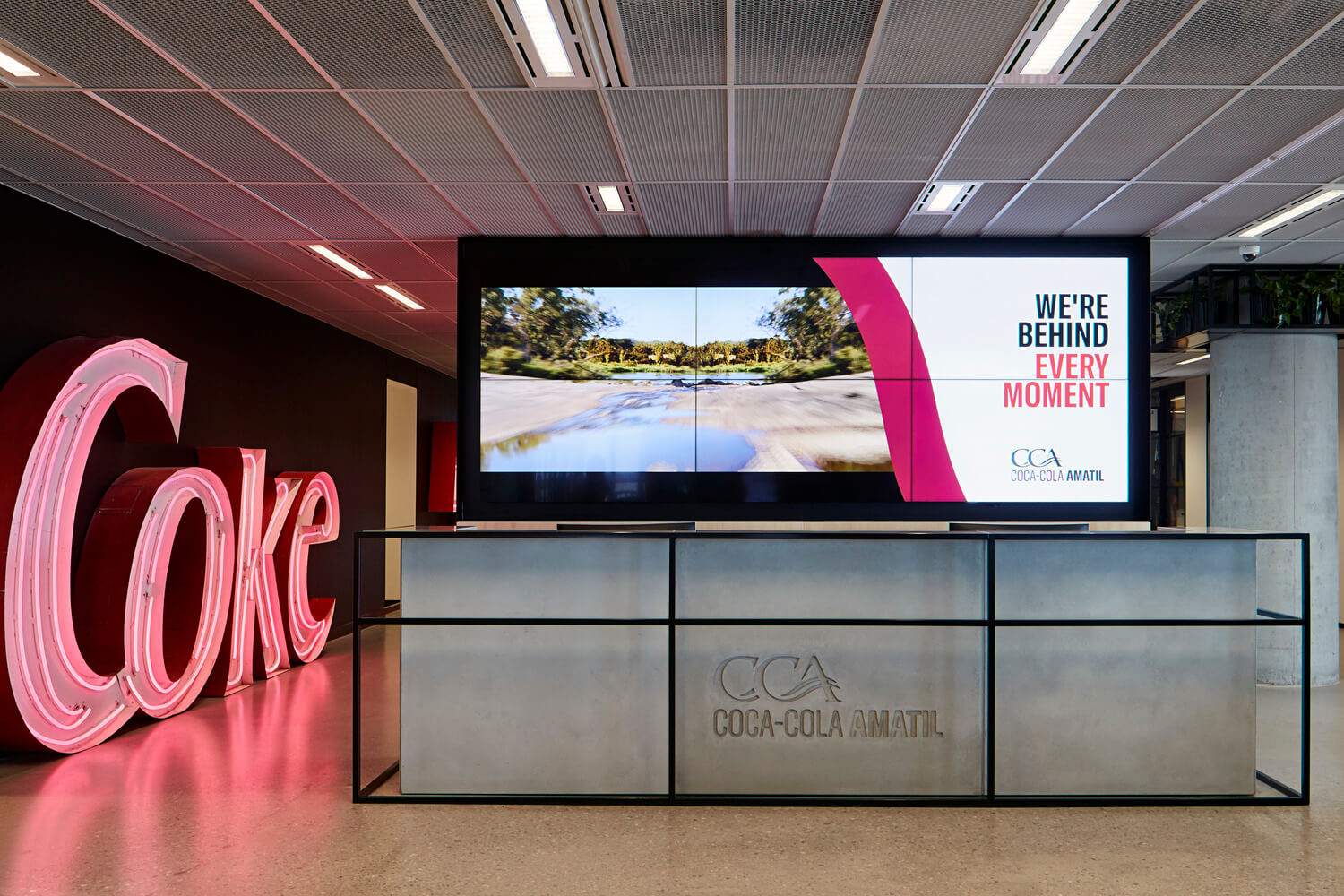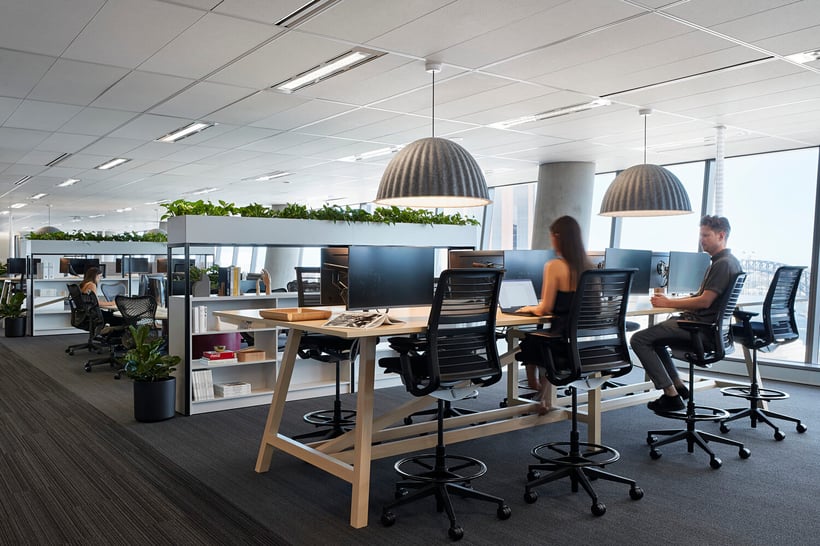 Workspaces with floor-to-ceiling windows take advantage of the harbor views.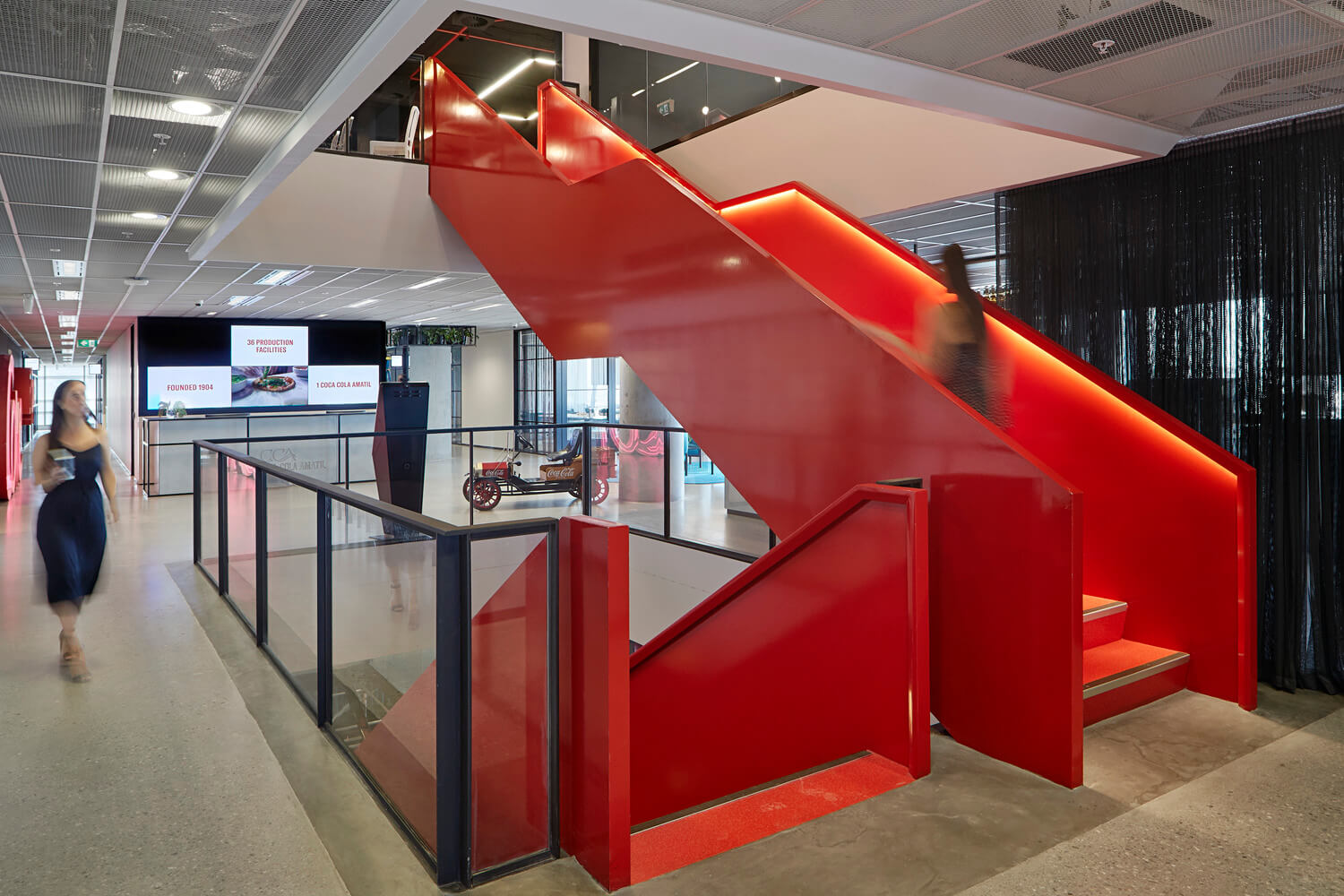 A single staircase links teams on each floor, so staff can connect more easily.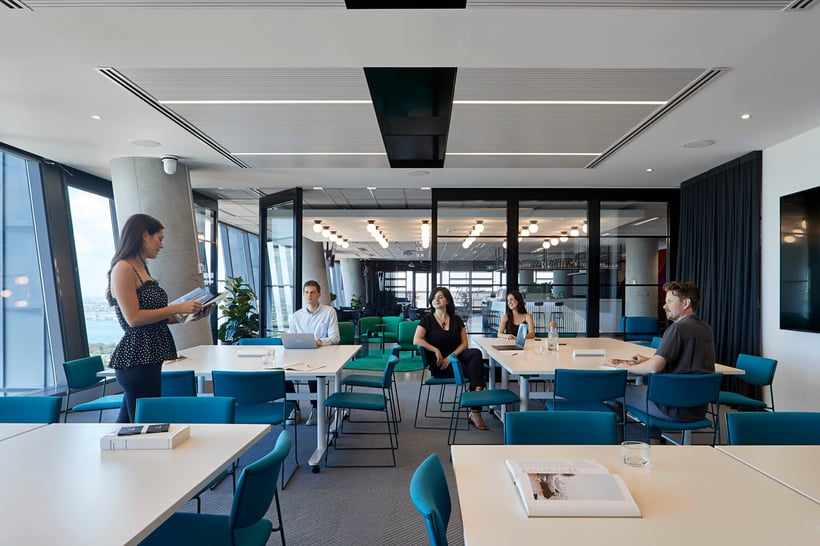 Teams are encouraged to integrate and collaborate through lounges, meeting spaces, retreat lounges and the drinks emporium.