Double Verify
True digital integration unlocks a new way for this media authentication company to experience space and achieve their goals.
Creating an inspiring workplace that embodies DoubleVerify's tech-focused mindset
DoubleVerify, a leader in digital performance solutions, wanted to relocate from their existing office in the Garment District to a new office in SoHo. The existing office was spread across two floors and had a traditional and dated aesthetic. They wanted the new SoHo space to bring all employees together on a single floor to foster collaboration. The vision was to create an inspiring workplace that would enhance team collaboration, help recruit and retain talent, and tell their brand story, all while adhering to a strict budget and schedule.
A collaborative process that enables visualization and data to save time and mitigate risk
DoubleVerify wanted a space that reflected their aspirational and technology-focused values with focus on openness and transparency. Our team leveraged our digital integration process - uniBIM, a collection of planning and design technologies with cost databases, to save time, forecast risk, and increase quality.

The process began with an interactive 3D photogrammetric scan of the space to capture field conditions, providing our team with a constant point of reference. The program's accurate helped us detect a few-inch sag in the slab, which we immediately addressed, saving a costly change order later.

We incorporated this data into the test-fit and design process where our team developed 3D renderings and VR tours to help the client better visualize the space. This allowed DoubleVerfify's team to experience the new space's adjacencies, scale, and proportion, giving them a more informed view of how the space would look and feel once completed.


With the whole team at the table, we worked together to apply manufacturer data and costs, develop take-off schedules, and create color-coded plans quickly. Our ability to rapidly prototype the space enabled us to communicate more effectively, generate buy-in from DoubleVerify's leadership team, and ultimately meet the fast-paced schedule.
An innovative workplace that provides engaging spaces to collaborate
DoubleVerify's new office includes a large hub designed to draw employees away from their desks and inspire collaboration. The hub is divided into two distinct zones—, a collaboration and social.

The collaboration zone is strategically located near the main entrance and reception area. It features a variety of seating options, including lounge furniture, a standing-height table and individual high- back seating—giving employees a space to collaborate or focus away from their desks.

The social zone, located near the pantry, provides banquette seating and bistro-style tables and chairs where employees can eat lunch or host informal meetings. The space was designed to be easily reconfigured and opened- up to accommodate large meetings and events. Built-in millwork booths separate the two zones, visually connecting and defining the spaces.

Additional collaboration zones, huddle rooms, open-ended meeting booths, and large open work areas provide employees spatial variety, privacy, and transparency throughout the space.

DoubleVerify's new workspace is more efficient, allows for an increased headcount per square foot, and enables departments to work closer together. The added amenities support collaboration and position the company to attract and retain talent.
Client
DoubleVerify
Location
New York, NY USA
Team
Design, Construction
"We're thrilled with how uniBIM and our intelligent space planning approach made the entire process so seamless for Double Verify, while showing the true value of our unified team approach"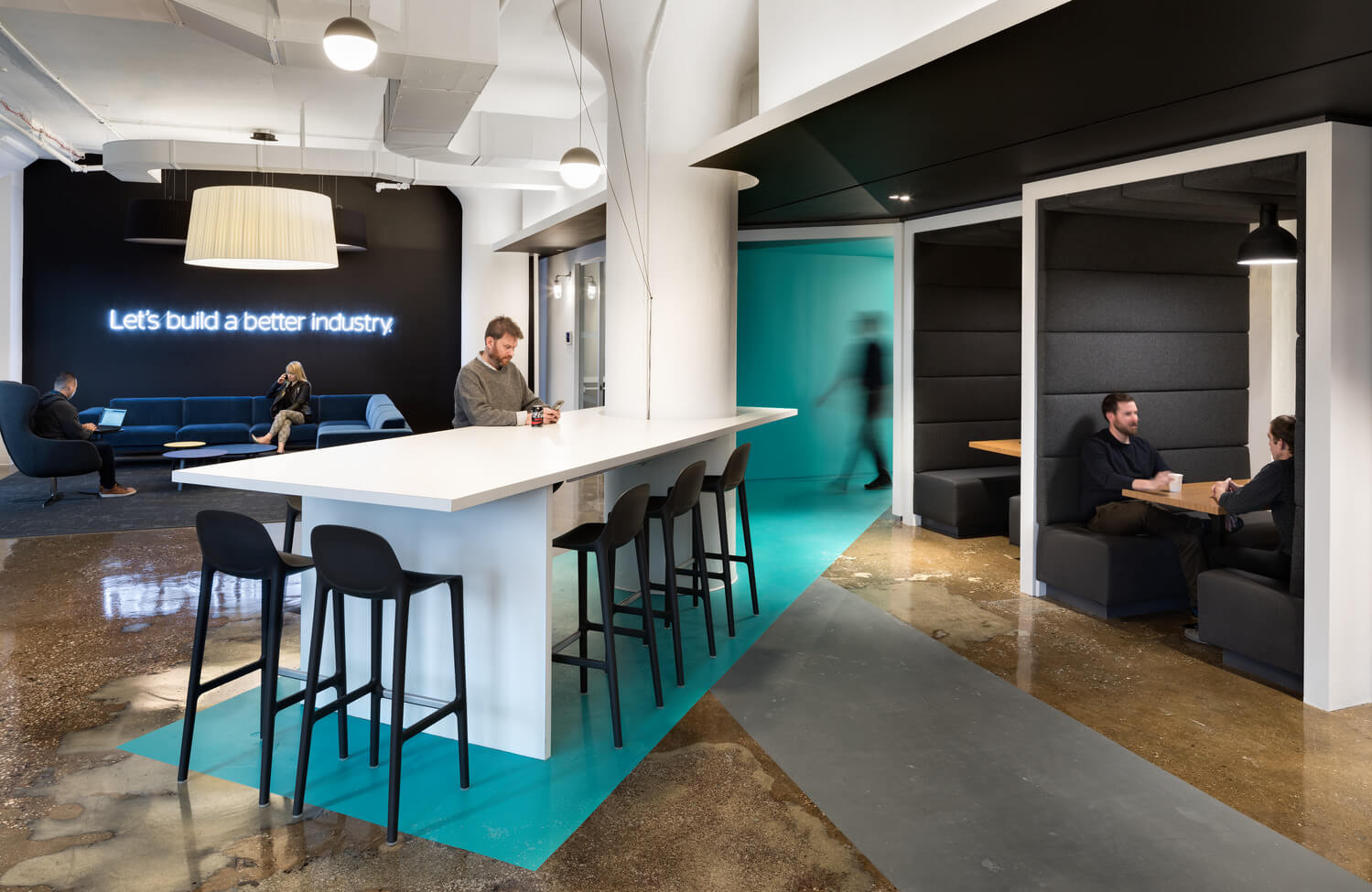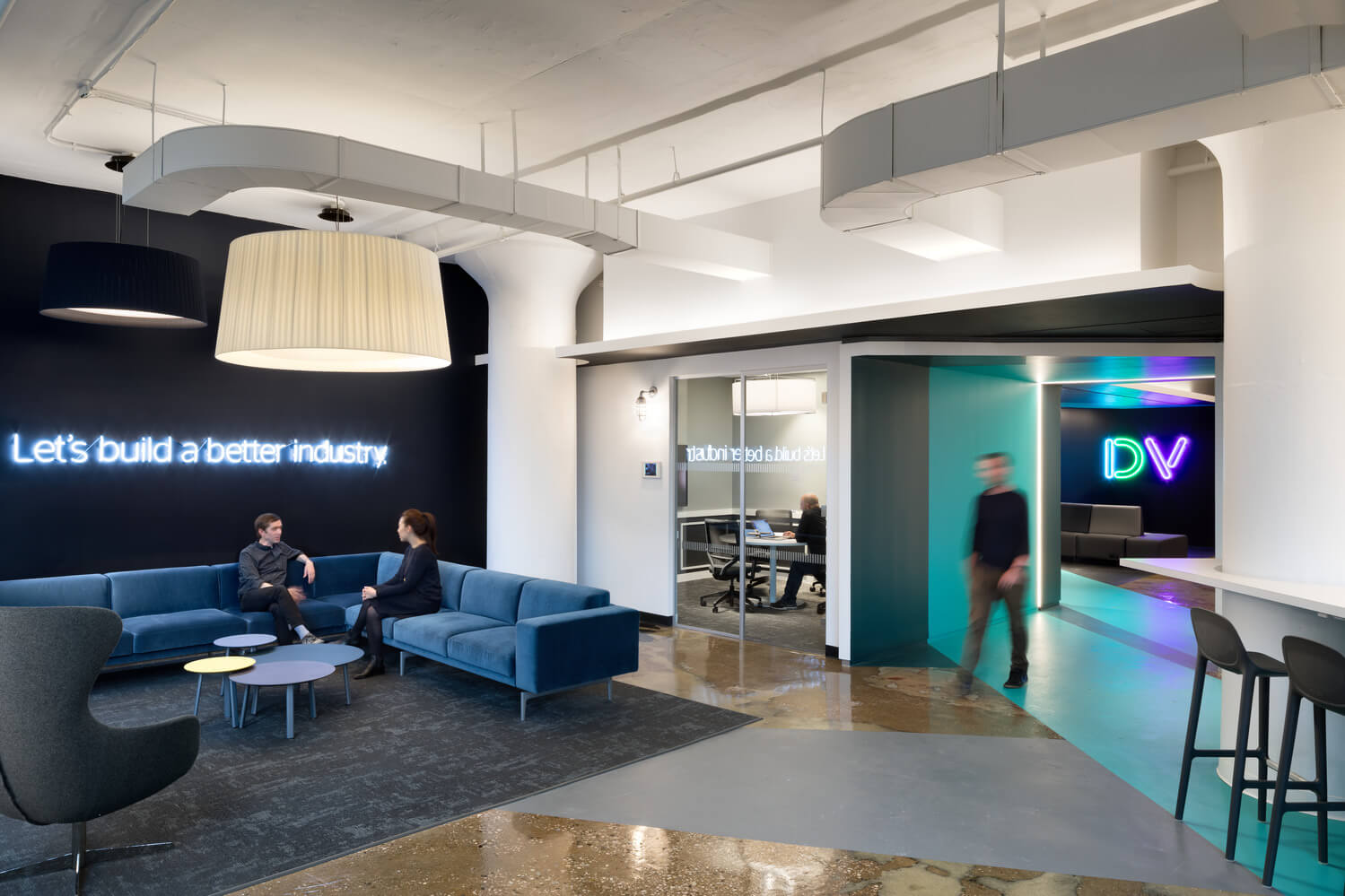 Designed to communicate the DoubleVerify brand and embrace the building's history, the new office features polished concrete floors and colored pathways that direct staff and guests to different functional areas.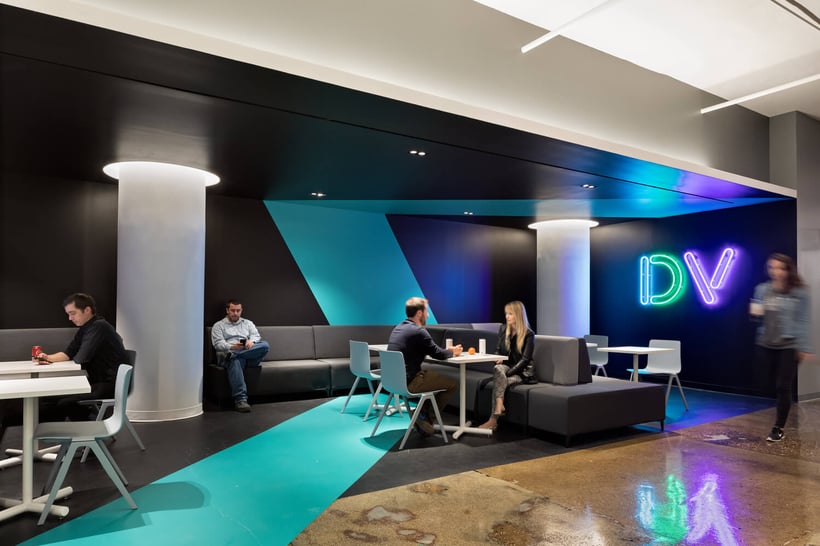 Upon entering the space, visitors and employees are greeted with a cafe and a stepped meeting area. This space hosts everything from all- office get-togethers to informal coffee meetings and movie nights.