Kering
Luxury group, Kering, wanted a showcase space to position themselves at the forefront of e-commerce and propel the business into the future.
Kering's mission
As a world-class luxury group, Kering promotes modern and sustainable luxury with major brands such as Gucci, Saint Laurent and Balenciaga within its global portfolio. It was only natural that they wanted their Paris headquarters to reflect the same values, partnering with Unispace to make it happen.
Situated in a historic listed building, we worked closely with the Kering team from the initial people strategy through to construction in order to fully transform their six floors.
First and foremost, the space needed to support Kering's strength or industry position as the premier leader in e-commerce. Housing their digital and IT teams, the space needed a modern, progressive showcase space that raised their profile, inspired colleagues, clients and visitors, as well as create a vision of bringing Silicon Valley to Paris.
Secondly, we needed to seamlessly combine the digital and IT teams together in the same space, enabling them to collaborate and strengthen relationships.
By designing a variety of flexible spaces, teams gained a variety of areas based on their working preference, ultimately boosting employee satisfaction and increasing productivity.
The space also needed to house events so we built the Agora space to be fully flexible, allowing for a variety of uses such as press events, presentations, town hall meetings and yoga classes. It's also the perfect space for start up businesses to pitch their proposals for Kering to invest in, after recently investing in a digital platform themselves for second-hand clothes.
Sustainability
As part of Kering's own company mission, sustainability was a big focus. The workplace is now Gold LEED standard and the building itself is BREEAM-accredited. The Unispace team ensured we were on track for accreditation with recycled materials used in our design and ensuring all on-site waste was sustainably recycled.
In order to personalise the space to cater for Kering's colleagues, we implemented the Unispace Propeller model, focusing on flexible spaces for people to be their best selves. Their teams wanted 'me spaces' for focus work, 'we spaces' for collaborative team work, and 'social spaces' for relaxing and socialising with colleagues. We designed these spaces, such as phone booths, project areas and cafeteria spaces, throughout the floorplan to suit everyone's needs.
Delivering Kering
We communicated with Kering every step of the way, incorporating Openspace video technology to record the space's progress. We also met with the Kering team on a weekly basis and sent weekly reports on financial updates, site photos and upcoming milestones. This was particularly helpful during the pandemic, as a key member of Kering's team was situated in Italy, and unable to visit the site. Despite being a luxury group, Kering wanted to be disruptive with the design of their space. We used modern, urban materials such as concrete, wood, metal and raw materials to feel understated yet timeless in a luxurious, sophisticated aesthetic.
Reach out to Laurent Soulat for projects in France
Client
Kering
Service
Strategy
Design
Delivery
Construction
Awards
Better Future Awards, Paris - Gold Fast Company Awards - Finalist Dezeen Awards - Longlisted
"It's important to have an element of fixed desks due to the local culture's nature of work. With fixed desks designed in neighbourhoods, we were able to create the best of both worlds for Kering."
Laurent Soulat
Regional Director, Western Europe, Unispace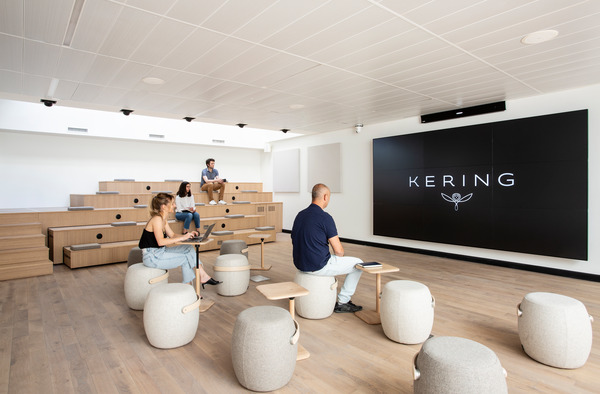 Kering wanted the space to have a young, start-up feel so we added fun elements such as swing desks and flea market lamps to decorate. We also plan to commission local artists to graffiti the walls later this year, adding cultural influence. Having so many brands in their portfolio, Kering didn't want any connotation or reflection of these names, making sure the workplace reflected Kering as a whole.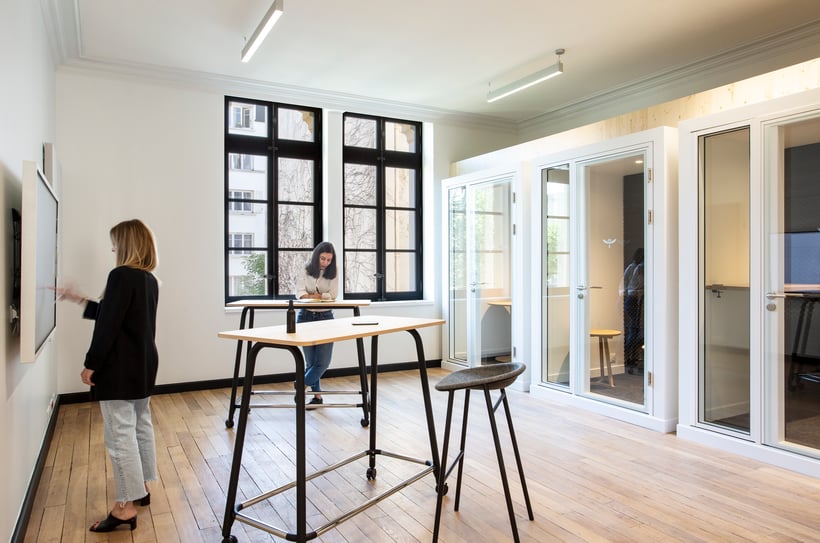 Highlights
• Designed to reach Gold LEED and BREEAM Very Good in a historic listed building
• 30% sharing spaces to strengthen team relationships, increasing to 45% in 2023
• Agora space allows large events including start up business investment pitches
• Delivered in four months