Global Software Company
Expanding from two to three floors in the heart of Sydney, this global software company envisioned an inspiring, collaborative space that would serve as a benchmark for future projects.
A fast-growing, innovative software company, our client sought to create a space reflective of their brand and its values. Sydney is a growing talent hub for our client's business, and their expanded footprint needed to be future proofed to meet the scale of their growth. The space was due for completion at the end of 2021, so it also needed to draw employees back into the office mid-pandemic, creating unmissable experiences and empowering people to do their best work.
Having partnered across multiple projects and throughout the pandemic, our collaborative way of working together was well established. We worked across Australia, India and the USA, offering global, collaborative and transparent design and construction services from the initial functional briefing and concept development through to delivery and handover on site. This unified process made it possible to take an agile approach and work around any unexpected issues, pivoting as the project developed.
For example, with rolling lockdowns across Sydney, subcontractors were difficult to come by. Rather than working through each stage of the fitout from the floor up, we broke the project up into five separate stages, working in sections clockwise, programming resequencing methods to deal with workforce shortfalls.
At the heart of the project was the desire to create experiences that would draw people back into the office. To bring this vision to life, the new space goes beyond aesthetics to provide features that employees won't find at home. With luxe finishes and floor-to-ceiling windows filling the space with natural light, new work settings provide employees with huddle spaces, quiet rooms, and informal meeting spaces, allowing them to break away from their desks through varied working styles. A wellness space, complete with in-house showers provides an opportunity for workouts or meditation, while a dedicated coffee bar, complete with a commercial coffee machine, as well as a games room, give team members a chance to connect.
As our client welcomes their people back into their reimagined office, they enter a vibrant, varied and engaging space that will set the tone for future spaces. Based on this project, this global software company is now considering reimagining their remaining Sydney offices in line with this vibrant space, so all employees can get the most out of their time spent in the office and do their best work.
Client
Global software company
Location
Sydney, Australia
Completion
December, 2021
Service
Design
Construction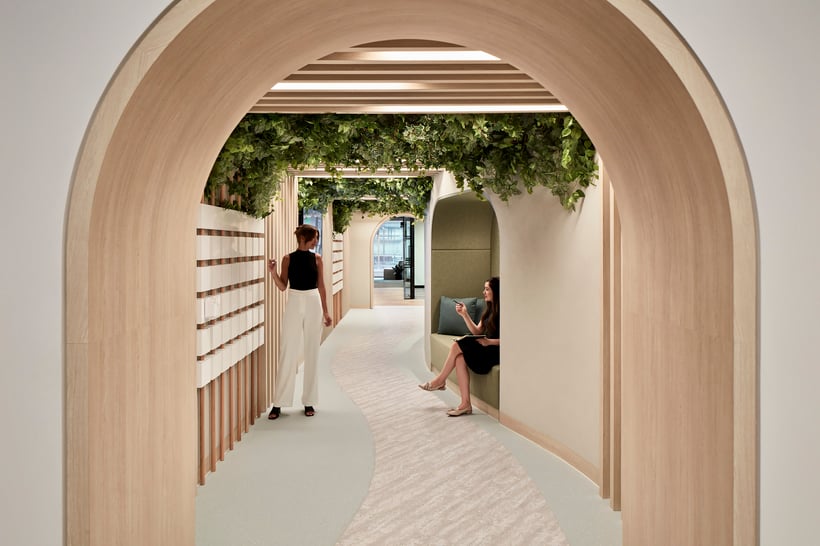 The centrepiece of the new space is the 'retreat tunnel', a gentle winding path through the middle of the space. Fringed with plants, it includes quiet nooks to focus and recharge.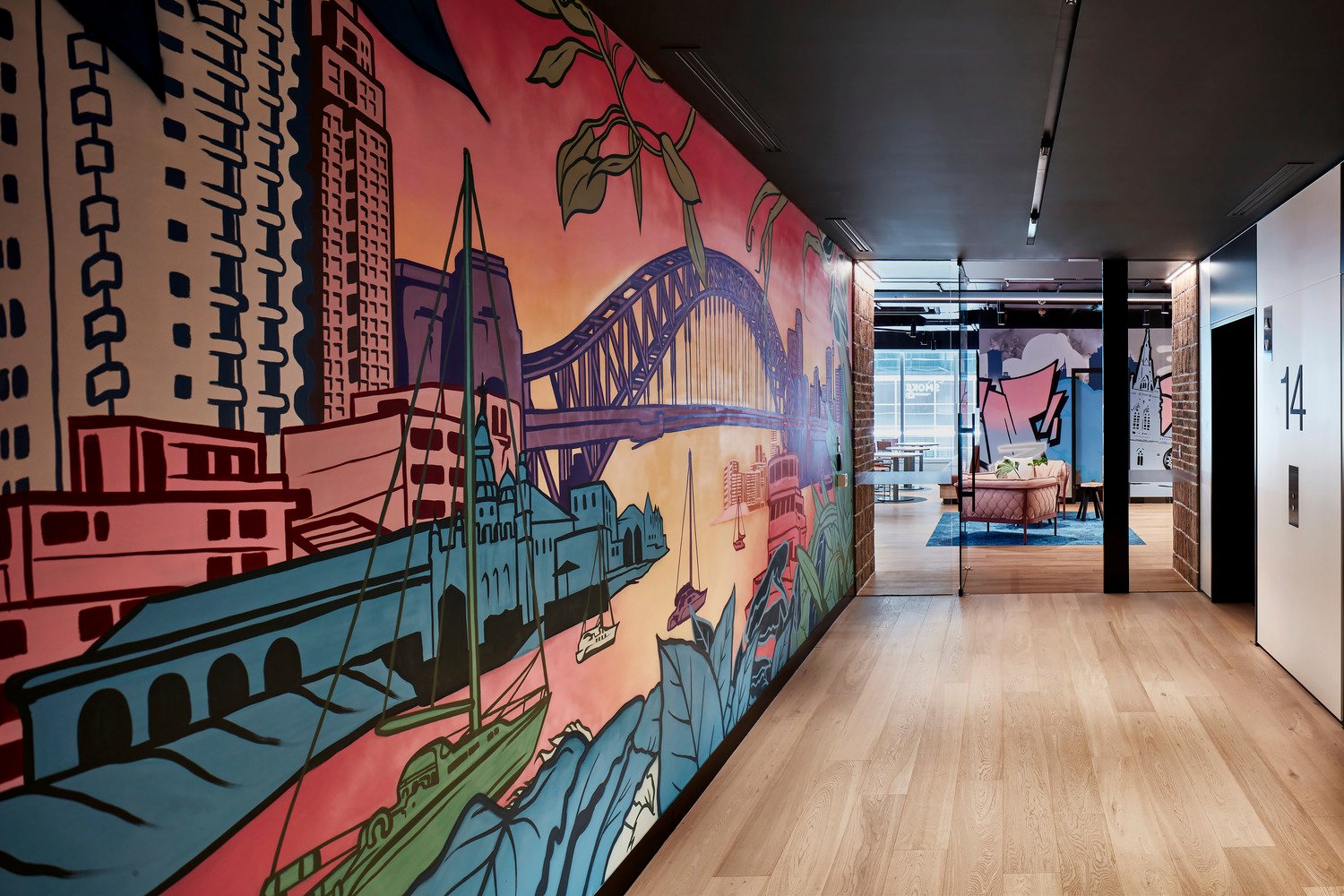 References to the local area are present in the mural art throughout the space, including the Sydney Harbour Bridge, iconic jacaranda trees and local ibis birds.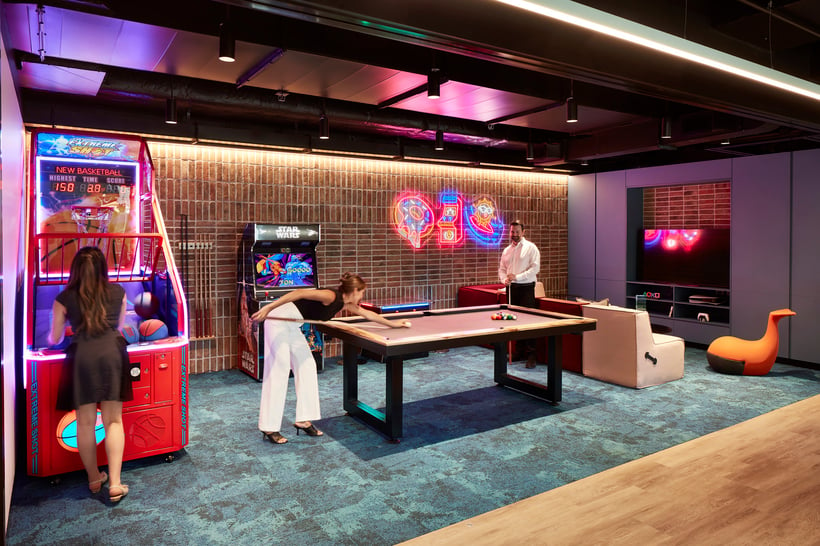 From the recycled-brick-clad breakout space to the games room, the new space features unique and beautiful communal spaces.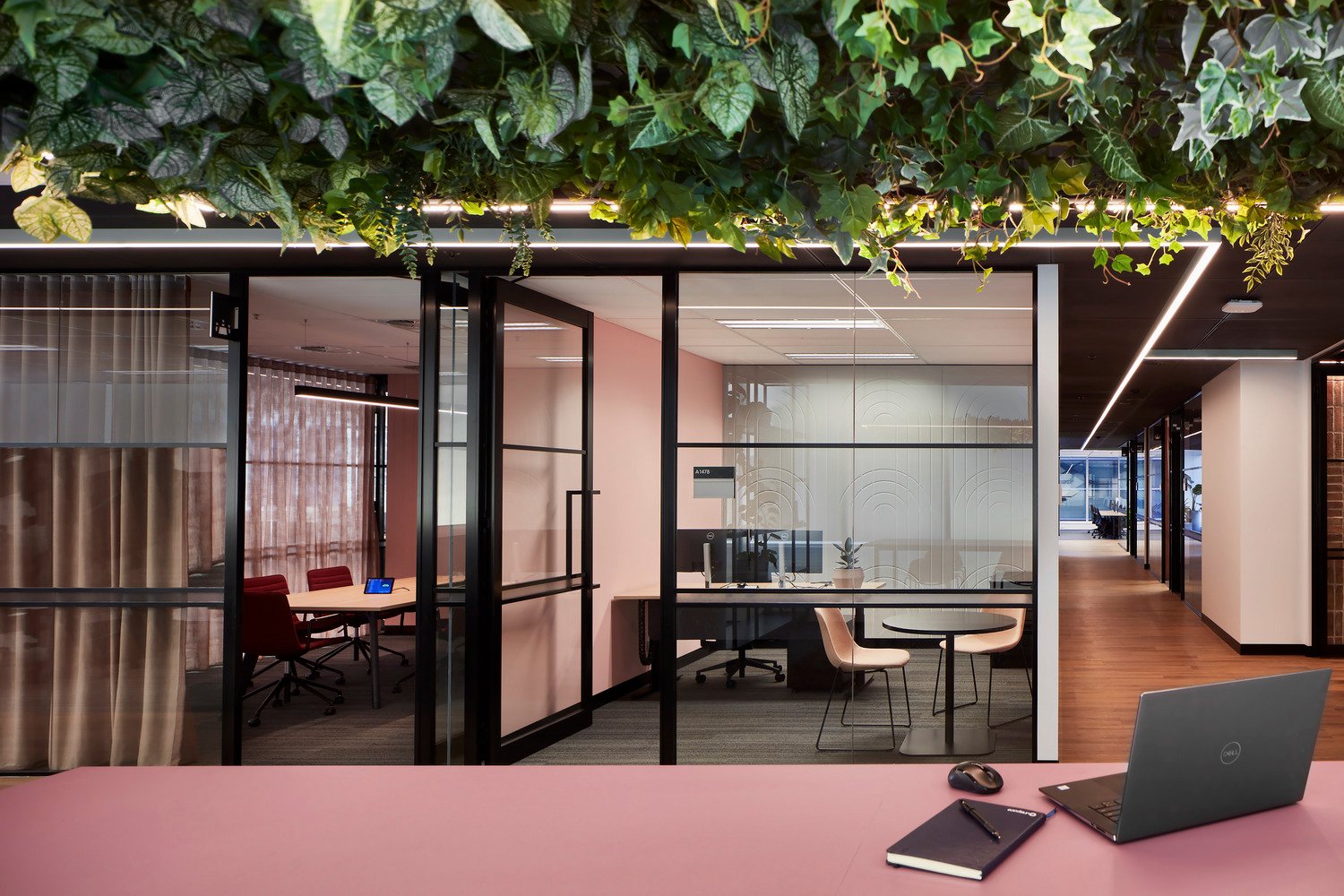 The space is separated into three distinct neighborhoods using color. The colors align with the client's global brand palette while tying into the local context – green for Sydney's leafy surrounds, red for pink sunset skies, and blue for the nearby ocean.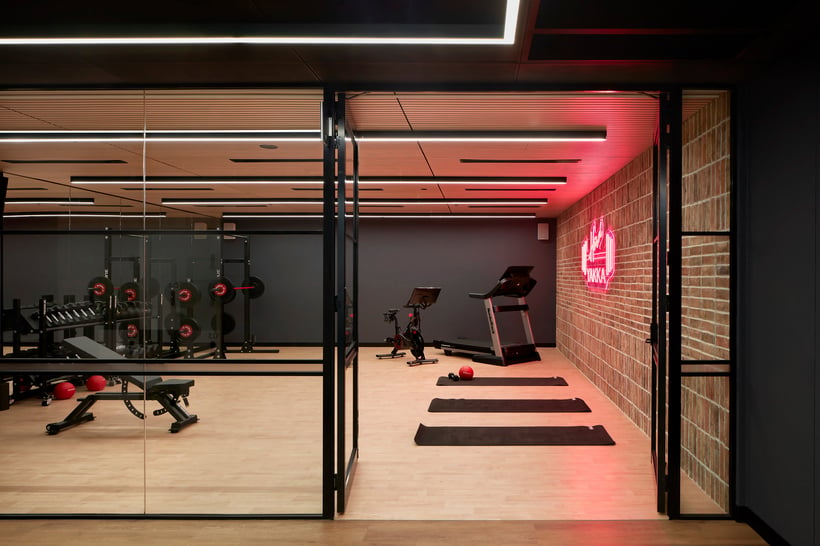 A wellness space, complete with in-house showers provides an opportunity for workouts or meditation.