HUGO BOSS
Premium fashion and lifestyle brand HUGO BOSS was seeking to create a unique Melbourne headquarters reflective of their global brand. A collaborative design approach between Unispace and HUGO BOSS resulted in a new space that is an ideal blend of form and function.
The challenge of the project was to bring HUGO BOSS' creative vision to life, while also meeting their functional objectives. HUGO BOSS were seeking a new office that was multi-functional, somewhere they could host branded events, showcase their collections and even hold fittings.
Unispace's clever layout ensured the HUGO BOSS team could have everything they needed in the space, including a training space, an area for visual merchandising, somewhere to host fashion showcases and events, and most importantly, an office where employees are empowered to do their best work.
The collaboration between our project and client teams ensured the process, from early concept design through to construction and handover onsite, was seamless for HUGO BOSS. However, the project wasn't without its challenges.
When the original site for HUGO BOSS' Melbourne HQ fell through, it was crucial to pivot, creating a new design to make the most of their newly secured lease in a new build within the creative hub of Cremorne. Working collaboratively with the HUGO BOSS design team, we took full advantage of the newly constructed building, leveraging the existing blank canvas.
Construction then kicked off at the beginning of the Covid-19 pandemic in Melbourne, one of the most locked-down cities in the world. This not only created unprecedented delays for the project, but also necessitated a redirection in workplace strategy, as the headcount required for the space was now different.
There were also delays in the construction of the new building itself. To address this, we worked collaboratively with the landlord, adapting the design to fit the site as it was constructed.
Overall, early engagement of Unispace's multidisciplinary team and subcontractors meant we could pivot quickly, minimizing delays and reducing risk for HUGO BOSS without compromising on quality.
The project presented a unique opportunity to collaborate with HUGO BOSS to create fully immersive a brand experience. With a host of high-end furniture, fittings and finishes at the client's fingertips, we collaborated with HUGO BOSS' design team to curate a collection of their existing furniture pieces to suit the new space. Up to 80% of the furniture was repurposed, contributing towards a more sustainably considered project.
The resulting space is unmistakably HUGO BOSS, customized to suit their team and support their varied functions. A bold color palette is offset by polished concrete floors, creating a dramatic reception area that can also be used as an event space. Modern furniture, bespoke artworks and carefully chosen sculptures immerse employees and visitors in the brand experience, connecting them to the company and the brand's mission. Finally, reflective surfaces are cleverly positioned to give the space more depth, making it appear larger.
Reach out to us for more information
Client
HUGO BOSS
Location
Melbourne, Australia
Service
Design
Construction
Awards
2022 IDEA Awards, WINNER, Workplace Design <1,000sqm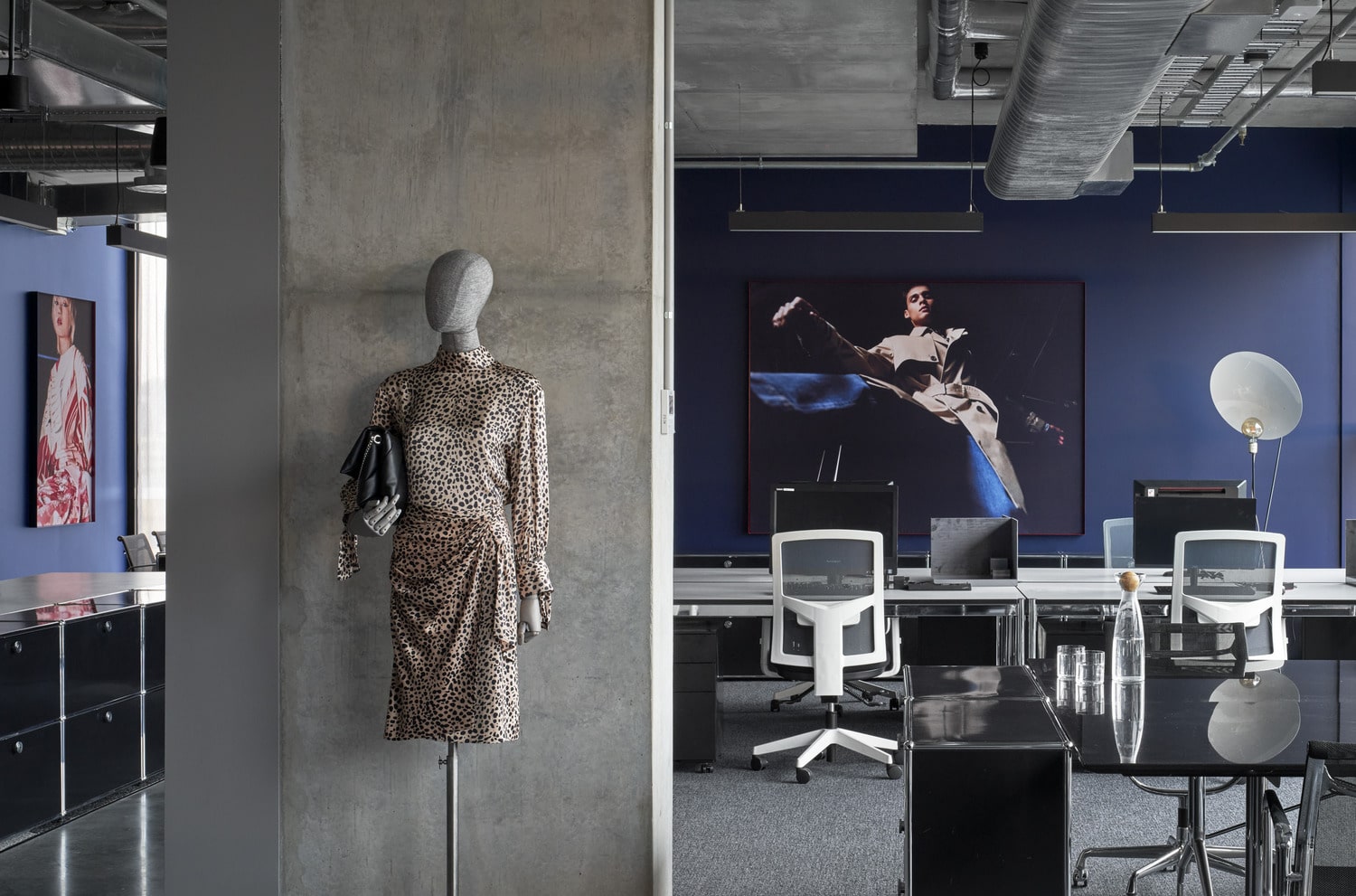 The customized artwork, sculptures, and campaign photography ensure the HUGO BOSS brand is always front of mind.
A bespoke marble kitchen creates a chic space for employees and clients to connect.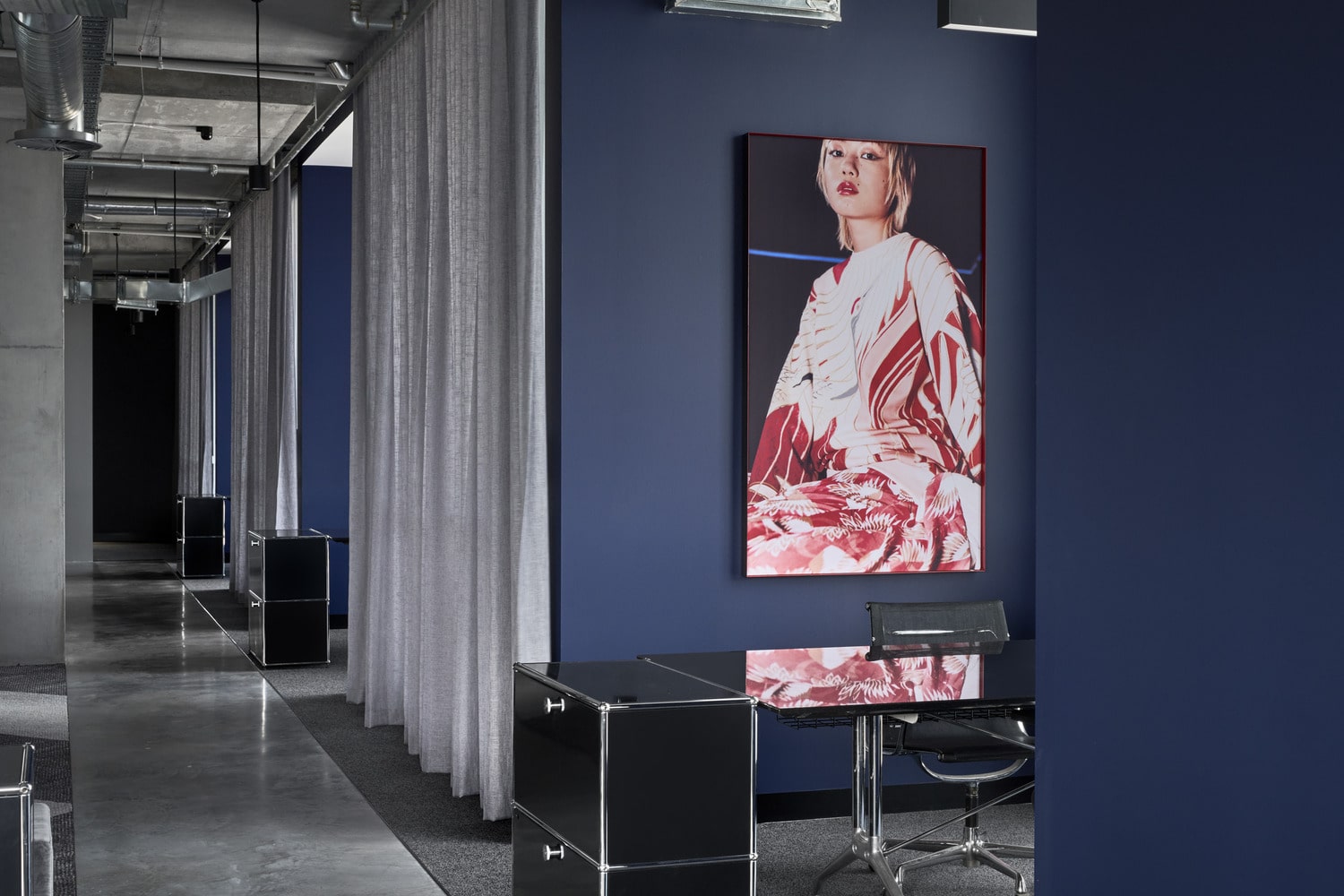 HUGO BOSS campaign imagery features throughout the space, creating an immersive brand experience.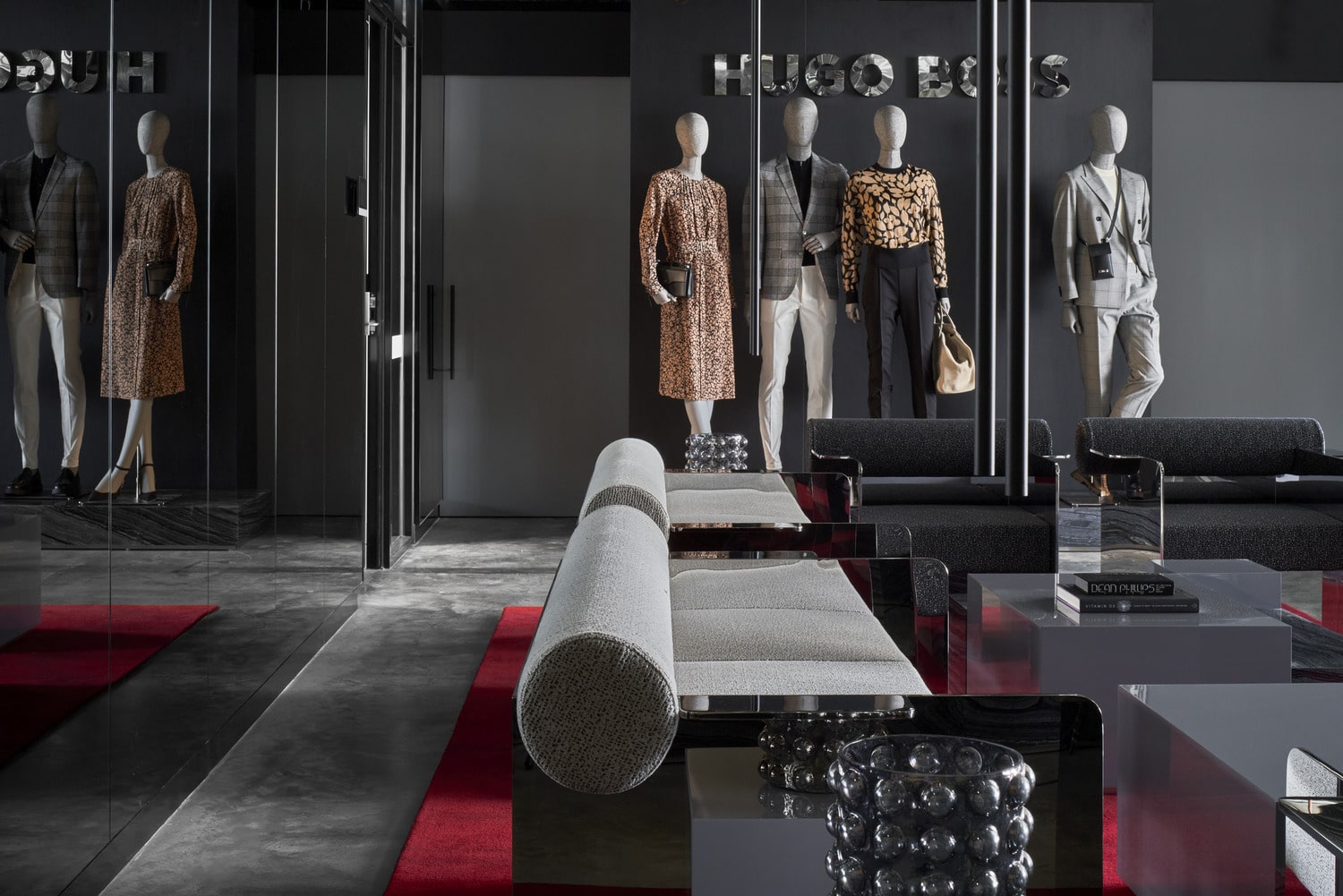 Reflective surfaces strategically positioned give a relatively small space depth while providing a backdrop for fashion previews and fittings.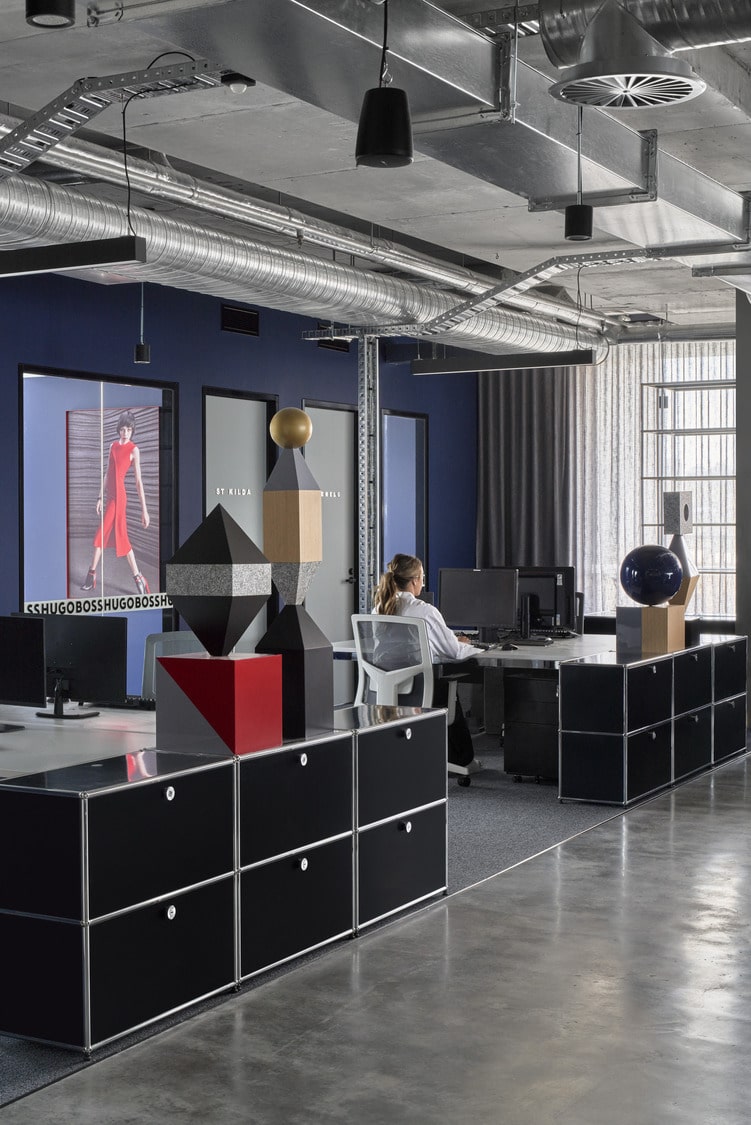 With a host of high-end furniture, fittings and finishes at their fingertips, we collaborated with HUGO BOSS' design team to curate a collection of their existing furniture pieces to suit the new space.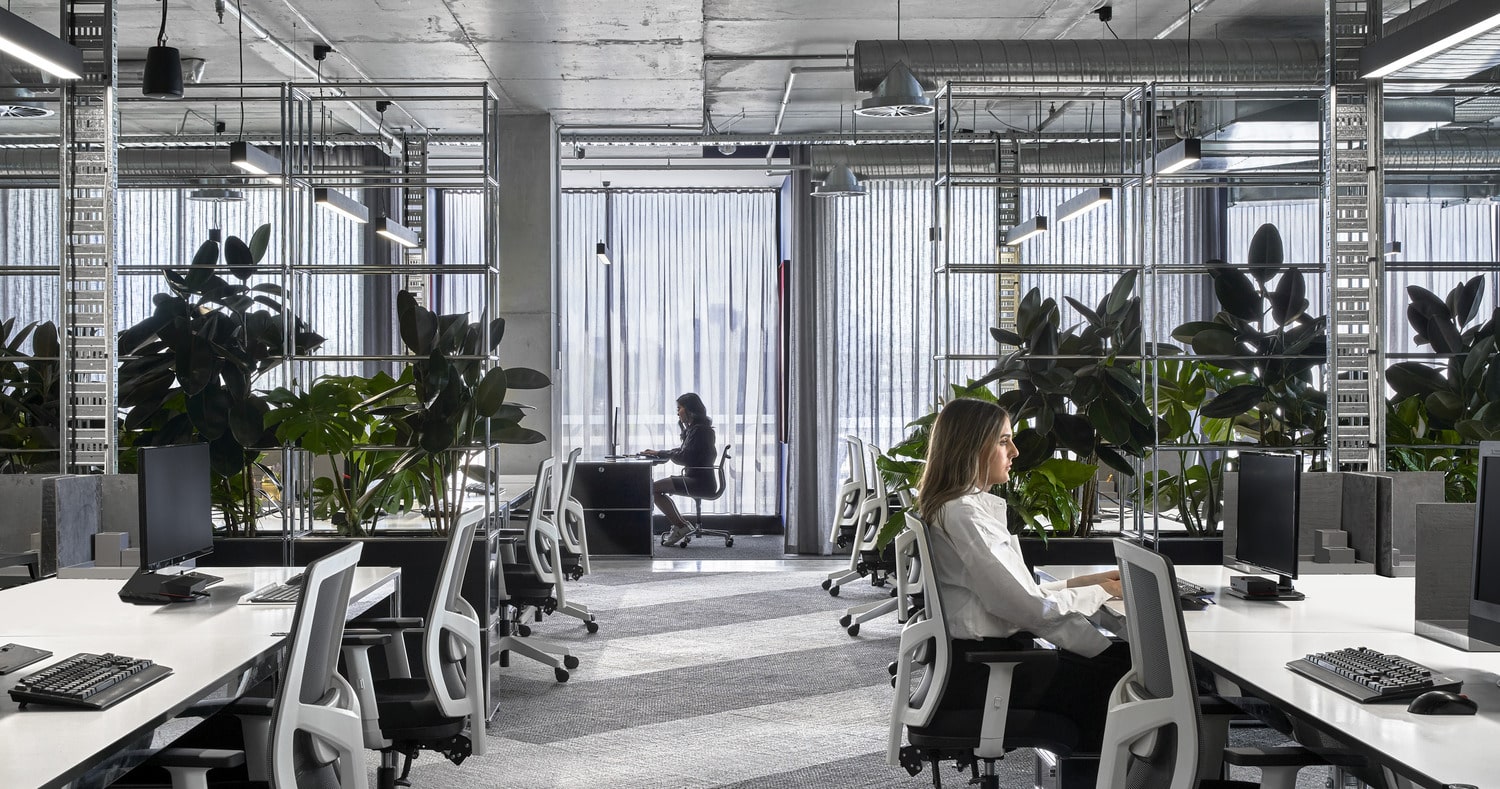 Workstations are integrated throughout the space to maximize both focus and collaboration.