Just Eat Takeaway.com
The world's largest food delivery service, Just Eat Takeaway.com needed a next-level space to hit the ground running with a new look,new teams and a whole new way of working.
Following the merger that combined two food delivery giants, the newly formed Just Eat Takeaway.com (JET) extended and refurbished their existing building in Madrid to physically unite teams for the first time as part of a new business venture together.
Following an in-depth review of their future growth ambitions, there was an urgency for JET to see a return on their new workplaces and as such, we helped them start straight away. A playful brand, JET wanted an aesthetic that was 'fun', but not 'funny', so we ensured that their workplace would still be taken seriously as a powerful, established company with the energy of a start-up.
Their home at Ancora 40 needed to reflect their unique culture, innovation and values of a modern technology brand, all while fostering a sense of community amongst teams to perform to their highest potential.
A grand brand
Situated just moments away from the city's largest train station, we took advantage of the building's location and created an external, four-storey mural of the brand's new logo to draw the attention of passers-by. In addition to the mural, we also installed an impressive, illuminated logo on the roof, which is visible from the platforms.
Proud of their new brand, the welcoming reception space included a large back-lit logo behind the front desk, a feature image wall of their restaurant brands and a space on the wall to hang bicycles, making their delivery riders feel at home and valued.
Two floors were dedicated to call centres, housing their customer service headquarters. Answering calls for the majority of their day meant high noise levels, so we positioned them away from the rest of the space, with increased acoustic properties in the ceiling to minimise noise levels.
Glowing Spanish orange
Whilst JET were still in the final stages of their merger, we created a malleable design that could be adapted as the new brand was being finalised. Using a soft, neutral palette as the basis, focusing on wellness and soothing tones, we added small, subtle touches of their unforgettable orange in the finishes and materials to keep their global brand consistent.
We collaborated with a local supplier to install authentic Spanish ceramics in the flooring that complement the warm palette and direct sunlight that naturally shines through the building, especially in the central double-height atrium.
Connecting communities
An informal, collaborative meeting space allows the teams in Madrid to connect with the global JET community and its clients. Thanks to the installation of five screens and interactive features, the global family can congregate in person, as well as digitally, around a table, creating a strong sense of community. Familiar colours are instantly recognisable, which strengthens a sense of belonging and a feeling of home.
A pledge to sustainability
JET specified recycled or sustainable materials and finishes where possible. Acoustic panels, recycled plastics and wood wool wall cladding are all features. Extremely durable, recyclable at the end of its life span and energy efficient during production, this ingenious combination of wood, cement and water is an eco-freindly material boasting strong acoustic and insulation properties.
We helped JET pledge their sustainability by guaranteeing all carpets will be recycled with a third party supplier whenever they choose to move from the space.
The result is a functional space that increases productivity and connects teams in an unmistakably JET-fuelled environment.
Reach out to us for more information
Client
Just Eat Takeaway.com
Service
Strategy
Design
Construction
FF&E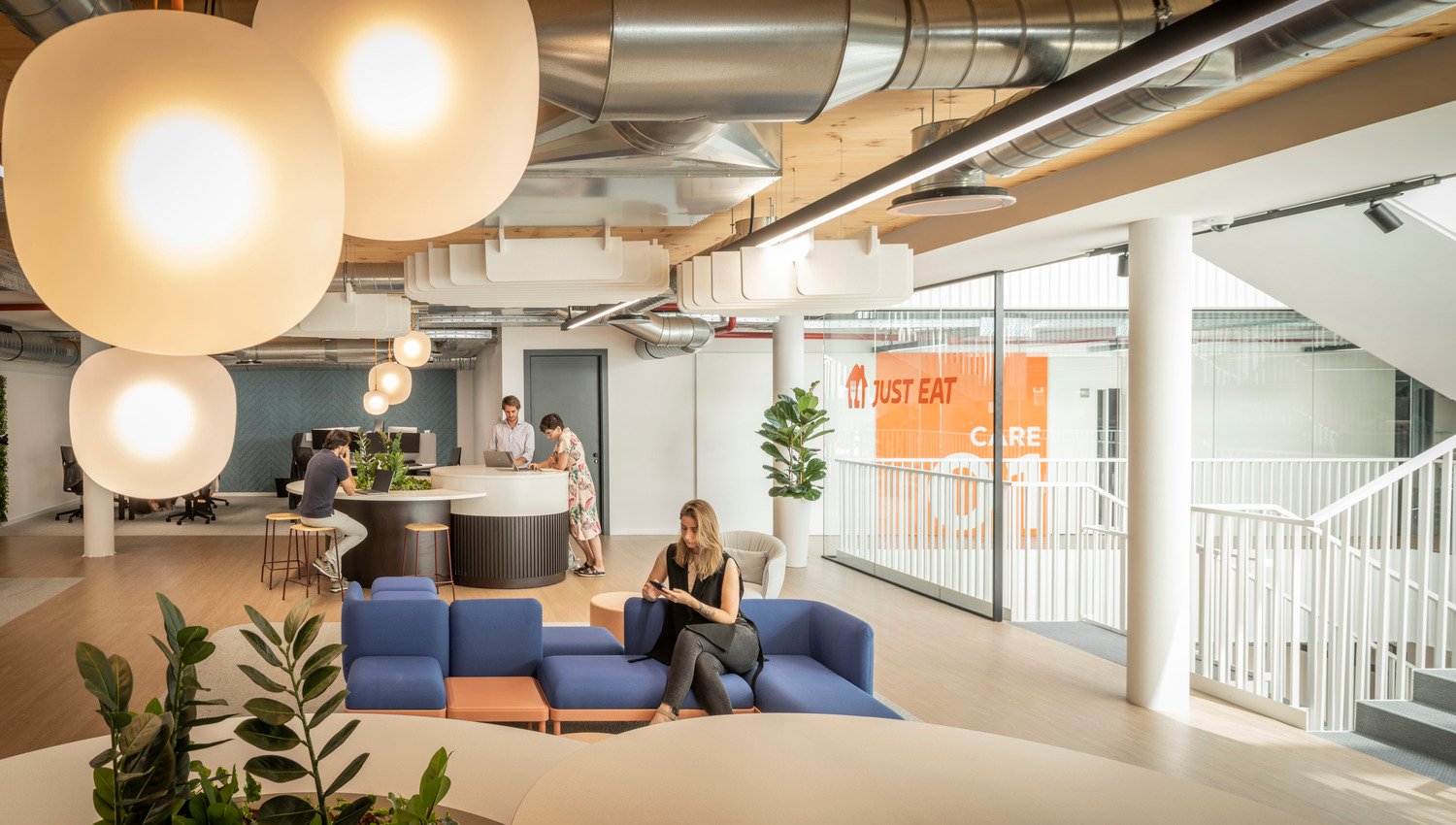 A warm, glowing design palette to complement JET's unmistakable orange brand to the local Spanish feel.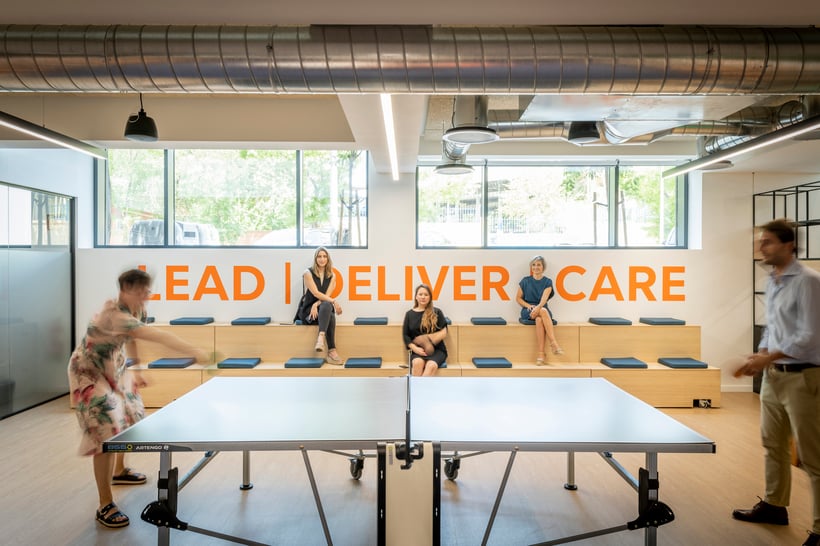 A pledge to sustainability
Recycled materials and sustainable design were prioritised where possible in wall panelling, acoustic panels and carpeting.