Just Eat Takeaway.com
Following exponential growth, Just Eat Takeaway.com needed a new space to physically unite and bond their Milan teams.
After going through a large merger that combined two food delivery giants, the newly formed Just Eat Takeaway.com (JET) needed a new space to physically unite under the same roof their Milan teams, previously spread across various locations.
Growing together
Following a period of rapid growth, JET's newly merged brand was evolving alongside their workplace transformation, and so our teams needed to be just as flexible and reactive with their look and feel.
Our local team worked with the JET to align with this transformation, completely re-adapting the design of the workspace ensuring that the vibrant, new brand colours would be included into the design. Our local Unispace team became an extension of the JET team, consistently communicating and ensuring that the design concept would evolve to best reflect the company's newly formed branding.
As their new colour palette shifted to a full spectrum of colours linked to the food's world, our local team simultaneously revised the workplace design to keep up with the constant development of JET's brand guidelines. By integrating this new food inspired colour palette into the space in a variety of ways we represented the brand's diversity of cuisines across the world.
JET's vision
Previously spread across different offices around the city, JET was looking to physically unite and bond their Milan teams quickly and effectively all under one roof. Following the merger, JET had deeply invested in their people and company growth, so there was an urgency for them to see a return on their new workplace, and we helped them realise this straight away.
As a joyful and playful brand, that is also ambitious, bold, and human-centric, JET wanted to ensure they could show their fun side, without being overtly cheesy. So, our team ensured that their new workplace would be a collaborative and contemporary space, that is also the home of a powerful, successful and well-established company.
A juicy design
Following the merger, JET refreshed their branding, giving it a new, glowing orange look. Ready to shout about their new brand, JET wanted to create an environment where people could connect with it directly. We achieved this by using JET's juicy primary orange across 80% of the space, giving it a vibrant, and contemporary look and feel.
Their new brand has been integrated into the space in a variety of different ways to offer subtle reminders, such as the house shaped orange booths that resemble JET's iconic logo, and the numerous food graphics spread across each floor.
Working as a showcase space for the brand, the interior is bright, bold and unmistakably JET. The vibrant and contemporary orange, was set against their secondary colour palette to distinguish different elements of the space.
Each area of the workplace is linked to the fantasy of tastes and flavours of the food's world. The whole office reflects JET's positive and energetic essence as well as the warmth and friendliness of their services, which provides people across 25+ countries high-quality meals and snacks.
Welcome to JET
Those entering the space are immediately immersed into a world of colours that is effortlessly JET. Each floor was designed to suit different purposes and featured vibrant and fun spaces that bring JET's new teams together.
The sixth floor hosts JET's riders, and as such has an eclectic street style look and feel and an abundance of food graphics.
The next two floors are dedicated to call centres, one of the most vital departments within the company. These floors are designed with an industrial look and feel to give the space a sense of openness. Answering calls for the majority of their day meant high noise levels, so we integrated robust acoustic paneling to minimise disruption and noise levels.
Moving up to the next two floors, we find the easy and contemporary reception area, with soft soft furnishings, and wooden elements, designed to create a warm welcome for guests, staff and clients alike. Upon arrival, clients are welcomed with wall graphics of the Milan skyline, illustrating the most iconic locations of the city. At arrival, clients are welcomed with wall graphics of Milan's skyline, that illustrates the most iconic locations of the city.
The top floor, designed to be a social hub for guests and employees, offers stunning views of the surrounding area and the city of Milan, making this social lounge the perfect location for entertaining clients and nurturing talents. This level also includes an education area, an auditorium and an elegant business lounge where clients are invited to join seminars and presentations.
Dinner is ready
JET has made it their mission to bring food from the world's best local restaurants into every home or office.
Their new Milan workspace, with its bright and lively design, reflects this passion, creating an environment that brings the brand to life, and allowing teams to work. A bright and bold space that is undeniably JET.
Reach out to us for more information
Client
Just Eat Takeaway.com
Service
Strategy
Design
Construction
FF&E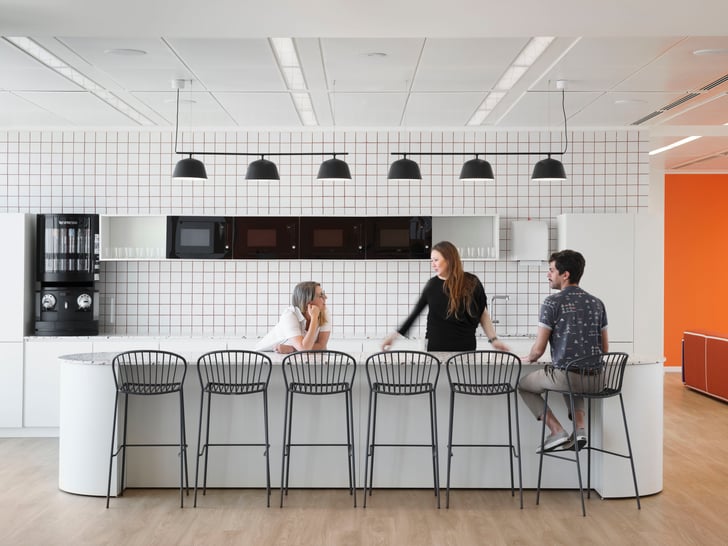 As one of Unispace's global client's, JET has partnered with us to simultaneously work across multiple European and Australian locations to bring their new offices to life, ensuring a consistent look and feel across them all with a local touch.