Kraft Heinz Company
"Everyone was really very enthusiastic about the space, which is one of the most important things. To see everybody in the space and watch how they are going to use it and discover it. Every piece of furniture has its use and observing the way that people in our teams integrate that into their everyday lives really is beautiful. Everyone is happy, we could not be more happy."- Marco Brucato, eCommerce Lead, Kraft Heinz Company
As one of the world's most widely recognised FMCG brands, Kraft Heinz Company partnered with Unispace in its search for a new home that would embody their strong brand aesthetic and fun-loving personality.
The quest for a new home
Previously located in a suburban area, far from the vibrant centre of Milan, Kraft Heinz Company decided to relocate to new premises that would support their continued growth and expansion. The team at Unispace were challenged with finding a new home for Kraft Heinz Company before creating a space that would provide team members with an unsatiable appetite to return time after time, thanks to a design inspired by powerful and iconic global brands.
Having outgrown their previous space, there were certain criteria that Kraft Heinz Company requested of Unispace in the search for new premises. Firstly, a location in the beating heart of the city centre. Kraft Heinz Company wanted to make their presence known and spice-up the palette of business located in Milan. Access to amenities and a gym were also specific requests made that needed to be either in the space or within walking distance.
To this end, our teams found two buildings and we conducted a robust building analysis to highlight the pros and cons of each, ensuring that Kraft Heinz Company were fully equipped with all details prior to making a decision in such a significant and pivotal investment for their brand and people.
Testing for compatibility
Following the building analysis, the design team set about creating test-fits in order to make sure that the chosen location would comfortably accommodate the existing team, while also allowing enough room for future growth. Once the space was a confirmed go from a numbers perspective, Unispace's Propeller concept paired with the findings from workplace strategy assessment, determined how the space would be optimised for daily use.
Physically embodying the Kraft Heinz Company brand
Two design principles were key to measuring the success of this project from a design perspective. The first was to create a space that truly embodied the brand. This includes its playfulness as well as showcasing Kraft Heinz Company's internationally renowned range of product. Colour, energy and fun would sit at the heart of the space that comprises designated workplaces, collaborative and social spaces in the form of kitchens and hospitality suites, where teams can relax at the end of the day or entertain and cater for guests. The extensive kitchen facilities are particularly impressive and fittingly find themselves at the heart of Kraft Heinz Company's new Milan home.
Far from serving only an aesthetic purpose, the Unispace design would also play a key role in engaging colleagues and teams to return to the space, time and time again. To this end, it was important to conceive a space that included a diverse variety of space typologies.
The importance of designing spaces that cater to people of all generations, with different working patterns, different priorities, backgrounds and approaches cannot be underestimated. Therefore, it is important to ensure that spaces enable everyone to perform at their very best, providing each individual with the choice to select an environment that is best suited to their tasks at any given time.
Project outcomes
The result of this three year, end-to-end collaboration has been the creation of a workplace that facilitates greater collaboration and cooperation between all team members. The workplace is no longer just an office, but a third space lying somewhere between home and office that caters to people from all walks of life who approach their working day in different ways.
Reach out to us for more information
Client
Kraft Heinz Company
Service
Building Appraisal
Strategy
Design
Delivery
Construction
FF&E Encompassing the brand
Vibrant signage adds a dash of fun throughout the space and a typically Kraft Heinz Company shaped, illuminated doorway greets team members and visitors alike as they step through the iconic Heinz keystone into a unique world full of flavour and spice.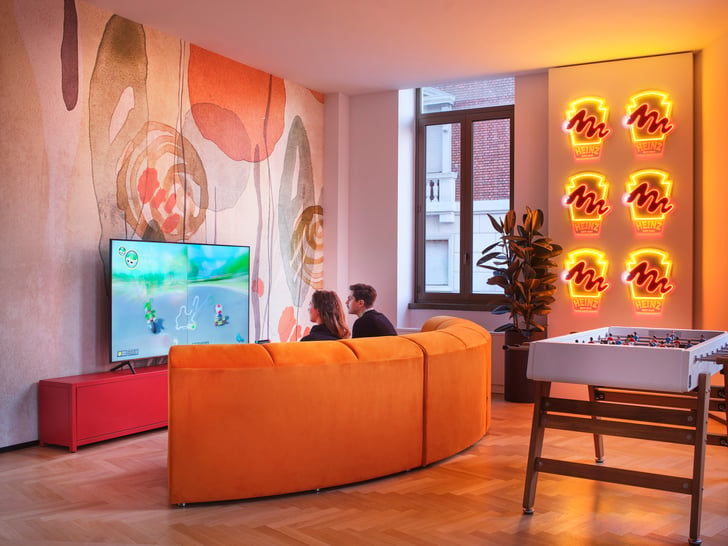 Brand DNA purposefully woven throughout the entirety of the space to strengthen the sense of belonging amongst colleagues.

The workspace is one that is by its very nature, fun. This really is a destination workplace to which team members will be drawn time and time again.