Pernod Ricard
Pernod Ricard's new workplace is an exquisite representation of Italian conviviality. Its showstopping reception area and bar creates a wow factor for anyone who visits their space.
The need for a change
With more colleagues adopting a hybrid way of working as part of their regular routine, Pernod Ricard's previous office was no longer optimised for their people. The company decided to move to a more central location and invest in a brand reflective workspace, reception and lounge bar to better service their teams.


Addressing the brief
There were four key design pillars that needed to be represented in the new space:
• Roots and heritage: Reflect the Italian lifestyle, its origins and characteristics.
• Spirit of conviviality: Increase relations through diverse, interactive environments.
• Product highlights: Enhance the brands in an innovative way.
• Green touch: Prioritise environmental sustainability and wellbeing.
Creating conviviality
Pernod Ricard is famed for turning social interactions into a shared, genuine and friendly experience, with their iconic products including Absolut, Jameson and Perrier-Jouet. Their products look to create joyful moments and memorable experiences for people from all walks of life.
Stated in Pernod Ricard's global vision: 'Convivialité is our business and our raison d'être'; we wanted to translate this concept of conviviality into their new workplace, creating a warm and welcoming space for their people and clients to gather together as another foundational design theme.

Hospitality in the workplace
Creating a glamorous, welcoming reception space was vital to represent the space as convivial. Complete with three sitting rooms, a stunning product display and modern, fully equipped kitchen, the space represented a welcoming and magical place that sets the scene for the other rooms as visitors first arrive and enter.

Elegance and glamour
The concept behind the bar was to reflect the vibe of a 1920s speakeasy; a tribute to great Italian drinks and the glamour of Milan where fashion and fabulous design meets.
Where fashion met function, we carried out interviews with consultants and barmen to ensure we provided a complete bar station that included all the professional equipment Pernod Ricard would need, with ice machines, cutting boards and industrial dishwashers.

La piazza
Unispace included architectural elements, such as arches as a wall feature, Mediterranean wallpapers, herringbone flooring and ceramics that resembles Italian maiolica to the lounge area. The idea was to replicate the concept of la piazza, found throughout Italy's towns and cities, in the main lounge as a buzzing environment that exudes Italian style for people to live and enjoy.
Reach out to us for more information
Client
Pernod Ricard
Service
Design
Construction
FF&E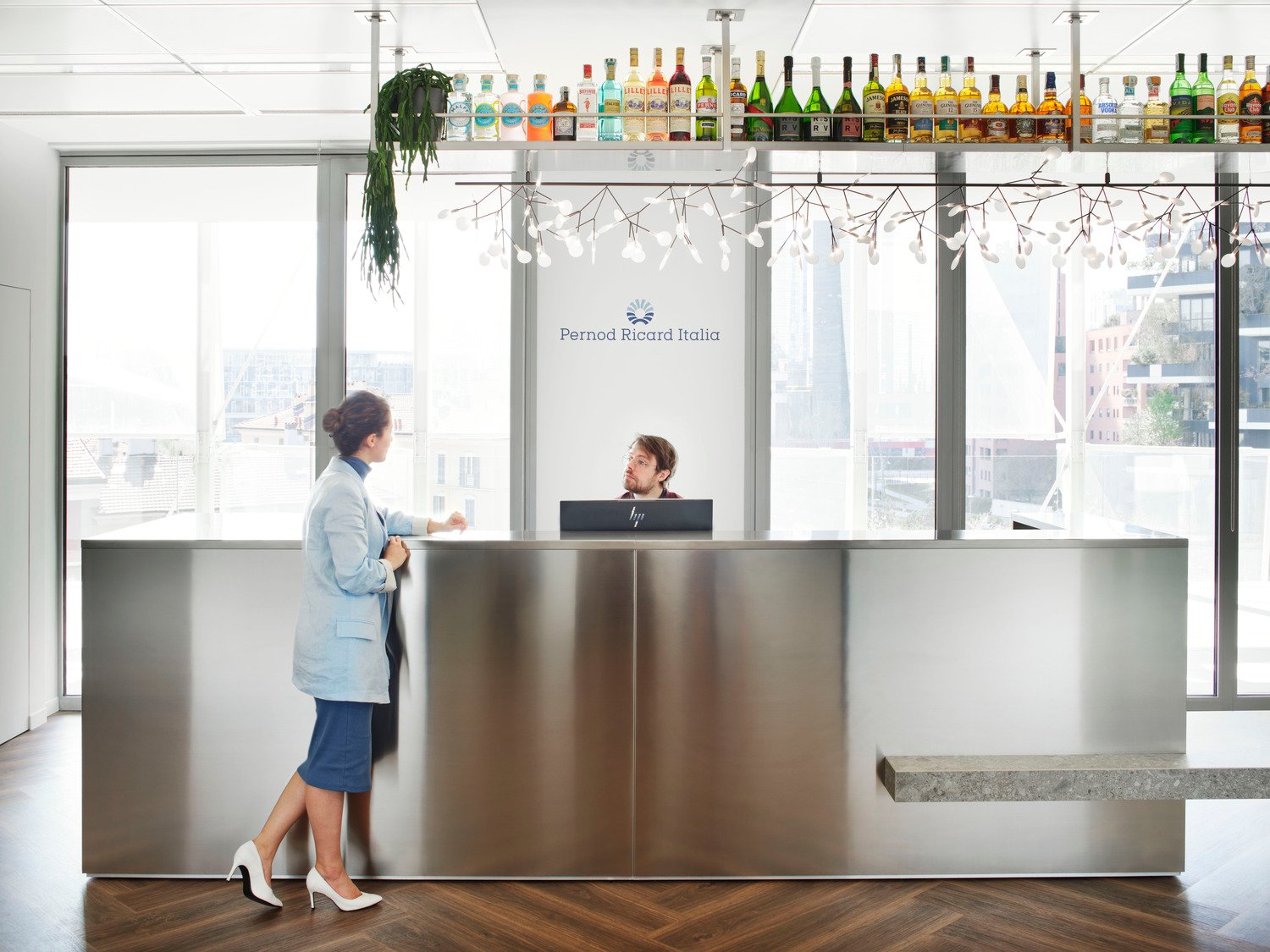 An elegant and glamorous welcoming reception for Pernod Ricard's colleagues and visitors.
A fully equipped bar that showcases Pernod Ricard's iconic brand and products.