Redbubble
A space to inspire employees, nurture the inclusive culture and support business growth
Relocating to their new Melbourne home, online art and design marketplace Redbubble envisioned a space that would inspire their people, while nurturing their inclusive culture as their business grows
A small startup reaching maturity due to rapid growth, initially, Redbubble's brief was simple; to create a new, larger space to encourage connection. But with ongoing Covid-19 lockdowns, as well as a new CEO, the project needed to evolve. Unispace and Redbubble took the opportunity to expand the project into a more comprehensive reimagining of the purpose of the space, including a redesign of Redbubble's way of working.

The Unispace team worked closely with Redbubble to ensure the updated design retained their vision and strategy, whilst reflecting changes to the space needs. These changes included an increased floorplate, larger growth predictions and adaptation to an agile, post-Covid workstyle.
Presenting a detailed comparison covering everything from space metrics, transit impact mapping, we were able to align the space with Redbubble's creative vision and company culture.
An inclusive space, supporting varied ways of working
With diverse teams ranging from creatives to engineers, Redbubble's new home needed to ensure all employees felt welcome and excited to return to the workspace, supporting their varied ways of working so they could do their best work. This included providing an allocated workstation for every employee to meet their particular needs, as well as a variety of shared spaces to encourage collaboration.
The workplace strategy component of the project was significant and connecting with all levels of the Redbubble team was crucial. As well as our WorkReady survey, focus groups, leadership interviews and functional briefing interviews and workshops, our strategy team hosted employee engagement workshops to ensure the new space would meet everyone's needs.

Inclusivity, flexibility and belonging are the linchpins of this unique workplace
Along with meeting rooms, workstations, focus pods and 'collaboration tables' to support Redbubble's 'pairing' way of working, especially amongst engineers. Additional facilities include wellness spaces, casual lounges and gender-neutral bathrooms and a large communal kitchen designed for employees to cook together at mealtimes.
Championing collaboration, central to the Redbubble fitout is an expansive entry and breakout space that encourages social interaction throughout the day. A dynamic first impression space which supports teamwork and staff connection, it includes a product gallery space and joinery which enables flex of the space for large gatherings.
Connection among employees and connection with the artists that make up the Redbubble community was a key focus
Providing a variety of spaces to help people connect was a priority, as connection is a big part of Redbubble's culture - connection among their employees and with the artists that make up their community.

With this in mind, Redbubble partnered with the creative management agency Just Another Agency to launch the Pillar Program. This initiative was designed to keep employees connected to the local arts community. The space includes 12 concrete columns 'wrapped' with the work of local street artists, creating opportunities for emerging artists to create large-scale works. Works are rotated monthly via an online Instagram competition run through Just Another Agency, maintaining a tangible connection with their community of artists.
Reach out to us for more information
Client
Redbubble
Location
Melbourne, Australia
Service
Strategy
Design
Construction
Awards
Better Future Melbourne Design Awards - Interior Design Commercial - Silver - 2022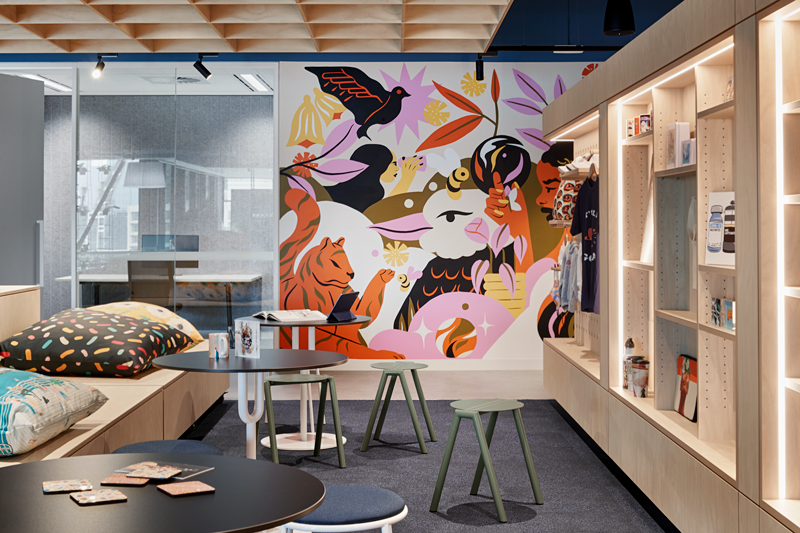 "A lot of our people talked about not just the needs of a physical workplace, but also the need to feel safe and express themselves, to have stability. It comes down to their wellbeing and their needs, as well as their likelihood of using a space."
Dominic Taranto, Head of Diversity and Inclusion, Redbubble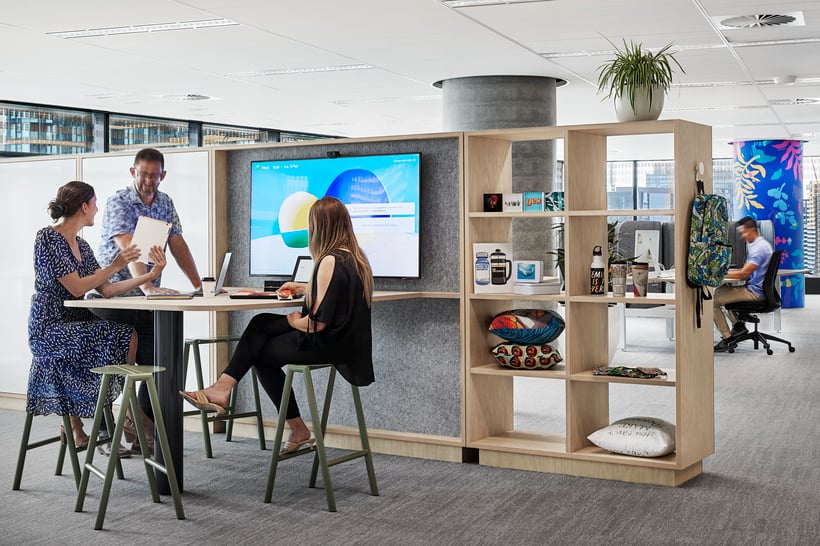 Informal meeting areas, intended to support both collaboration and social interaction, are provided through the space.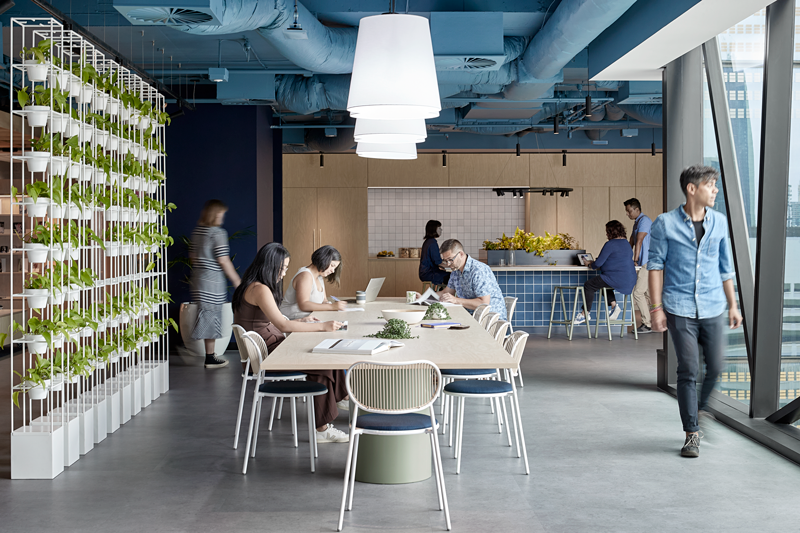 The large, communal, open plan kitchen, with bordering herb garden, overlooks the Melbourne CBD.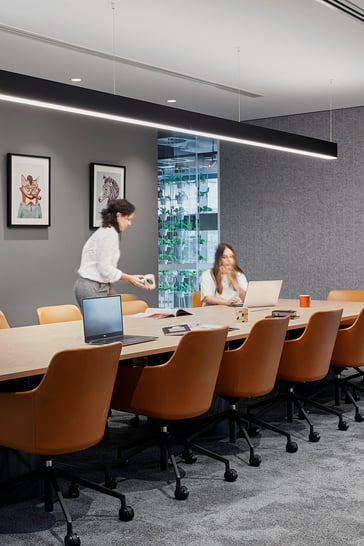 "Along with launching our new home in Melbourne, we also launched our flexible working policy at the same time. The way we now view our office is learning opportunity, space to come and create - It's a space for our teams to use for innovation and creativity."
Chloe Chris, Internal Communications Manager, Redbubble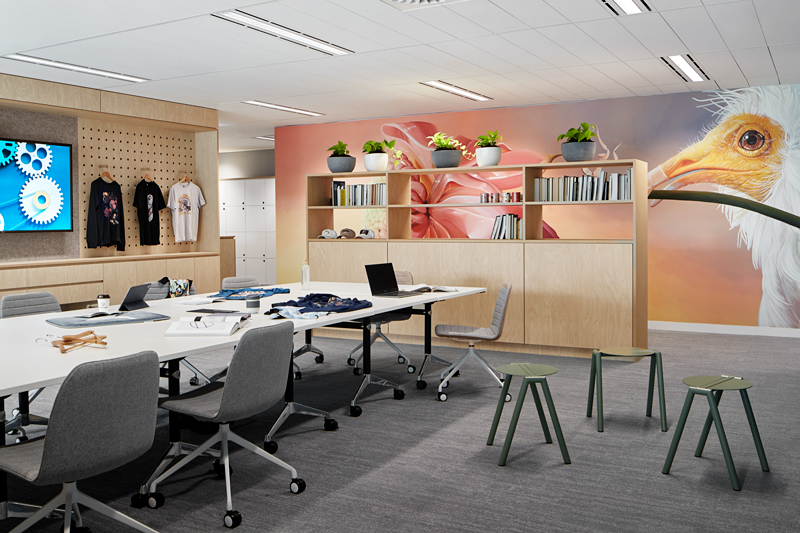 Artwork is showcased around the space, keeping employees connected to the artist community that makes up Redbubble.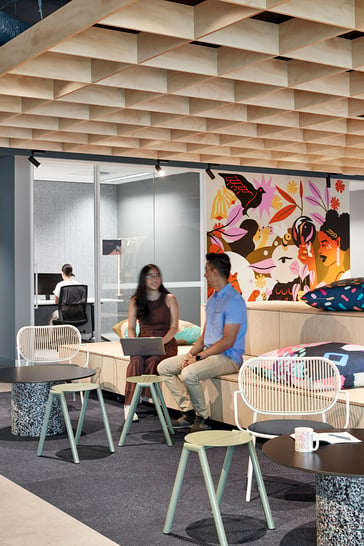 The breakout space near the entry supports social interactions, fosters connection among employees and encourages team collaboration.