Red Hat, Executive Briefing Center
A purpose-built environment that reflects and amplify' s Red Hat's growth by emphasizing the customer community, innovation, and connection.
Enabling highly customized and customer centric dialogues.
​Since 1993, Red Hat has been helping customers navigate technology and business disruption through open innovation.
To serve Red Hat's growing needs around the world, and to reflect and amplify Red Hat's growth as a trusted enterprise provider of open source technology solutions, the decision was made to relocate the EBC to the bustling tech-hub in the Seaport area of Boston. Red Hat sought to enable highly customized and customer centric dialog, in a purpose-built environment, between key decision makers from high potential accounts and subject matter experts who have a high degree of business acumen, technical expertise, and a deep understanding of the customers business and markets.
Seamlessly integrating technology to create inspirational experiences.
​The signature technology experiences at the Executive Briefing Center had to be innovative, end-to-end, inspirational, and seamless. Beyond the innovative signature technology experiences, the meeting room experience was deeply considered from an innovation perspective. For virtual collaboration capabilities, BlueScape is extensively used throughout the space and by remote attendees. This enables us to have a virtual collaboration platform which can be accessed via touch screens installed in the EBC as well as from mobile devices (PCs/Mobile) in other locations. Another key innovation initiative is our approach to the end-to-end content experience. A custom web app, accessible via laptop or mobile, is our first connection to the visit. An innovative approach to content organization allows us to organize products and topics into conversations. These conversations can be saved to the CMS and will evolve over time.
Seamlessly connecting the technology experience with open collaboration to foster community and connection.
​Red Hat is driven by innovation. The EBC seamlessly expresses this at every turn. With the open source approach being utilized to create more and more advances in technology, the Red Hat Executive Briefing Center is a key driver in shaping customer and partner perception of Red Hat's leadership role in the next generation of computing. We accomplished this by pursuing a balance of technology experience with open collaboration, and a seamless connection between the two that focuses on connection and community.
Reach out to us for more information
Client
Red Hat
Service
Concept Development
User Experience
Back-End Development
Technology Systems
Art Direction & Design
Writing
Brand Strategy
Front-End Development
Prototyping
Engineering
Environmental Design
AV Prototyping
Motion Graphics
"It's an opportunity to not just talk about where we are now, but really, where we are going."
Chris Wrights, VP and Chief Technologist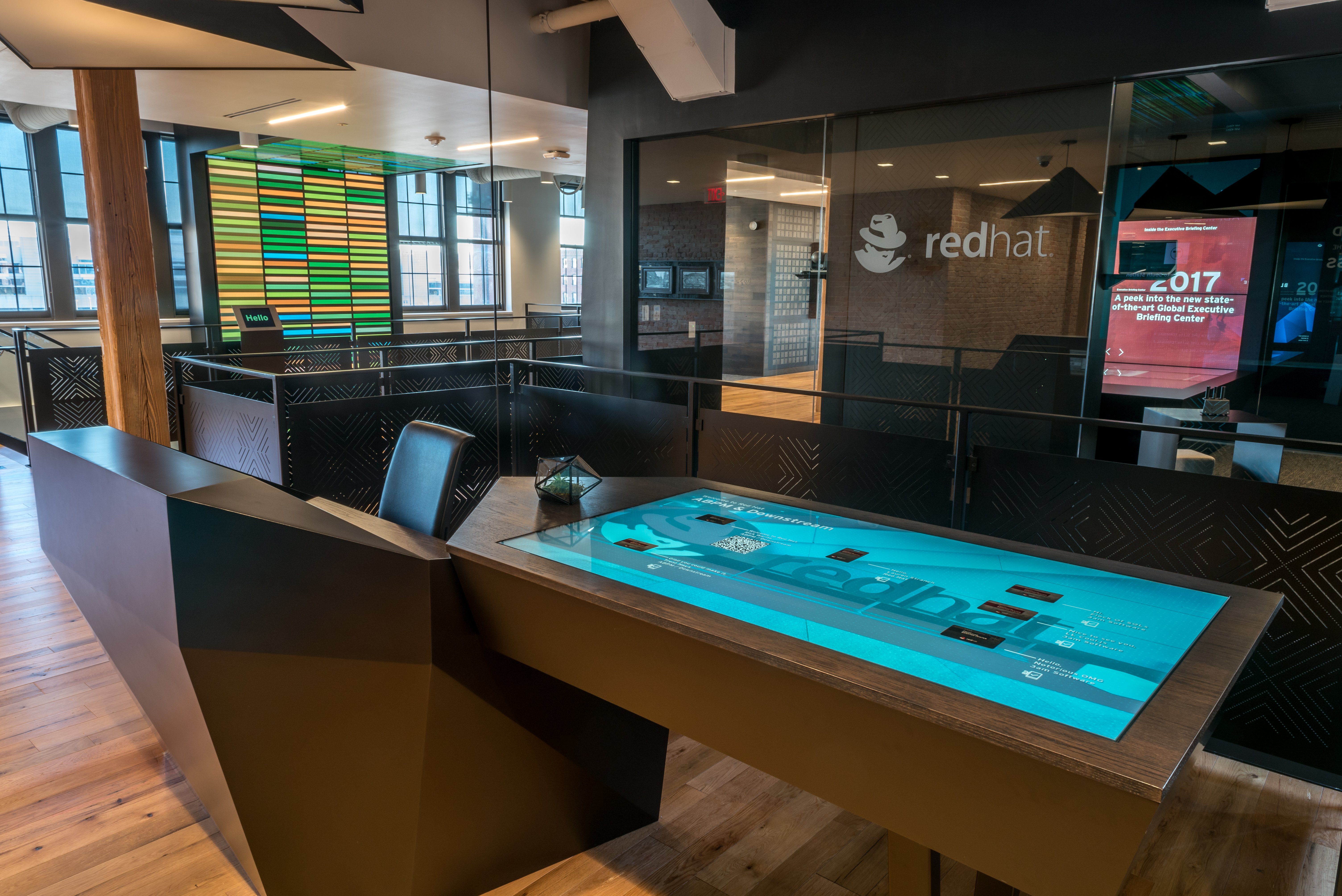 Reception centers around an embedded Multitaction table allows for a seamless badging experience at the entry. Guests and visitors can be scheduled ahead of time in the CMS, or on the fly via an Admin Panel. Codice Card ID numbers matched with the visitor ID number allow for quick content collection for later viewing on the web app.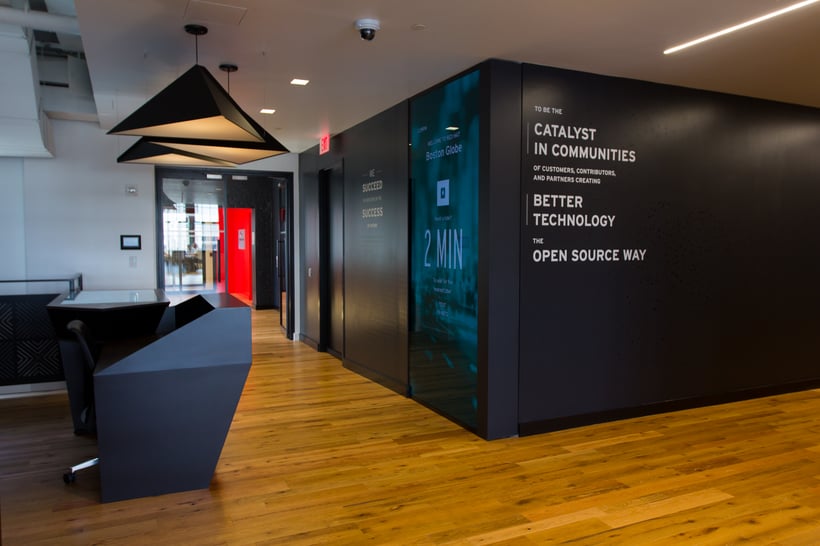 The Concierge Wall, located across from reception displays a custom welcome message when triggered by reception activity. It then becomes an informative display that gives visitors up-to-date info at a glance. Time, flights, weather, coffee and food recommendations, as well as nearby Uber drivers are all available for a targeted visit group.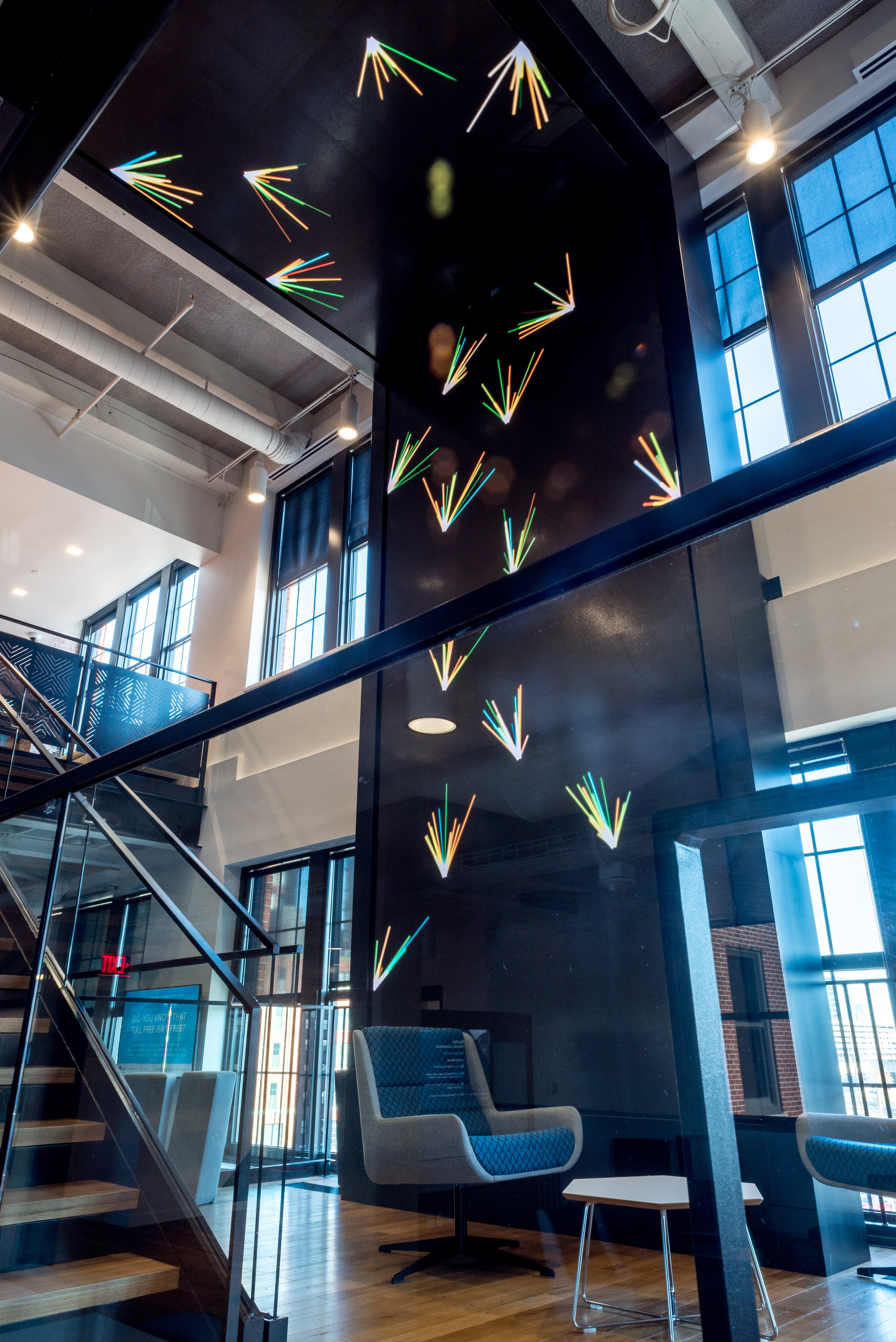 From the onset, the center emphasizes the importance of the customer community. Collected through pre-registration and activated by sign in, the unique imprint of each visitor is stitched together to form a strong fabric representing the strength of collective collaboration. Also, the installation creates a playful and artistic tone connecting level 3 and 4.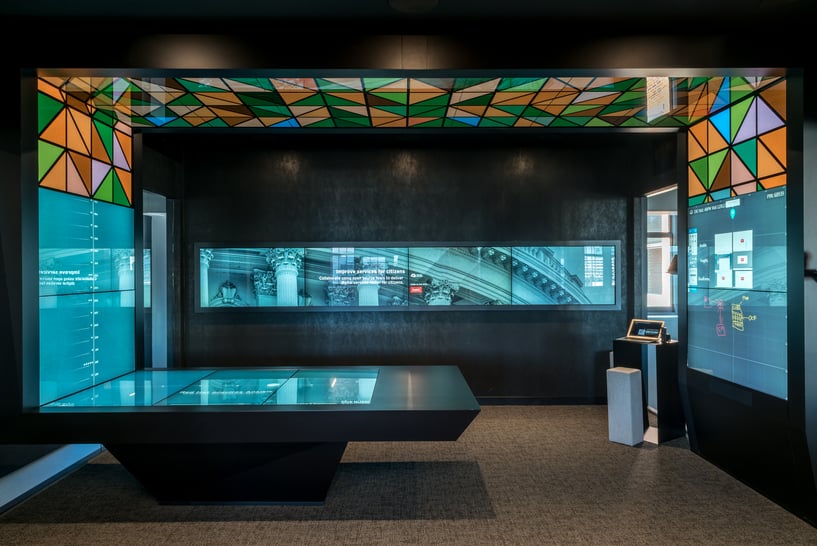 The Solutions Ecosystem area is a highly interactive multi-mode space that allows visiting groups to dive deep into Red Hat solutions and collaborate with remote subject matter experts in real time.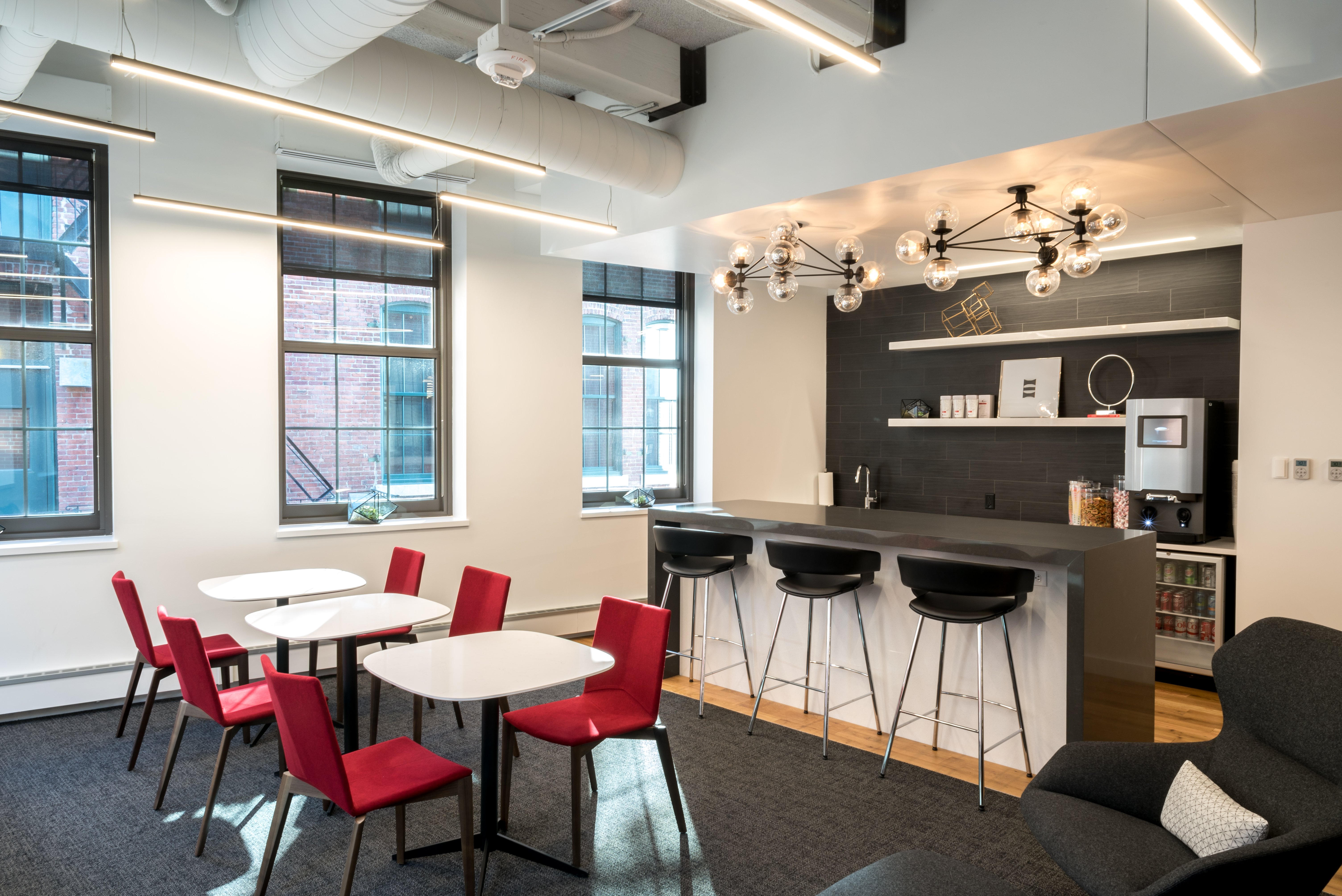 Hospitality is a key component of the customer visit, and creativity can't be kept in a single room. Both meeting rooms feature an associated breakout space that is treated as part of the meeting room experience. Conversations can continue outside of the meeting room and visit groups are encouraged to own the entire space. A variety of refreshments are provided, including NECCO WAFER and SQUIREL NUT ZIPPER candy, which were at one time manufactured in the building.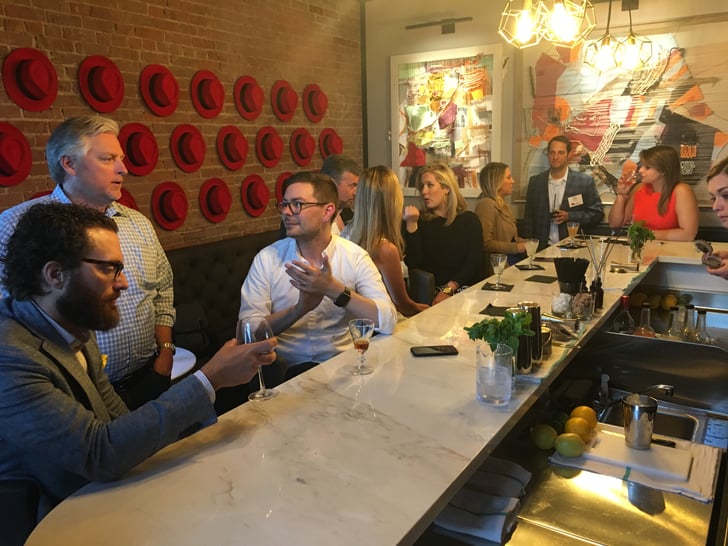 The Speakeasy is a hidden space that is accessed through a door disguised as a coat rack. This catered event space is available so visitors can continue the conversation and cultivate deeper relationships with Red Hat SMEs and staff.