Rover
Expanding Rover's Seattle HQ to embody their passion for pets and their employees.
A cohesive workplace that brings people and dogs together
Rover is an innovative, dynamic online platform that connects pet parents with in-home dog care needs. As a rapidly growing tech start-up, they wanted their headquarters to support their growth and unique corporate culture.

Having outgrown their disjointed, inherited space, Rover knew they needed to upgrade their workplace. Their new space needed to enable people and dogs to co-exist, celebrate their culture, and attract and retain talent while accommodating future growth.

They partnered with Unispace to design and build four additional floors in a new building that featured a "woofdeck" (a roofdeck for the dogs), with two additional expansion floors.
A new office that embraces wellbeing for humans and canines alike
Our strategy and design team members worked hand-in-hand from the beginning to ensure that the strategy findings enabled a seamless transition to the test-fit phase.

The strategy process included space observations, a leadership survey, program interviews, leadership workshops and benchmarking to develop space program scenarios. The "brand-scan" exercise, held during the leadership workshop sessions, identified Rover's culture and brand qualities. This information inspired the design team and enabled them to make Rover's HQ vision a reality.
The five-floor workplace focuses on employee and canine wellbeing. It is a safe and inclusive pet-loving haven where staff can work with their dogs nearby. Unispace ensured that all Rover workstations were enclosed with a sliding door, allowing Rover pets to roam free with nearby supervision from their owners.

We took special care selecting finishes, hard surfaces, carpet, and furniture to ensure that dog shedding, scratching, and occasional "accidents" didn't damage or destroy the physical environment.

Additionally, having pets in the workplace can lend itself to noise and distraction. To remedy this, Unispace included additional focus and phone rooms near the workstation areas for those seeking solitude.

As a tech start-up, Rover needed versatile space for large gatherings and regular all-hands meetings. Unispace allotted 25% of the floorplate for this collaboration space. Using the internal staircase, our team worked with Rover to coordinate related business units on contiguous floors to maximize efficiency and collaboration.

A flexible workplace that brings the Rover brand to life
We created a unique space for Rover that conveys their personality and passion. While showing their forward thinking approach to the workplace, we created an inclusive environment that defines their brand and embraces a love for dogs.

By living the brand and embracing their corporate culture, Rover maximized the employee experience, effectively positioning themselves to win the war for talent so critical in the tech industry.
Reach out to Dennis Markham for projects in Seattle
Client
Rover
Service
Strategy
Design
Construction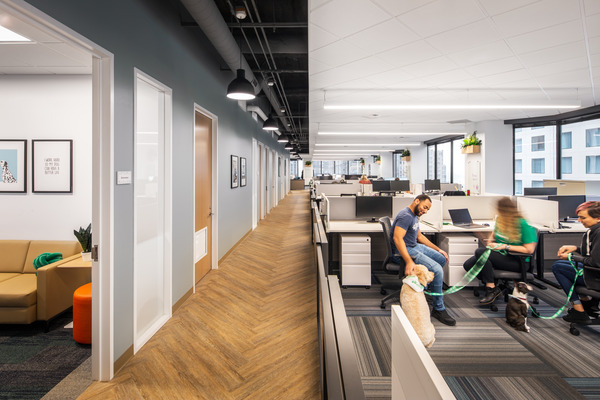 Finishes, hard surfaces, carpet, and furniture, were strategically selected to sustain dog shedding, scratching, and occasional accidents.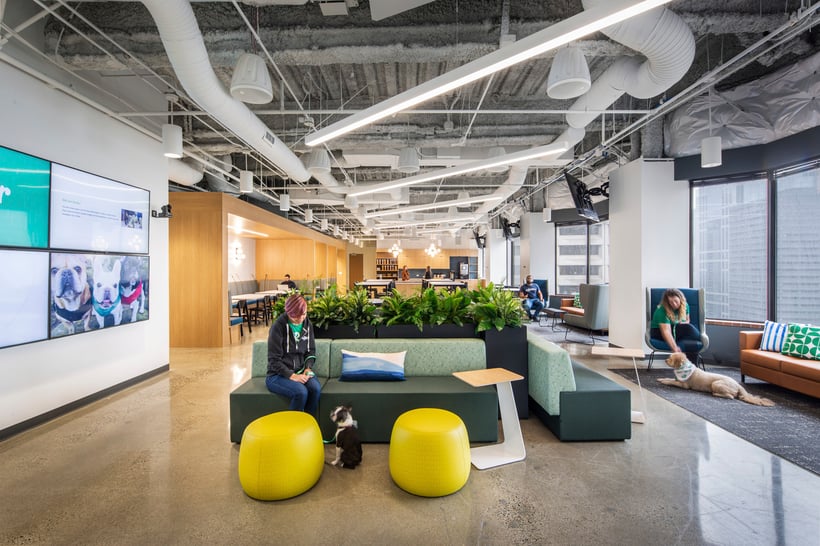 The multi-functional collaboration space accommodates large gatherings and transforms from a café into a work lounge and open office when it isn't in use.