Schneider Electric, Innovation Hub
A state-of-the-art Innovation Hub that inspires guests and reimagines the future through new energy solutions.
Drawing people into the space to showcase Schneider Electric's story.
Our task was to create a larger-than-life sensorial experience through platforms that draw people into the Schneider Electric story and evoke inspiration to what's next. The environment needed to be open and flexible to host large stakeholder groups together via hands-on demonstrations. Incorporate sustainable design/materials solutions that present Schneider as the leader in sustainable energy transformation.
Creating an immersive customer journey.
The innovation hub offers a personalized and immersive customer journey of experiential moments, inspiring visitor groups with state-of-the art technologies. The customer experience incorporates commercially focused moments to weave sales potential into discussions. Physical products illustrate real-world use-cases and the Immersion Room uses 360 Degree video for industry demos. The content scheduling for the hub is managed by a global online management system.
Setting a new bar for industry excellence.
The environment promotes new thinking, envisions specific business outcomes and fosters successful partnerships.
Reach out to us for more information
Client
Schneider Electric
Service
Concept Development
Environmental/Interior Design
UX/UI Design
Back-End Software Development
Experience Design
AV/Technology Systems Design
Front-End Software Development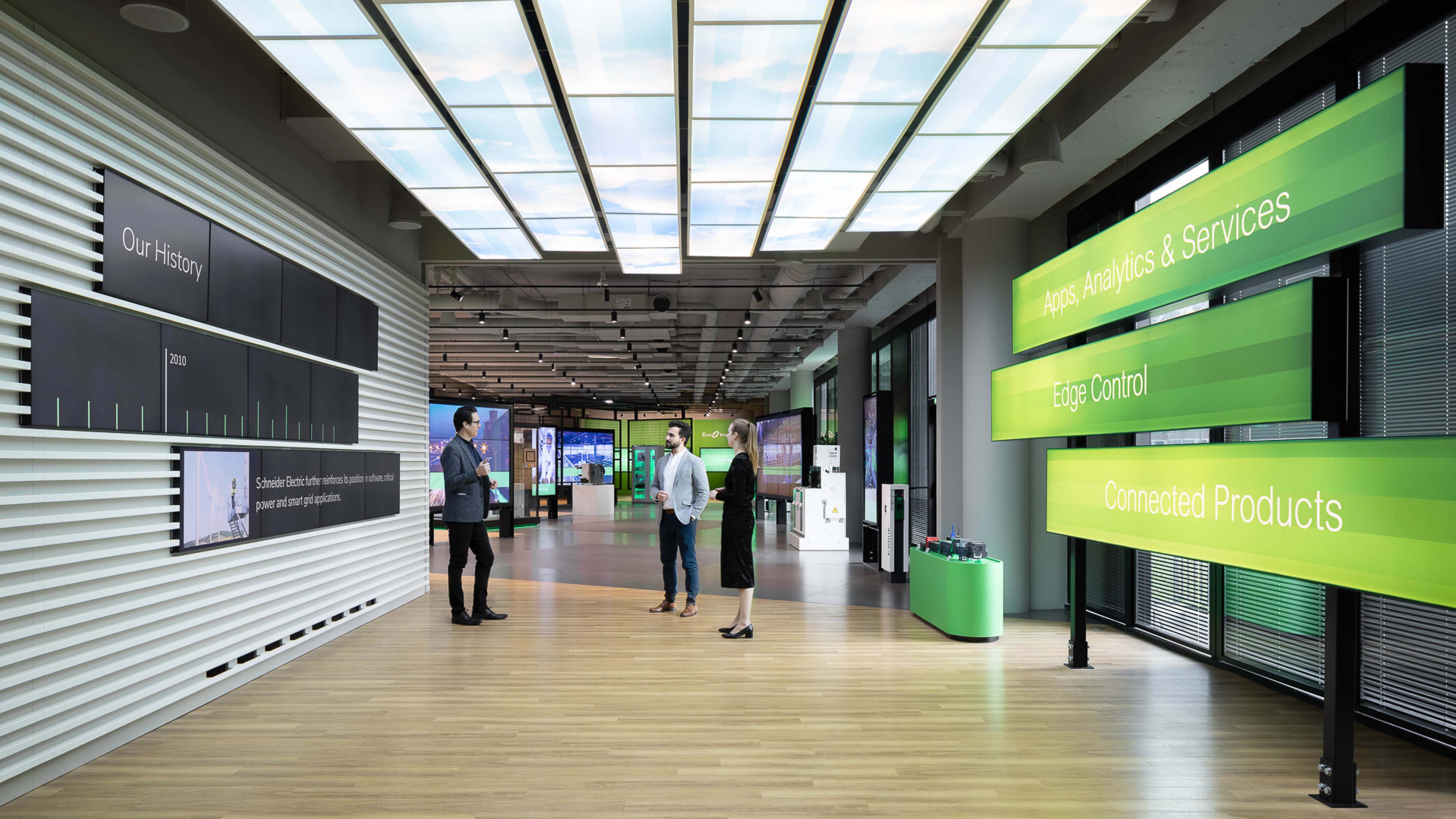 The reception entrance welcomes customers via striking interior architecture, a compelling mission statement and larger than life content projection. The Schneider team uses a control panel that manages all lighting, audio, and media of the facility to ensure a sensory-driven and memorable customer experience.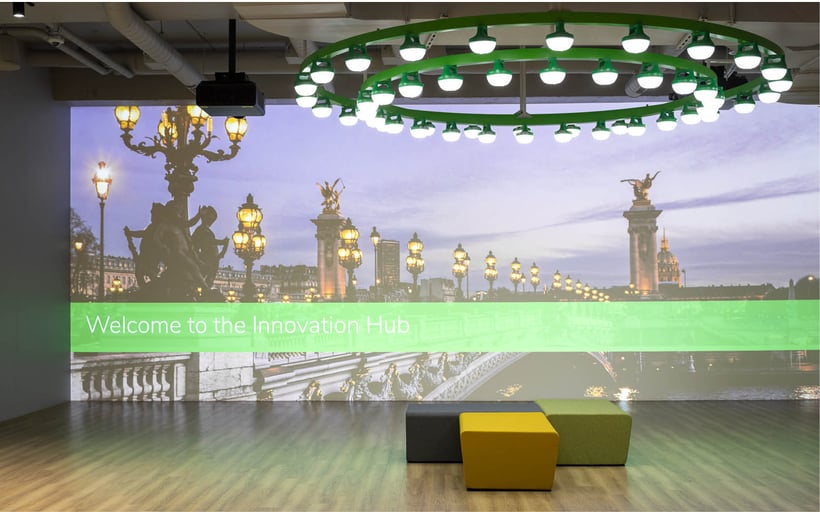 After the reception, customers are greeted by an unmissable, large-scale projection wall. Content is personalized for the visiting customer group, providing an ambient overview of Schneider Electric videos and infographics. A custom-built chandelier hangs overhead, which is a Schneider Electric product demonstrating the sustainability solutions in real-time.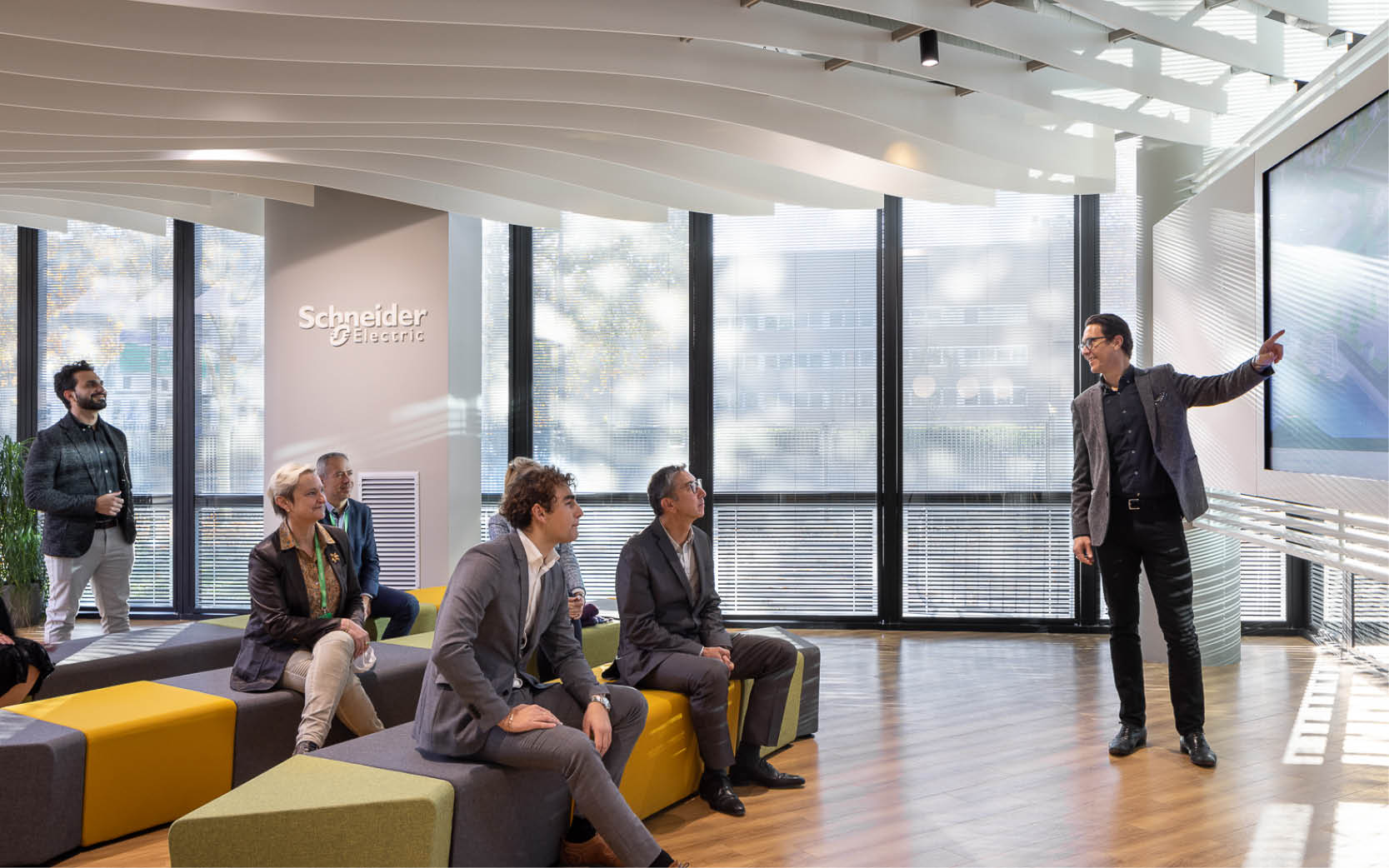 The customer journey kicks off with visitor orientation in a spacious, multi-purpose area. Brand ambassadors introduce products and solutions via a custom brand application name "The Hive". An impressive 100" 4K touch display is used to share key industry insights, global trends and challenges with perfect clarity.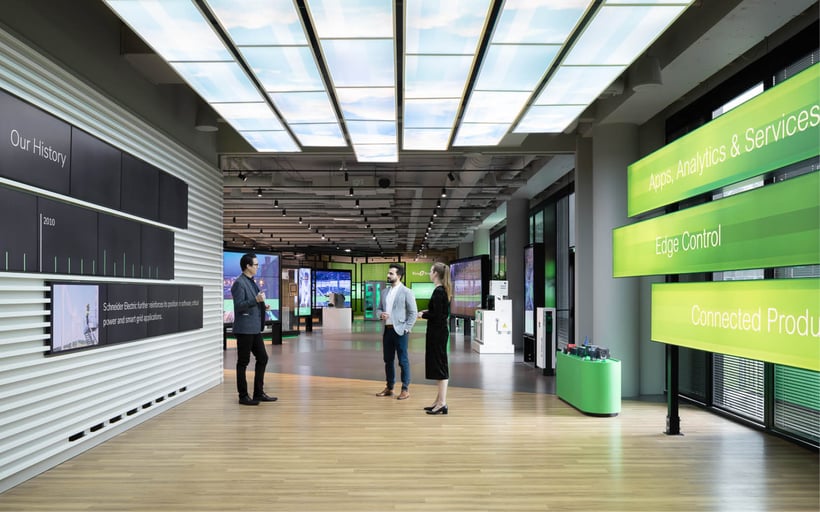 A combination of lightboxes and high-resolution digital displays visually manifest the "3-layer stack" model. Customers are immersed further into the brand story as they step through this multi-media environment. Stories such as company history, patents, innovations, and awards are revealed in through throughfare.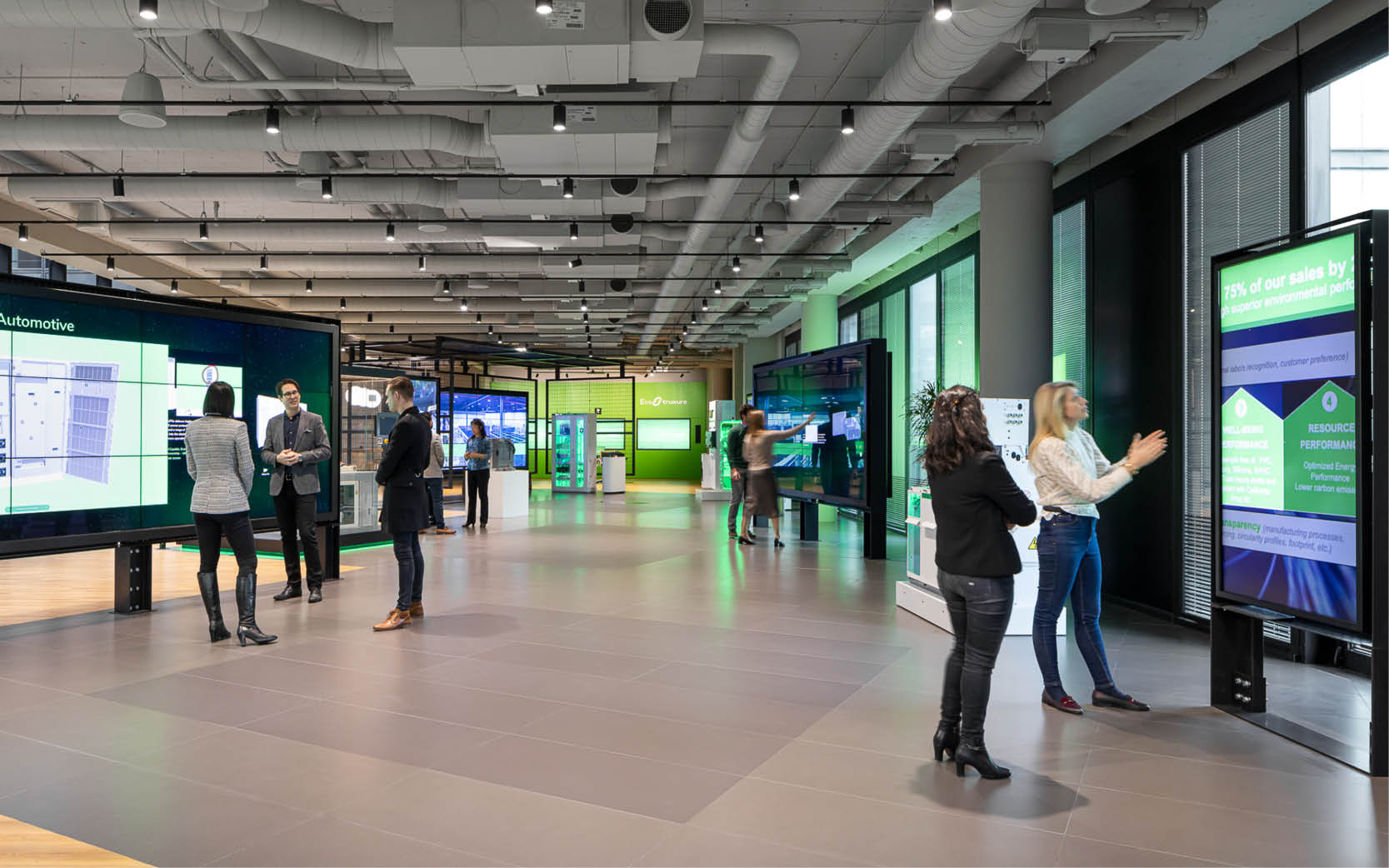 A highly interactive, spacious environment where client challenges connect to the benefits of Schneider Electric's solutions. Bespoke and non-linear presentations deliver content via interactive large-format video walls and portrait digital totems. The gallery features three storytelling zones, each based on specific industry topics. Guests can also get up close and personal with the hardware showcase in the Demo and Artifact areas.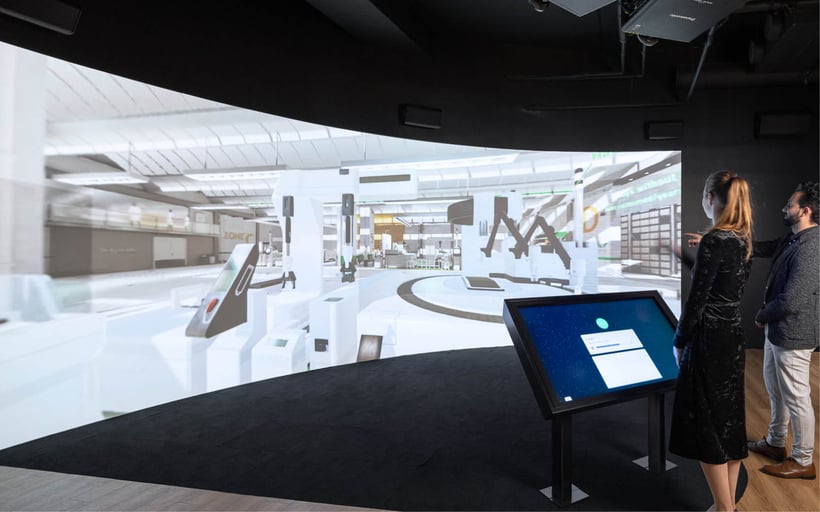 No customer journey is truly complete without undergoing a real immersive experience. The immersion room brings customer even further into the journey, telling stories of successful business cases worldwide. Two high-resolution projectors beam massive interactive, 360º video content onto a curved projection screen create the experience, easily guided by the customer or host. Special acoustics and lighting allow for a truly memorable brand experience.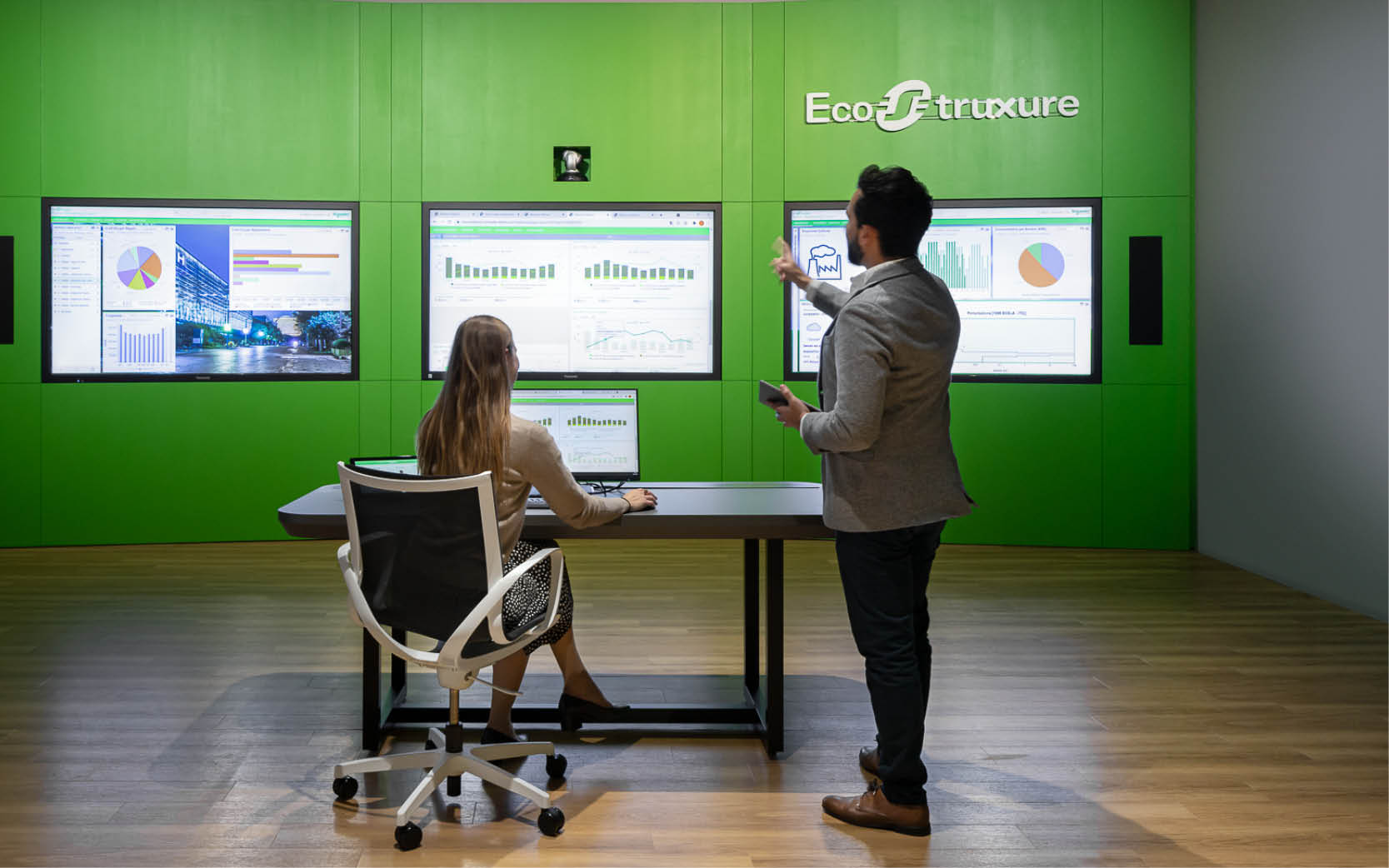 The Control Deck is a hands-on demonstration setup composed of three digital displays connected to a control desk computer and monitor, simulating a typical setup in SE energy management facilities. This setup allows visitors to view all the SE application solutions driving the energy efficiency of the entire HIVE building, including the Paris Innovation Hub. Located just above the digital displays is a camera that provides a VTC connection to other locations and R&D facilities for further remote demonstrations or discussions with subject matter experts.