Uniphar
As trusted global partners to pharmaceutical and medtechmanufacturers, Uniphar needed a refreshed space to help bring itsteams together and create an uplifted experience.
A dedicated workforce
Based in the business district of Citywest, just outside of Dublin, Unispace had previously delivered two projects for other clients nearby, giving our team indepth knowledge of the area and building structures.
As working preferences changed, Uniphar's teams saw a rise in workplace attendance and knew they needed to evolve their space to suit their people's needs and support this positive shift.
We introduced a new agile way of working with open plan desking that could be booked through a new digital system, before heading into the office. Not only did this secure a desk for teams before making the commute, but it also allowed senior teams to manage occupancy rates digitally. Our design team also incorporated lockers on each floor so that users could move around each day and remove the pattern of desk ownership.
The ground floor is mostly dedicated to external clients and Uniphar's leadership teams. As we enter the space, the reception sets the tone with a sophisticated combination of marble, black panelling, plush navy rugs and silver accents.
The floorplate then divides, to the right is a welcome lounge with soft furnishings and a teapoint to serve clients and visitors while waiting for their meeting. Uniphar's C-Suite have a wide variety of meeting rooms to host teams and visitors including an expansive 20-person boardroom, smaller flex spaces for collaboration as well as phone rooms. There are also closed office spaces for members when required.
Bringing people together
Turning left at reception leads you to the large restaurant and canteen available for all team members. During Covid, only warehouse teams would use the canteen and food options were limited to simple sandwiches and soft drinks. Now, all teams are seen coming together and making the most of the new space and the extensive menu offered by canteen staff.
Our design team wanted to achieve a modern, simple yet elegant design to bring people together and blend a sense of hospitality into the workplace. This can be seen in the rows of relaxing booths and elegant round mirrors on the back wall, mimicking the intimate, homely feel found in restaurants but with an elevated touch.
We added an abundance of greenery to bring life into the space, found in pots, within the joinery and suspended on the ceiling within modern grates. The result not only matches the surrounding hills and forest around the building, but also makes the space feel warm and approachable.
Moving up to the second floor, there's a variety of flexible, open areas for collaboration, problem-solving and focus work, along with closed meeting rooms and open plan desking. The design throughout the building incorporates brand-reflective accents such as blue, yellow and orange, mixed with neutral timber, whites and greys.
The second floor also boasts a central teapoint with a large, marble countertop island with greenery draped from above. This is used as a gathering point for informal open meetings, breaks and meals, away from the external-facing restaurant on the ground floor. The result is a homely yet elegant space for teams to connect and come together in a relaxed environment.
Uniphar's new workplace has been uplifted and brings people together. Now, teams frequently gather in the teapoints and ground floor restaurant, creating a buzzing environment to connect and strengthen relationships.
Reach out to us for more information
Client
Uniphar
Service
Strategy
Design
Construction
FF&E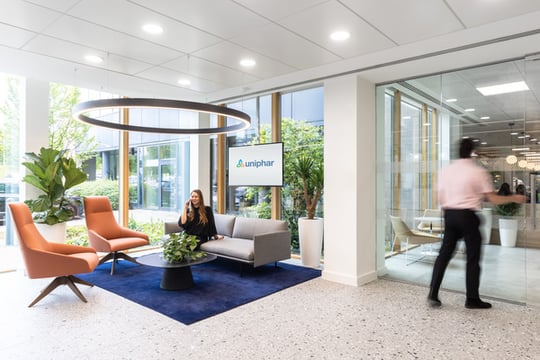 Changing spaces
Uniphar's office is attached to its large
warehouse that receives, organises and
dispatches pharmaceutical products. We
refreshed the changing rooms that
connect the two spaces, acting as a
transitional portal for Uniphar teams to
change into its heavy duty uniform and
high-vis garments. Complete with new
lockers, marble counters and black
metallic finishes, this bridge between
spaces has been given a modern uplift to
support warehouse teams and match
Uniphar's new front-of-house refresh.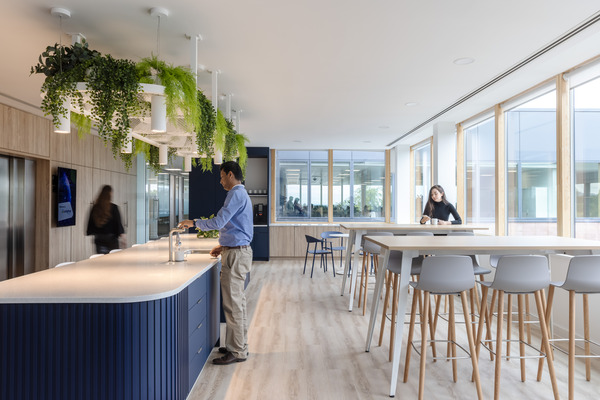 Looking sharp
Taking cues from the symmetry of the building's architecture, geometric patterns became a key design theme. This can be found in the sharp lines on meeting room acoustic wall panels, in manifestations on glass meeting room walls and in smaller details such as the chevron splashbacks at each teapoint.