Unispace, Zurich
Our Zurich team needed a showcase workplace that was equally impressive to both clients and our rapidly growing team. The result was a sleek, timeless space that seamlessly blended hospitality into the office.
Project objectives
Our presence in Switzerland had seen rapid growth and as a result, our team was growing just as quickly. Previously, our team of 25 resided in a small yet stylish studio in the city centre, and now at 40 team members, we were bursting at the seams and in need of a new home.
Our new studio is situated in The Circle, an exciting development next to Zurich Airport that opened in 2020. With its unparalleled transport links, modern design and LEED Platinum certification, we knew it was the perfect location for us.
A key objective was ensuring that the studio acted as a showroom, presenting to our clients the very best of what we can offer as a global firm creating amazing spaces. From the moment our guests walk through the door, we wanted to create an experience with high quality design that leaves a lasting impression.
In balance with this was the need to create an inspiring space for our own people to thrive. The workplace needed to contain spaces for everyone to allow them to focus, collaborate, problem-solve, socialise and ultimately, be their best selves..


Providing the best experience
for everyone
We designed two entrances for our studio, one for team members and another for clients. The employee entrance was positioned next to a corridor of lockers and the kitchen area for team members to grab a drink in the morning and settle in before the start of their day.
The private client entrance led to an expansive 10-person executive boardroom for meetings, presentations and video conferences. Designed with a soundproofed glass wall with accordion hinges, the wall can be opened up to connect with the adjacent hosting area, complete with sofa lounge, workstation and refreshments for clients to stay and work from our studio if desired.
Connecting spaces and people
The open event space, situated in the heart of the studio, was designed to bring people together for socialising, informal meetings and events. Equipped with state-of-the-art video conferencing, presentation screens and surround sound, the space can host a variety of events and be live streamed, connecting to remote audiences and our global studios.
Subtle dividers were used in the open floorplate to create neighbourhoods without disrupting the natural flow of the space. Acoustic curtains, open shelving and mid-height counters provide privacy whilst maintaining a welcoming feel.
Mindfulness in the workplace
Providing a sense of health and wellbeing for our people was also an important factor. The two large outdoor terraces can be used for lunch breaks and socialising, overlooking 80,000 sqm of green parks, plus we installed a mindfulness room to relax and unwind, and ergonomic sit-to-stand desks to suit everyone's needs.
Reach out to us for more information
Client
Unispace
Location
Zurich, Switzerland
Service
Strategy
Design
Construction
FF&E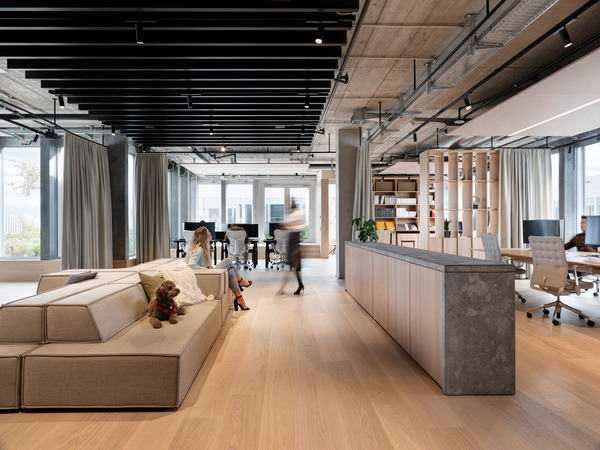 An undeniably Swiss look: sleek design, clean lines and high quality materials.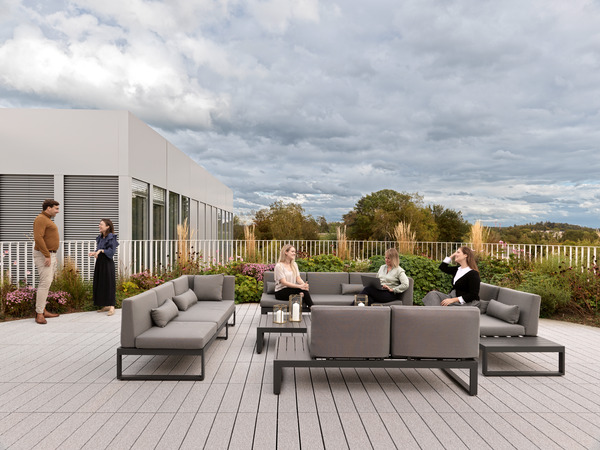 Two outdoor terraces are overlooking the brand new park at The Circle, with views reaching The Alps.