RE:location: Is location the new name of the game?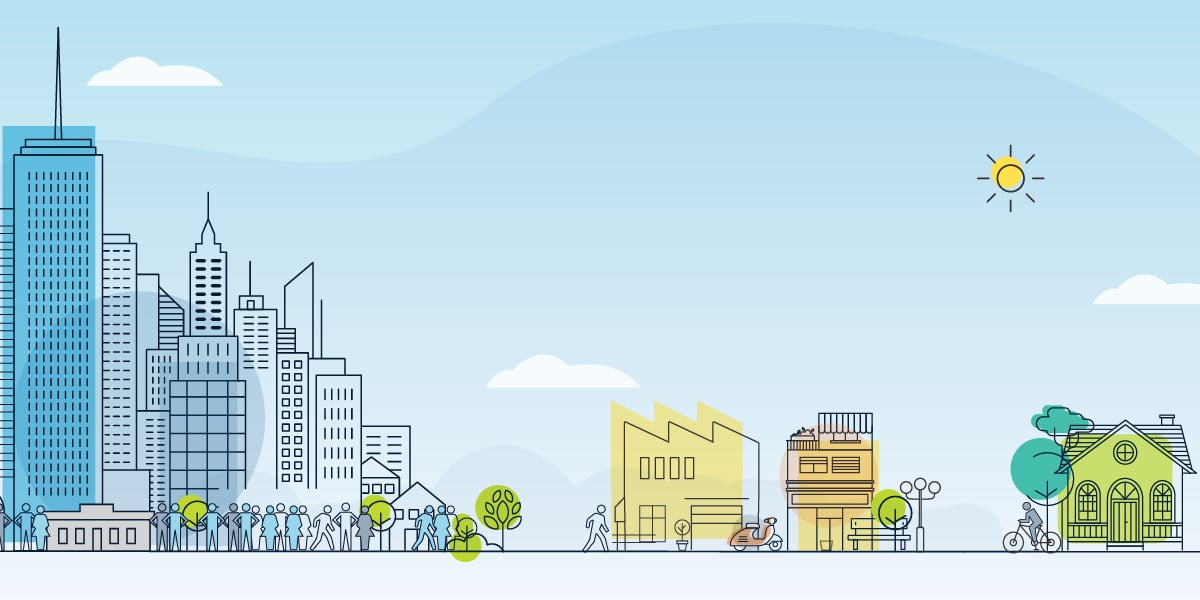 As most of the world surpasses
a one-year milestone of working from home
orders, businesses have continued to
reassess how and where we work
.
In our Re:location series, we'll focus on different location and office trends, their potential impact on future workplace strategies and how companies and commercial real estate executives can strategically plan ahead for the long-term. 
Any challenge comes with opportunity and we believe that the pandemic has highlighted how companies have adapted in the face of uncertainty. On a global level, we have learned how to be agile and flexible, embrace the found benefits of remote working and realize the true value an in-office experience brings. With the new normal knocking at our doorsteps, it's critical to rethink how to navigate the short- and long-term implications of how and where work will happen. While many of the prominent trends we're seeing were well underway pre-pandemic, the momentum has caused an acceleration of changes. Location has been one of those changes impacting the future of workplace.
Evolving real estate strategies: the urban debate
Has Covid-19 killed our cities? It's a question that has been discussed at length as city centers continue to lack the hustle and bustle, especially in the United States and Europe. The global commercial real estate market has suffered from the effects of the pandemic as entertainment, retail and office space has been closed, or operating at limited capacity since early 2020. CBRE predicts property values for these spaces won't begin to recover until 2022 or beyond. According to JLL, commercial real estate investments fell 28% from 2019 to 2020. 
The future of workplace real estate continues to be uncertain, but a large part of the conversation is focused on location. With urban centers remaining somewhat lackluster amid restrictions and economic challenges, it's no wonder the pandemic has reshaped where people want to live, work and play. Even the most zealous urbanites are escaping cities for locations that offer more space, freedom and access to nature, especially when proximity to the office is inconsequential. Will these trends continue as we move into a post-Covid era?
Executives have been rethinking their real estate strategies, especially as we see parts of the world going back to the office and vaccine distribution is accelerating. While the Covid-19 crisis has shown that organizations were largely successful in quickly adapting to virtual offices, it has also shown the importance of the physical workplace. We know remote working is here to stay. We also know the physical workplace is here to stay. Not every company will follow the same path, but decision makers will need to thoughtfully plan their return to the office, including where their workplaces are and will be located.
New opportunities and flexible options
One of the greatest lessons learned through this disruption is that we—people, companies and society at large—are extremely resilient and able to adapt to uncertainty. Working from home has had its positives, like higher productivity, more flexibility, reduced commuting times, and a better work/life balance. Companies that were hesitant to offer the option to work remotely prior to the pandemic have gained a new perspective on an old debate. Still, teams want to get back to the workplace for in-person collaborating and connecting. This is especially true for the younger generation who crave the interactiveness the workplace provides, like tacit learning, mentoring and socializing. People want the option to work from home AND go into the office when they see fit and depending on their needs. 
As teams demand flexibility and choice, we believe the ideal solution is a hybrid strategy that offers a blend of working remotely with in-office working. Research suggests workforces will want to work remotely up to three days per week which means companies will need to rethink their short-term and long-term workplace strategies. The office will be about creating experiences for staff, from developing and improving the tools, to amenities and technologies that make the physical workplace a hub for attracting talent and elevating collaboration, socializing and innovation. As David Gooderham, global account director with WSP says, "the office will have to become a destination with a purpose."
Suburban migration and urban shifts
The "death of cities" may be an exaggeration, but there are clear indicators that migration trends are shifting: an aging millennial generation, baby boomers remaining in the suburbs and younger generations and artisan classes moving to city outskirts. PwC's Emerging Trends in Real Estate 2021 report finds people aged 30-49 are ditching big cities and moving to smaller cities like Austin, Phoenix, Salt Lake City and Tampa that offer affordability, convenience and attractive job opportunities.
Corporate real estate experts predict the CBD office is here to stay. In CBRE's 2020 Global Occupier Sentiment Survey: The Future of the Office, they reported fewer than 1 in 10 companies are considering leaving their core offices in the city. However, one-quarter of respondents (senior global real estate executives) said they are considering shifting their footprints to include suburban office locations (at least in the United States) that have city-like amenities and are near transit hubs. Some companies have jumped on this trend, relocating or opening new core locations in less dense areas. For example, Amazon opened an HQ2 in Crystal City, Virginia, a Washington, DC suburb. Crystal City is a strategic location with its proximity to Washington, transportation lines and amenities. While the deemed "suburban migration" has been catching traction, PwC's report suggests some of the struggles the large cities are currently encountering will be temporary as they regain their appeal. 
What's next for corporate real estate?
In the future, real estate strategies will need to be adaptable and agile. Mixed location, hub and spoke, and co-working strategies can provide working options based on convenience and accessibility. 73% of CBRE's survey respondents agreed office flexibility will be a part of their long-term real estate strategies. Hub and spoke models and expanding to suburban locations provide a variety of advantages, including cost efficiency and business resiliency. In this new environment, tenants will gravitate towards properties that accommodate flexibility, adaptability and wellbeing.
The pandemic has undoubtedly changed how and where we live, work and play. It has also given businesses the opportunity to rethink their future real estate strategies. Trends like shifts in location and flexible working, accelerated by the pandemic, will continue to influence how executives plan their approaches forward. Corporate office real estate will continue to evolve as the purpose of the office changes and technology plays a bigger role in work processes, communication and collaboration. Real estate brokers and investors in turn will need to ask themselves how to differentiate themselves to attract and retain tenants while managing their operating costs.
For more information about location strategies and future workplace solutions, download our location guide HERE.
Stay tuned for our upcoming article, The suburban shift: Adapting to the changing tides.