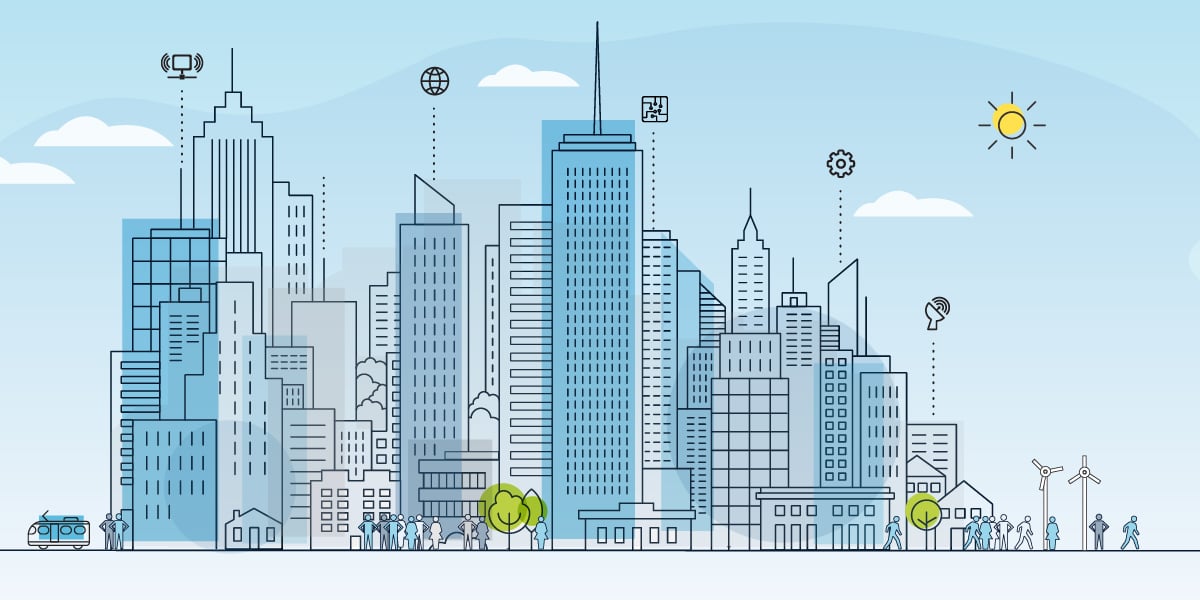 It's no surprise that real estate experts are predicting cities will be different in a post-

Covid

environment. Once the mecca for all activit

y (live, work, and play), cities have remained relatively quiet as

technology and flexible working strategies have enabled teams to work remotely

. We know the purpose of the office will change to become a place for innovation, problem solving, and connecting with peers. Does this mean the city

centers

will need to adapt too?
The new normal
For more than a year, cities across the globe have been undergoing massive transformations. In the short-term, this was quite visible, with the sudden exodus of people and traffic in urban spaces. Workers vacated their urban dwellings, seeking shelter and in many circumstances permanent residence in the suburbs for the convenience of space and affordability. Even as CBD offices, retail, and services open to full capacity, the long-term effects are still to be determined as technological advancements allow us to remain interconnected remotely and businesses move forward with agile working strategies.
Location and working trends are accelerating movement in the commercial real estate world as businesses look to shift and/or expand from cities to suburbs and metropolitan cities to secondary cities, with lower costs of living and tax incentives. These trends have influenced some tech giants to open HQ2s and campuses in suburban areas, and financial firms based in cities like New York and San Francisco are opening satellite hubs in Tennessee, Texas, and Florida. What does this mean for primary cities? Even though large metropolitan environments may be in flux, their foundations are deep. What's more, the pandemic has given cities the opportunity to reimagine their futures, focusing on vibrant and distinctive offices, sustainability, transportation, and enhancing the human experience.
The CBD office 2.0
Although the global shift to home working has provided some undeniable advantages such as more flexibility, reduced commuting times, and a better work/life balance, the allure of the city office remains intact. Human interaction and socialization continue to lead the charge with what employees miss most about the workplace. Combined with the proximity of various conveniences, the city office isn't going. Instead, how we use it will change. There will be a greater emphasis on reasons people and businesses want to work together, like mentoring, sharing human experiences, and creativity. This transforms the traditional urban office into a miniature center for entertainment, education, and culture offering attractive amenities to retain and attract top talent.
As organizations rethink their workplace strategies, hybrid models have emerged to allow their workforces to do their best work. What does that mean for office design? As the purpose of the office shifts to a more social and collaborative environment, space design will need to evolve to support different work modes and styles. Integrating smart technology and providing the necessary tools and resources will be essential to allow remote and in-office teams to connect and maintain culture. Easily reconfigurable rooms and furniture and bringing in elements of the hospitality industry through amenities and services are other office design ideas for the future workplace.
Renewed growth from social experiences
Through the pandemic, we've learned virtual environments can't replace the authenticity of the urban office; however, how can companies encourage their teams to leave the conveniences of home to come back into the office? Innate desire to socialize, enjoy culture, and share experiences will drive growth back to cities and their corporate offices. While spaces will need to adapt, they will remain the beating hearts of the CBDs, helping areas like tourism emerge strongly in the post-pandemic world. In turn, this will sustain the attraction of urban real estate development and opportunities.
City offices and HQs will need to embrace new thinking and innovation to advance their social and economic vitality, elevating what people have missed most during lockdown—the advantages of workplace amenities, local connections, and conveniences like walkable services during lunch, Friday afternoon happy hours with colleagues, or meeting friends out for dinner after work. Accentuating these experiences can entice people to cities and back to the office. For example, many cities have allowed the continuation of outdoor dining on sidewalks and in parking lots adjacent to restaurants. This encourages socialization and interjects humanity into the urban streetscapes. Companies too are integrating benefits and amenities into their workplace strategies with amenity-rich mixed-use complexes, food options, event venues, rooftop terraces, etc. Spaces like this can revitalize entire neighborhoods or urban districts by driving innovation, attracting commerce and employment, and stimulating long-term growth. They can also help to create other synergies with neighboring tenants and/or public spaces.
A picture of possibility
Like the suburban shift, the reinvention of the city and office market has been a long time in the making with the emergence of new technologies and the increasing focus on climate change, reducing carbon emissions, sustainability initiatives, and closing the parity gap. Along with the growing interest in office buildings and business districts to facilitate human interaction and collaboration, cities will need to address these trends to emerge more prosperous, vibrant, and inclusive.
One of the biggest lessons learned from the pandemic has been tackling cities' long-standing vulnerabilities, understanding their strengths and attributes, and emphasizing sustainability and resiliency. For example, cities have long been vulnerable to climate shocks and producing large shares of carbon emissions, which means sustainability and green initiatives in these areas can make the biggest impacts. Cities will need to prioritize climate resilient infrastructure and safe, affordable, and sustainable mobility options. Metropolitans like Amsterdam and Copenhagen have been curbing car use for years and improving bicycle and walking trails.
Other cities like Paris, Bogota, and Melbourne are adopting urban planning schemes that prioritize sustainable transport and improving people's quality of life. For example, after Parisians discovered the joys of their local shops and parks during lockdowns, the city has adopted an urban planning model to create stronger local communities called the "15-minute city," providing everything a resident might need within 15 minutes by foot or bike. More and more cities around the world are seeing the positive outcomes from such strategies and are looking for alternatives to cars to tackle traffic and pollution. Concurrently, micro mobility, zero emissions vehicles, and cleaner, high-efficiency transit hubs are becoming more mainstream, giving workforces low-cost, sustainable transportation solutions.
From building smarter to more efficient travel options and reimagined office districts to green space, the future city will need to adapt to meet the demand of its dwellers and occupants. Integrated into this evolution, urban office space will become more flexible for people and adaptable to ongoing city transformations as we move forward.
For more information about location strategies and future workplace solutions, download our location guide HERE.
Check back for our next article, Re:location: Co-working and flexibility: Designing with community in mind.