Global businesses with UK bases are in uncharted waters: never before has a fully fledged member state walked away from the EU. Regardless of your views on Brexit, no one really knows what the effects on business will be. So these are 'interesting times', and nimble organisations are exploring their potential post-Brexit strategies. We're kicking off with the first in a series of articles about Brexit-related relocation issues.
Since they can't change Brexit, many businesses are asking what they might need to change about themselves, instead. Location is an obvious variable, so should they stay or should they go? Are there opportunities for growth within the UK? Should they hold onto their British base, or maintain a reduced presence? Some may move out altogether, heading for other financial centres or attracted by cities offering low operating costs and high inducements.
Some must move in order to continue complying with EU regulations: for example, for easyJet to continue flying between EU states, it must move its head offices to a member state. For others, it's about access to the right talent in the right place; others are poised for major growth and are looking to expand within the UK or the EU. Whatever your decision, it's quite likely that Brexit may require you to make some changes to your workplace design and even your workplace strategy. So it's good to know that Unispace can help you make a smooth, seamless and on-brand transition.
Considerations if relocating after Brexit
Companies which choose to relocate, wholly or in part, are going to want to be responsive and flexible, with a relocation strategy geared around speed and efficiency of transfer – enabling customers to continue receiving the same high level of service without noticing the 'join'. It's going to require careful choices of destination, perhaps based on context, costs vs incentives, availability of office stock, and access to talent. And amidst all the upheaval of new, relocated or expanded business premises, it'll be crucial for each company to hold onto its corporate culture, dynamics and systems – or it will lose itself in the process.
Defining the post-Brexit workplace strategy
The working environment is always one of the strongest signals, to both employees and customers, of the health of the organisation. Do the surroundings and the atmosphere feel on-brand? Is it business as usual? Do things work as they should? Is there confidence in the future? Workplace design plays a critical role in ensuring that a business can create AND convey the right working environment: distinctive, effective, positive, forward-looking. And, where that business is global, that each office is simply part of a greater, unified whole.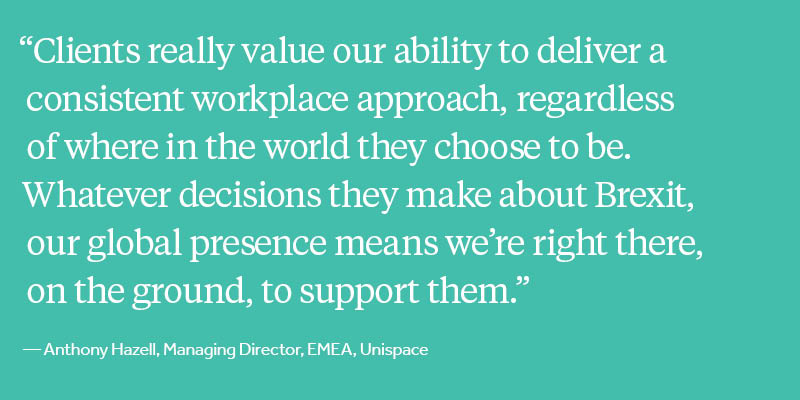 Unispace has it covered
If Brexit is causing you to consider expanding or reducing your UK presence, that could mean relocating, reconfiguring or downsizing. If, on the other hand, it means you're thinking about relocating, you'll want to ensure a fast and efficient transfer of your people, your assets, your digital integration, your systems and, most importantly, your brand.
Whatever Brexit means for your locations and your workplace strategy, we're here to help. Unispace is a global business, located in 49 cities across 23 countries on 5 continents. That means we understand for our own sake, and not just through our clients, what it's like to deal with international moves and openings. And our global presence means we can commit to supporting businesses wherever they choose to be.