From client drinks to team gatherings, organisations spend considerable time, effort and money on bringing their people together socially, to boost teamwork and collaboration, forge stronger client relationships, and give people a chance to have some fun.
However, rather than endure the headache of trying to decide on a suitable location for each outing, we're now seeing more brands – particularly those in the FMCG space – looking to build their own in-office bar environments to showcase their brands in an authentic, premium setting.
A convivial setting
Both Coca-Cola Amatil and Pernod Ricard Winemakers were looking to create inspiring bar areas designed to bring employees and clients together to socialise, share ideas and approach their work from a different perspective.
"A bar can be a great addition to any working location where there's a local culture of people coming together in public to socialise," explains John Bechara, Regional Principal Client Relations at Unispace. "It provides an opportunity to impress clients, reward staff, and create a more convivial workplace atmosphere."
Of course, installing and operating a high-quality bar can be a significant investment, which is why forward thinking FMCG brands are incorporating multiple functionalities into their designs. For example, bars can also double up as training facilities, allowing brands to train hospitality staff in the art of bartending and delivering the perfect (responsible) serve.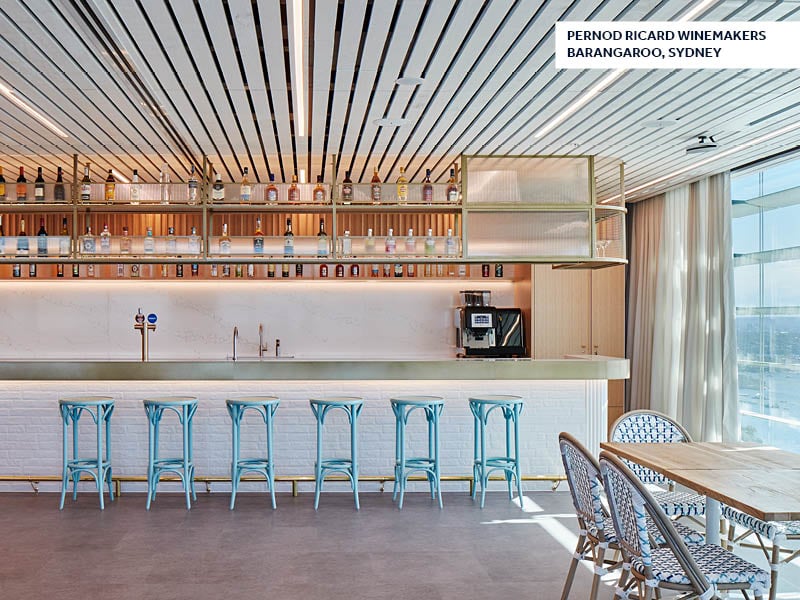 Living the brand
Furthermore, FMCG brands today sell more than just products, they are experiential providers, "…activating the power of people to build their brand."1 This applies to staff, clients and customers alike, and a bar area can be a great way to bring the brand to life within the workspace itself.
For example, Coca-Cola Amatil was struggling to engage its staff due to limitations with its existing headquarters. As described by General Manager Matt Toohey, "Our workplace was very stale and traditional… there was no real collaboration between teams."
Unispace was invited to reimagine this headquarters as a more agile environment and develop a dedicated bar and lounge area, drinks emporium and terrace, to bring staff and clients together. Our design centred around creating moments of surprise, turning good experiences into great ones.
Coca-Cola Amatil's new bar facility embodies this concept perfectly, bringing the company's core values to the fore and transforming run-of-the-mill meetings and catch-ups into memorable occasions for everyone involved.
The best bar none
The look, feel and design of your workplace is a vital step towards realising your corporate and cultural goals. It's vital that you take the time to consider how your working environment will keep staff engaged, motivated and working in harmony – both with one another and with clients.
"Keep your staff happy and they'll keep your clients happy," concludes Bechara. "In-office socialising is a great way to boost morale, and organisations across many industries are starting to recognise the benefits a bar can bring to their working environment."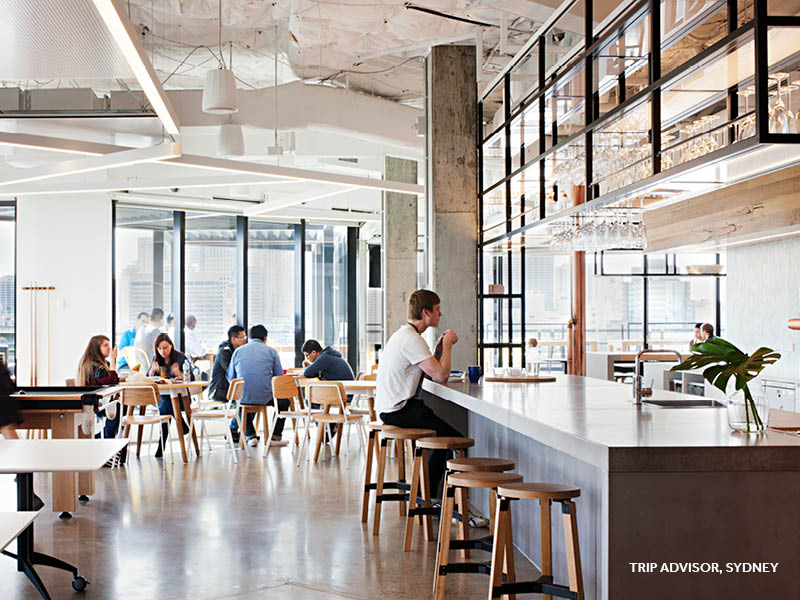 Connect with our team to learn more about creating a multi-purpose bar environment to take your FMCG business to the next level.