How can you get more from your office space? At Unispace, we combine science, facts and data with the art of storytelling to gain real results and successful outcomes for your business.
To create a workplace that is fully aligned with your people, place, and purpose, you need to seek out the hard data and blend it with inspirational storytelling.
"The best workplaces use creative design to take employees and visitors on an emotive journey," says Natasha Bonugli, Unispace's Regional Principal of Design and architect by profession. "But that journey has to be backed up by solid facts, or it's meaningless. There's no point having a big design idea if it doesn't resonate with the people or the business, and can't evolve with them."
Sam Sahni, our Regional Principal, Strategy, works alongside Natasha. His team unearths the science which underpins the design team's work. As he points out: "Without knowing the facts about a workplace, everyone's simply relying on best guesses – and with the best will in the world, these are often way off the mark. So our tools and processes identify the gaps between perception and observation, helping us to create spaces that truly respond to individual and business needs."
So how does this strategy/design inter-relationship work in practice? Having the freedom to trace the 'science' behind a workplace enables us to uncover real stories which can be narrated in all kinds of creative and inspirational ways. To do this, we use a wide range of tools including executive, employee and client interviews; space utilisation studies; ideation workshops, and much, much more.
People may tell us that they spend 85% of their time at their desk, but through our metrics we'll discover that it's actually 50%. Such an insight can transform the new layout as well as the way of working, and save our client a lot of money. We may find that certain meeting rooms, staircases or entrances are barely used, or used in an unnecessarily costly or unhelpful way. We may find that a certain cultural or spiritual dimension is incredibly important to the local workforce or community, as we did at Woodside's new workplace in Perth.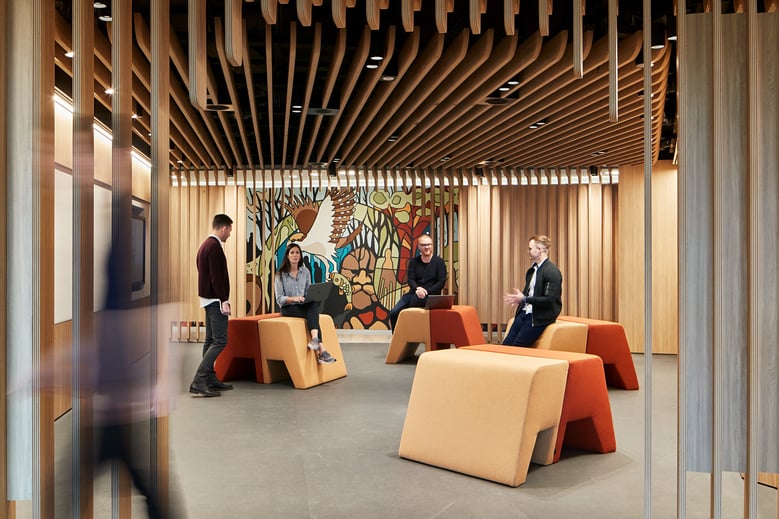 We'll use what we learn to find cues for sparking ideas among employees or break the ice with clients. To bring meaning to a space, we might take an in-depth look at the local context as well as employee profiles and demographics. For example, placing a simple but significant artefact in each meeting room can embed local or business culture, inform decision-making, and encourage client-first behaviour.
"It's not enough to put a logo on the wall: the workspace has to live and breathe the brand. Even the most mundane elements can be imbued with significance, causing people to smile, think or wonder."

– Natasha Bonugli, Regional Principal, Design
An example of great practice is our client TripAdvisor; their global policy is for no two meeting rooms to have the same name, and each is designed with a strong sense of place. Teams can meet in the Forbidden City, at Giverny or by the Golden Gate Bridge, with floor-to-ceiling graphics of people experiencing the destination.
For
Coty

in London, Unispace chose surface materials reminiscent of fragrance bottles: lots of faceting, accent metals, mirrors and glass, with a palette of pastel pinks and blues plus natural skin tones. On the other hand, for Swiss biologics company

Biogen

we introduced a stripped-back laboratory aesthetic to encourage focus on core purpose, supported by screens showing Biogen products transforming lives around the world.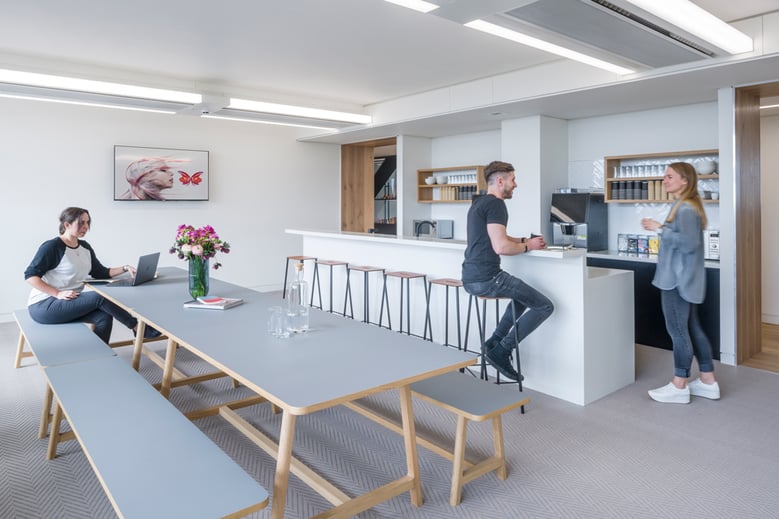 The output of our strategy work is a huge amount of data, so there's an art to presenting it in a digestible and interesting way. We bring our findings to each client as a series of key themes, usually around five of them, which might include technology, collaboration, innovation, focus work, individual spaces, managing transformation, or others. We also present the implications; in other words, how these insights can inform the workplace design. For example, the apparently simple concept of a meeting room can be completely reinterpreted, according to context and needs, through different approaches to design and technology.
At Unispace, such stories extend even further into proposed solutions and – as early as this may be – an invaluable set of associated costings. Our philosophy is that if the client's budget wouldn't stretch to it, we won't propose it. So from the very earliest stages of engagement with Unispace, the C suite can get an idea of what can be achieved and what the time and cost implications will be.
"I previously worked on a project for a huge software company with its UK HQ in Farnborough. Employees there were struggling to see how they fit into the bigger global picture, so a curated space was introduced featuring high-profile products created by their clients. This worked so well, the global HQ in San Jose has given over its entire ground-floor space to a fascinatingly varied museum. Artefacts have included an F1 car engine, a Ford Mustang GT and life-size models from movie studios. They're changed every month so the space never becomes stale but always inspires."
– Sam Sahni, Regional Principal, Strategy
To see what Unispace can do for your business, get in touch with our team today.