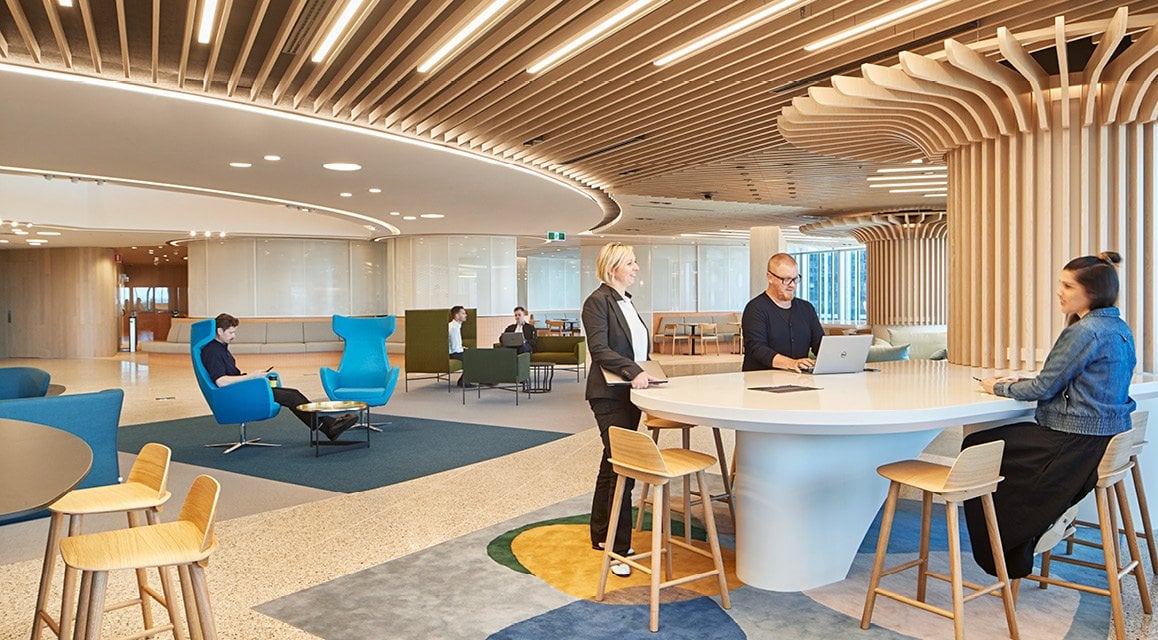 Imagine a workplace where entry is as simple as waving your hand through a contact-less scanner, where integrated AI can help you do your job, and when you need to refresh and re-energise you can escape to an energy pod, or swim a few laps in the pool.
Featuring integrated access to artificial intelligence leveraged through the Woodside relationship with IBM, an intelligent and autonomous robotics lab designed to deliver and showcase Woodside's partnership with NASA, and frictionless biometric access technology by Siemens/Morpho/Idemia, Australia's most technologically advanced and socially connected commercial workplace has been unveiled in Perth.
Designed by global interior design firm Unispace with Australian energy company Woodside, Mia Yellagonga (a Whadjuk Noongar Aboriginal name referencing the elder who welcomed Captain Stirling onto the building's culturally significant site) is the product of close collaboration and integration of people, place and technology workstreams.
With the main tower rising 32 levels and the whole Woodside campus spanning 64,000sqm, the COX Architecture-designed campus is one of Australia's first truly smart and well workplaces, delivering a holistic environment that aims to foster greater efficiencies, put Woodside ahead in innovation, and increase employee attraction, motivation and retention: helping Woodside to be a global employer of choice.
Briefed to create a sustainable, leading-edge building for Woodside's people, Unispace's design challenges traditional notions of how a workplace should look, feel and function through considered interventions that promote healthy behaviours, social connection, collaboration and focus.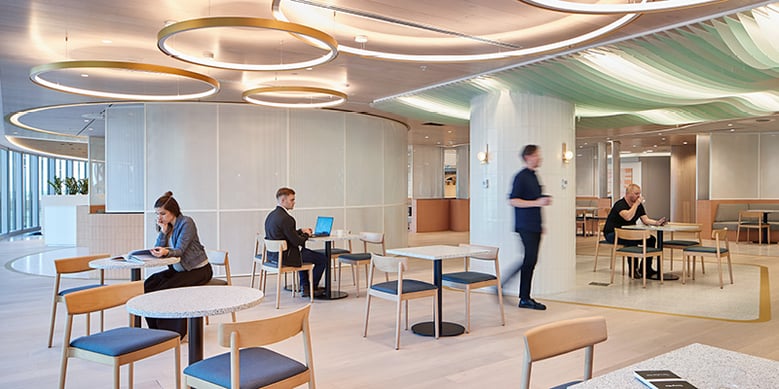 "The overall success of the campus is credit to a truly collaborative effort between Woodside and Unispace. Every decision taken was balanced across people, place and technology to create a transformative new workplace for Woodside, enabling its vision to become a global leader in energy," said Unispace Design Principal Dean Rikanovic.
"Mia Yellagonga is the first campus in Australia to provide a more holistic approach to health by encouraging wellbeing and creating synergies between work and life.
"Wellbeing is now about providing a more meaningful experience that supports a pathway for healthier minds, bodies, places and cultures. Mia Yellagonga's design recognises the importance of creating a healthy workplace culture, where business performance and human effectiveness are promoted and enabled as much as social and family connection," he said.
Aiming to be an international workplace destination of choice, the building showcases significant innovations in workplace technologies and strategy, as well as health, wellbeing and connectivity. One is not overlooked in favour of the other, resulting in a truly balanced environment.
Work is catered for across a series of floors that provide more than 60 different work settings to choose from and floors that are themed according to the six cultural Whadjuk Noongar seasons. Here Woodside's workplace philosophy Rightspace comes to life – a new way of working based on choice and designed to foster movement, connect people and break down traditional silos.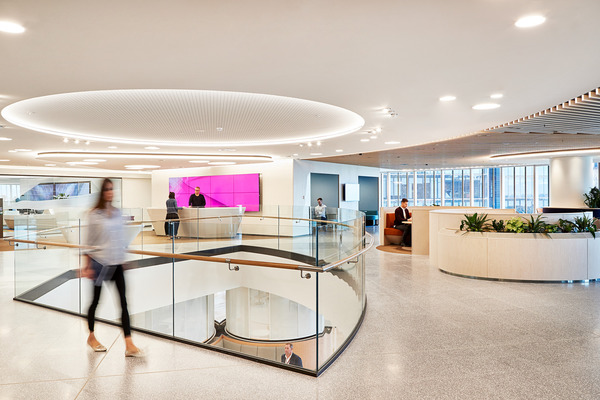 It is enabled by 100 per cent sit-to-stand motorised desking, ergonomic and agile light set-up, stand-tables, collaborative spaces and even an app-based program that allows people to find each other, wherever they may be working across the campus.
"This cultural shift in favour of agile, cross-functional working was a goal of the campus and aims to result in transformative ways of working to underpin innovation, collaboration and acceleration," said Mr Rikanovic.
"This kind of workplace shift in any organisation is significant and can be challenging to implement effectively because of our innate human tendency to be habitual in our behaviours.
"To overcome this, we've used design cues in the built environment to unconsciously retrain staff and subtly communicate how they should act in the new environment. We created layouts that encourage movement, connected levels with an open 'ribbon' style staircase, located kitchens where people can bump into each other and placed the coffee machines so people linger and chat," he said.
A priority throughout the design was leveraging the built environment to create a workplace culture where people are healthier, happier and enjoy a better blend of their work and life.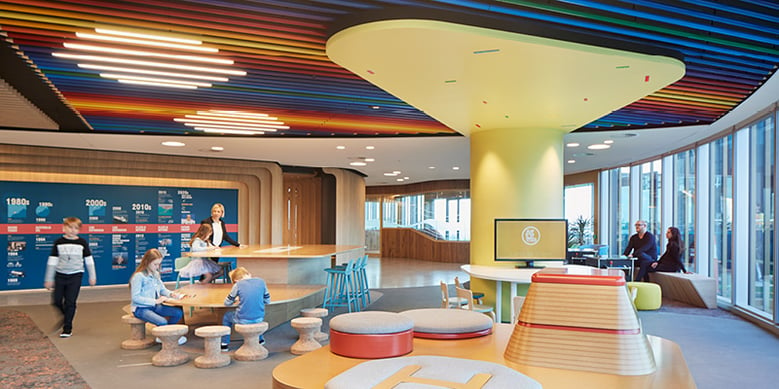 A dedicated wellbeing floor on level 14 is expressly designed to encourage respite, rejuvenation, rest and relaxation – the message being to staff: take time out to be the best you can be.
This floor includes a universal multi-faith prayer room, parenting suites, a mindfulness area, a massage chair, fireplace, chill-out area, viewing platform with telescope, and a library that also features artificial intelligence in the form of Woodside's cognitive assistant 'Willow' to help staff find the information they need across the company's vast archive.
"This floor is a safe haven that operates 24 hours. It's intentionally positioned halfway up the building on a lift transition floor to encourage movement and ease of access," Mr Rikanovic said.
If that isn't enough, for a membership fee staff can access the 25-metre heated lap pool, state-of-the-art gym, outdoor space for personal training, treatment rooms offering personal grooming, physiotherapist treatment and a dedicated Nurse Practitioner for medical support.
The external community is also catered for with its own space -The Family & Community Floor. Here invited family members and guests of Woodside employees can connect in a 300-seat café designed by Mim Design (naturally featuring plenty of health food) and a 4,000sqm outdoor space. A Family Zone is available for children to do homework as their parents work, while parenting suites and an interactive Games Zone featuring a Playstation, retro arcade games, table tennis, pool, and foosball encourage people to take a break from work, disconnect and recharge. This area is also available to families after school and in the school holidays.
Mia Yellagonga is a campus that is innately intuitive thanks to its high tech advances, including the frictionless biometric entry, a Tech Zone backed by 24-hour-on-call digital support and vending machines to dispense IT equipment accessible 24/7.
But nothing is as advanced as the artificial intelligence lab developing and showcasing technology with partner NASA, including a Robonaut that Woodside has on loan for 60 months. The NASA Robonaut is testing how robotic technology could be used to support Woodside's existing workforce and improve safety, reliability and efficiency in the company's oil and gas operations.
Charles Hales, Unispace's Global CEO and Managing Director in APAC said "Woodside was a unique and successful project due to the strong partnership between our two companies and our shared goals to push boundaries to be leaders in our respective fields"
Woodside Senior Vice President Corporate & Legal Michael Abbott said Mia Yellagonga was a strategic asset to drive the company's success over the long term.
"Mia Yellagonga has dramatically transformed the way we work, and showcases Woodside as a partner and employer of choice.
"We believe Mia Yellagonga provides a very strong proposition in the marketplace that will allow us to attract, motivate and retain the best talent in Australia and globally, further strengthening our company's future," he said.
Key Facts
Designed by Unispace with Woodside, 'Mia Yellagonga' in Perth brings together unparalleled workplace design, underpinned by a rarely seen co-located technology, to create one of the most advanced and balanced campuses designed to enhance the human experience and take business performance to the next level
The 64,000sqm campus features the highest Green Star rating possible in Australia (6 Stars), a 5 Star NABERS target rating and a raft of bespoke spaces invested in family, community, wellness and wellbeing
Upon arrival, employees don't have to break stride as the biometric security access control system provides frictionless entry
Able to house up to 5,000 workers, 3,200 workers were relocated in Q3 2018 to the company's new global headquarters
If you want to find out more about Woodside or other related projects get in touch with us.