As organisations

have started to

transition back to the office, many have taken a "wait and see" approach

to making long-term workplace modifications. With our constantly changing environment, wouldn't it be nice to have a tool to help you plan for the future?
Our predictive analytics tool can inform you with data to back up your decisions – whether it's managing the internal communications to encourage employees to come into the office, optimising your space for collaboration- and community-fostering activities, or lowering costs while increasing productivity.


We can accurately forecast the work space you'll need in the future, down to the square
meter
s
/
footage
,
accounting for
how many people will be in
the office
, when
they'll be in
, and how often.
It's not magic, h

ere's how it works:
Our predictive analytics tool draws on badge data, recent data from companies who have returned to work and Bureau of Labor Statistics data, leveraging over 3.2 million data points to help us understand how many people are returning to the office and on what basis. This tool creates meaningful and sound program scenarios customised for your future work environment.



From the analysis, we can prepare a space budget or program in our Propeller workplace framework. This reveals how your workplace could support problem-solving, foster community and support innovation – while being cost effective.
What kind of data - and how we use it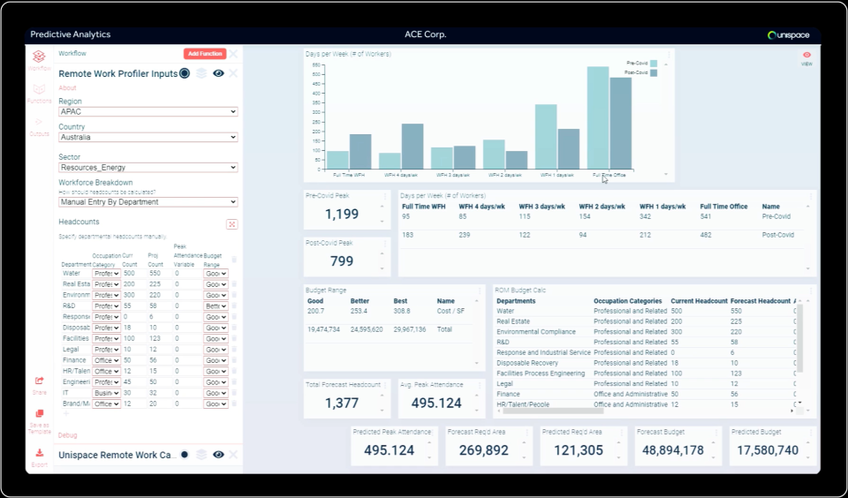 The output of the tool will show you:
How many people will be working from

home

:

By occupational category

B

y the number

of days at home

vs.

in the office

By days with potential high occupancy

Sharing ratios based on

the percentage

of employees

working from home

Space ratios to support changing work patterns

A k

it of parts appropriate for

facilitating

changing work patterns
When taken with other discovery phase activities, such as surveys ( like our WorkReady survey), interviews, industry / perimeter scans, and scenario modelling, we can create a fully flushed out business case recommending a customised path forward for your organisation. Developing a business case backed up by reliable data can help you and your executive team or steering committee make informed real estate decisions knowing that the best interests of your business, your future goals, and the current social and economic landscape have been considered.