Designing your at-home work space for ultimate productivity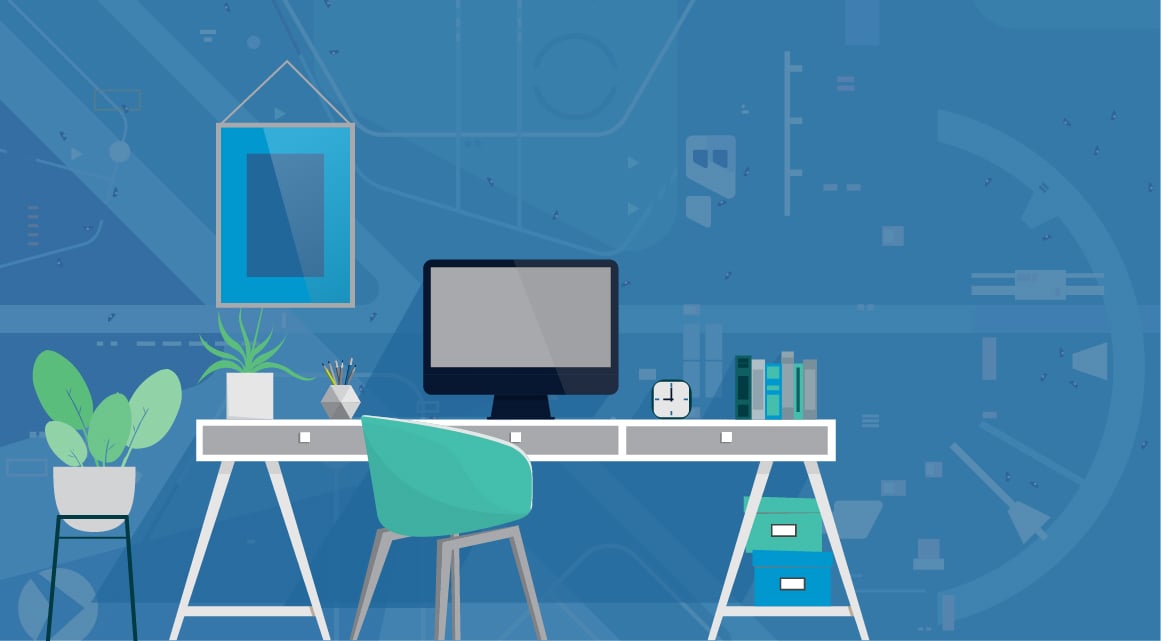 Create a harmonious

remote

work environment that inspire

s

and invigorates you to think more clearly and be more productive.
Productivity flourishes in healthy environments where we can be creative, and distractions are minimal. While workplaces are designed to include the components and features to motivate, engage, and encourage productivity, yours may not have those luxuries.
With the rapid and sweeping shift to remote working and social distancing, many have had to get creative with makeshift office set ups at dining room tables, kitchen counters, and even couches, with the hopes that this will be a short and temporary solution. Whether you have a dedicated home office or are outfitting your studio apartment, we can help you optimize your space for comfort, inspiration, and productivity.
Regional Principal of Design, Hannah Hackathorn and Senior Associate of Strategy, Meg Campbell share how you can create the ultimate set up at home.
Find your best location
When you're setting your remote home base, consider the rooms or areas that you feel you would be the most productive. If you have a dedicated home office space, that's great! You're already on your way to setting up your workspace. For those that don't have an extra room, what spaces within your home layout could be converted into a designated work area? Some options could be:
Fitting a desk or table into a passageway or behind a sofa

Optimizing shelving

or an end table

as a "mini" work desk

Maximizing non-traditional spaces like a dining room table, kitchen counter, or u

nused nook

Creating a floating office space

or lining up a workstation again

st

an empty wall
Make sure to establish boundaries between working areas and relaxing areas. Be cognisant of the room or area you choose as your workspace. For example, choosing your bedroom might not be best because it changes the tone of the room and could affect your sleeping patterns.
Some other basics to consider when choosing your space is the availability of necessary features you wouldn't think twice about in the office:
Easy access to outlets

Making sure you have a strong internet connection

Good lighting, and if

possible,

n

atural light
Helpful tip: Try practicing internal mobility. While having an "office" set up can help you develop a rhythm, changing your scenery, like moving from the kitchen table to the counter supports mental health and stability. Another option could be taking walking meetings outside if it doesn't require a computer or reviewing something.
Limit distractions
If you don't have a dedicated home office space or you're sharing your work space, it's important to set boundaries and even a schedule to make sure you have the privacy you need to be productive. Some thoughts to consider are:

Set up your workspace in a quieter area

of your home, away from distractions

Be aware of who else is using the space

, for example if you're set up is in the kitchen or dining room

Organize

a schedule

for how the room is used and when

Create

a room divider

using what you have in your home like curtains, bookshelves, plants, etc. for privacy

Try visual cues like a "do not disturb" sign

t

o ensure family members or roommates respect y

our space during working hours, especially when participating on audio and video calls.

Position your work area so distractions aren't

occurring

behind you

. This could be a

bus

y

street (if you live in

the city

)

or a major circulation path within your home (kids running from

the back door to the living room).
Distractions, even in a work environment are present, so it's important to find the balance that works for you and give yourself time to get used to the new conditions.
Did you know? On average it takes a person over 23 minutes to get back on track after being disrupted.
De-clutter your work environment
Clutter can be very distracting and reduce efficiency. While you want everything you need at hand, removing unnecessary supplies will keep your workspace organized, and you'll work better.
Organization and stashing
For the items you want to keep nearby, but don't use every day, there are a variety of organizational tools. Cluster your items into groups so it's easy to locate them when you need them. Use what you have available in your home; a closet, decorative baskets, bookshelves, or magazine racks. These organizing tools can be both pleasing to the eye and functional, improving your happiness and productivity.
Helpful tip: Home offices or work spaces tend to be smaller. Don't just think side-to-side; think vertically too to maximize your storage options. A tall hutch or floating shelves can give you more storage without wasting floor space.
Purging and cleanliness
It's easy to let papers, books, empty coffee mugs, and knickknacks build up in your work area, even if you don't have a home office. Make it a habit to keep your space clear of anything taking up space and not serving a purpose. You can't get your work-from-home groove on when you're surrounded by unneeded odds and ends.
Try scheduling time for tidying up and regularly cleaning your equipment and the room itself. Consider the time of day you schedule your cleaning, so it doesn't interfere with working hours.
Prioritize your equipment
Making sure you have all the necessary tools you'll need to work comfortably and efficiently in your home office space is essential. Some of the most important considerations include:
A desk or work surface

is arguably the most important feature of your home office set up. Find a

n operating surface

that fits your workflow and your space.

This could be a dining room ta

ble

,

a kitchen island

, or if

you have the space,

a desk.

Make sure you

choose

a surface

that

allow

s

you to

stand

up

and work periodically.

Propping your laptop on a stack of books is one way to transition from a sitting to standing position.

This can improve productivity, focus, and physical

and mental

health.

Choose a chair that follows ergonomic rules

- it

needs to be

th

e right height and provide proper back and arm support for the type of work you're doing.

This can minimize the damage you can do from sitting for long hours

.

Having appropriate technology

is imperative to your productivity.

Some important tools are

:
A solid home internet connection

. Slower internet connections can disrupt your workflow and allow for distractions

Necessary cords

like

HTMI

,

VGA, battery,

and extension cords. Make sure your equipment is close to

outlets and

you have

easy access to unplug. Tame cords to

keep your area organized

A

n additional monitor

to increase efficiency

and

productivity

. An additional screen makes

tasks easier and multi-tasking more approachable

A printer

gives you

the ability to perform basic

copy and scan

ning

function

s

, saving time and money from having to go to printing service

centres
Plenty of light, both natural and

additional

is extremely important to reduce eye strain

and

drowsiness

, allowing you to work more comfortably and safely.

Research indicates that

higher lighting

levels and daylight stimulating fixtures can improve productivity.

If possible, try

and locate

yourself by windows towards the south for the

ultimate light. For darker

hours during the day, look for lamps and lighting that won't

create a glare, like LED lights. These

types of lights allow you to change the

color

temperature based on your need.
Tip: If you're working with a tight budget, take inventory of what you have, and make a list of your "must-haves". Remember your safety and health is the top priority.
Customize your set up
Adding personal flare and individual touches to your workspace has shown to improve productivity as well as health and happiness. Think about your personal style and the individual touches you can add to make it more comfortable and enjoyable.
Research has shown that making design decisions about your workspace can improve productivity by 32% .
Incorporating colors
Incorporate colors, patterns, and fabrics if you can through accessories like rugs, draperies, or throw pillows to stimulate creativity and productivity. Remember though that too much environmental stimulation can actually be its own form of distraction. A good home office set up needs to be functional first and beautiful second.
According to Feng shui, the color green is associated with growth and decisiveness. Even green accessories like plants can open creativity on tasks.
Accessorize and inspire yourself
If you have the option, hang artwork or photos you love, or set up some knickknacks on your work surface. Visually appealing items like this can motivate you to be creative, productive, and improve happiness. Include natural elements like greenery and plants to help in mental recovery and stress relief.
Reports have shown that more than 83% of teams working from home found artwork to be important to their work environment.
Create a "triangle"
A triangle layout is often the most conducive to efficient working. Consider the flow of your work and how often you need to access different items and tools. Position anything that you use the most within reach. Make sure your area is balanced and not crowded with work and personal items. Too much around you can affect your productivity and motivation
57% of people think one's work directly correlates to their office set up
Working remotely full time has become a major adjustment for many, but setting up a workspace that has the tools and equipment you need to be organized, productive, and keep your sanity can help minimize some of the anxiety and uncertainty. If you're interested in learning how we can optimize your living space for a great home office set up, get in touch here.