The future is bright, and may even be green: Ireland is most definitely open for business, thanks to long-standing investor confidence, superb competitiveness, and an inward-investment agency which has taken enthusiastic advantage of the serendipity of Brexit and a recovering global economy.
Over the past week, Britain's MPs and business leaders have been reacting unhappily to the Brexit white paper. One major issue has been the scrapping of the 'mutual recognition' objective, which would have sidestepped the main hurdles of the loss of passporting between regulated financial firms in the UK and EU. Could this be Dublin's moment?
The last quarter has brought a flurry of IDA Ireland announcements about international companies setting up or expanding in Ireland, with Dublin largely – but not exclusively – at the centre of the news. Amazon is to create 1,000 jobs across 3 sites including the capital; Shutterstock is opening in Dublin; German firm Henkel is investing €18m in the city; USA travel firm Sojern is doubling the size of its European HQ in Dublin; Neueda will create 200 jobs in Athlone; and US-based SkOUT is to open its European headquarters in Portlaoise. And there are plenty more stories where those came from.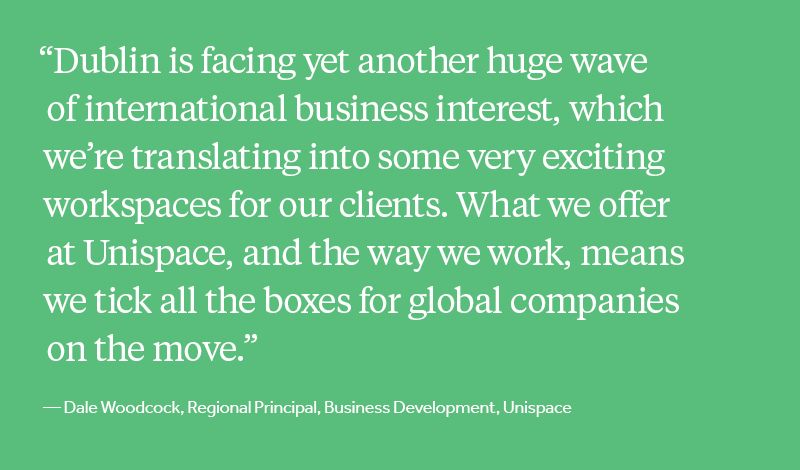 Extraordinary investment appeal
Ireland's economy grew by 7.3% last year, making it the fastest-growing economy in Europe for a fourth consecutive year. According to IMD World Competitiveness, Ireland is the second most competitive EU economy, and globally the sixth most competitive and third best for business efficiency. It's also first for investment incentives, attitudes towards globalisation, attracting and retaining talent, labour productivity, and flexibility and adaptability. Ireland is first in the Euro zone for ease of doing business, third in the world for availability of skilled labour, in the top 10 in the EU for R&D investment, and in the global top 20 for research capability.
At 12.5%, Irish business tax is so low that it comes third only to Hungary and Bulgaria (in 2017, PWC rated Ireland first in Europe for the ease of paying tax). There is barrier-free access to over 500 million European consumers, English is the universal spoken language; the currency is the Euro; 21% of Dublin's residents were born outside of Ireland; and 50% of the city's population are under 35. And an EIU benchmarking competitiveness report ranks Dublin as the best city in the world for human capital.
Office space in Dublin
Last year, office space take-up in Dublin was the highest ever, at 3.6 million sqft. Also in 2017, CBRE suggested that Dublin would be getting around 5.7 million sqft of new office space over the 'next 18-24 months' – 4 million as new build and 1.7 million as refurbishments.
Workplace strategy, design & delivery
PwC, Dublin, Ireland
Unispace in Ireland takes care of clients as varied as Boston Scientific in Clonmel, Virgin Media in Dublin, and PwC in Dublin (across 23,225 sqm). If you're thinking of moving to Ireland or expanding there, we can manage your workplace strategy, design and delivery seamlessly under one roof. Exciting times call for exciting workspaces which attract the best talent, promote productivity, drive innovation – and embed your brand.
From tech to banking and on to diversity
Ireland is home to 9 of the world's top 10 software companies, 9 of the top 15 internet businesses, and 3 of the top 6 games publishers. Google set up its European HQ in Dublin as far back as 2002, and the city is also the European home of Twitter, Facebook, Dell and LinkedIn, among many others. SAP, IBM, and Microsoft also have a strong presence in Dublin. The city has developed its own 'Silicon Docks' and has a vibrant start-up culture, but areas outside Dublin also see tech investment: Apple has its base in Cork, and Intel has its European manufacturing operations at Leixlip.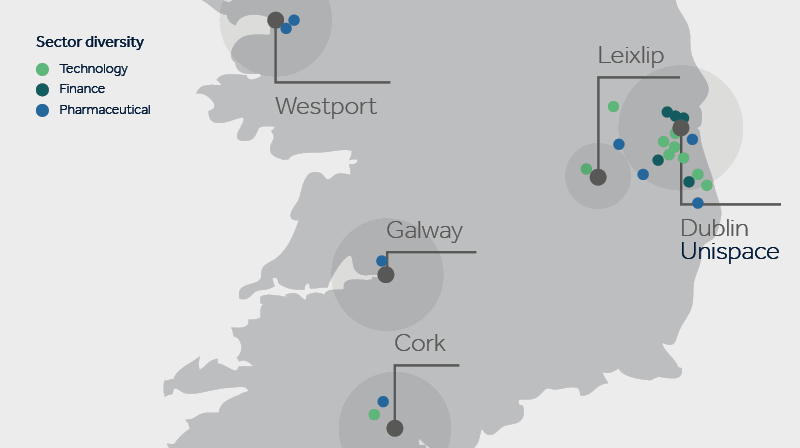 Ireland already hosts 15 of the top 20 financial services companies. And now, thanks to Brexit's 'passporting' issues, Dublin can compete even more confidently (especially against the likes of Frankfurt) for more financial business. Goldman Sachs, Thomson Reuters, Bank of America Merrill Lynch, JPMorgan and Barclays, among others, are either moving to Ireland or expanding their operations there, with insurers such as Allianz Group and Legal & General following suit. However, keen not to risk sectoral over-dependency, Ireland is also home to 9 of the top 10 global pharmaceutical companies and 12 of the top 15 medical technology firms.
Little wonder so many eyes are being cast over the sea to Ireland.
Coming next in our series on post-Brexit decision-making: Madrid. The pain in Spain was acute during the worst of the global financial crisis, but is the Spanish economy recovering, and what can it offer global firms facing Brexit?