Within months of taking office in May 2017, Emmanuel Macron – a former investment banker – began wooing Brexit-perplexed businesses while promoting France as a 'start-up nation'. One year on, how does Paris measure up for international investors looking for a new European base?
London may be the most powerful financial centre in the world, but Mr Macron is determined not only to strengthen Paris' financial credentials but to make France the European 'reference partner' for overseas investors. Bruno Le Maire, Minister of the Economy and Finance, has declared "It is one of our goals to make Paris the largest financial centre in Europe."
Walking the talk in Paris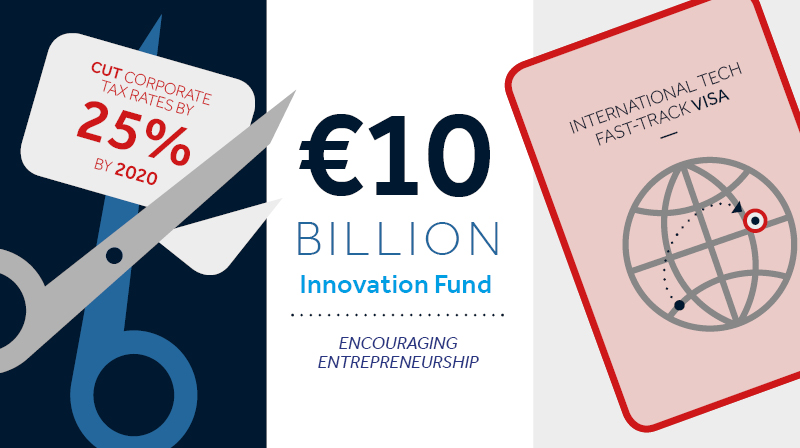 According to the New York Times, the new president is set on dismantling the stranglehold of France's insularity, bureaucracy, punitive taxation and draconian employment laws. Since coming to power, Mr Macron has either implemented or set in motion:
A commitment to cut corporate tax rates to 25% by 2022
Labour reforms making hiring & firing easier/cheaper and restricting unfair-dismissal pay-outs
R&D tax credits worth up to €5bn per year
Fast-track visas for international tech firms
€10bn for an innovation fund to encourage entrepreneurship
Cuts to the 'wealth tax' which drove millionaires into exile
Courts with English-speaking judges
A relocation service to help overseas workers to find homes and schools
Language lessons for workers in the finance sector (and their families)
New international schools and lycées for employees' children
Commercial property – Paris 2018
Commercial property in Paris is cheaper than London, and it's in demand. Total take-up in 2017 was up 5% on 2016, at 2.6m sqm. In June 2017, Paris opened Station F, the world's largest start-up incubator – home to 1,000 companies across 34,000 sqm. Rent caps in Paris have been cancelled, and there will be no increase in property taxes in 2018. According to Philippe Perello, CEO of Knight Frank France, "We are without doubt seeing a French moment, and certainly a new era – which looks set to be an exciting one for corporate real estate."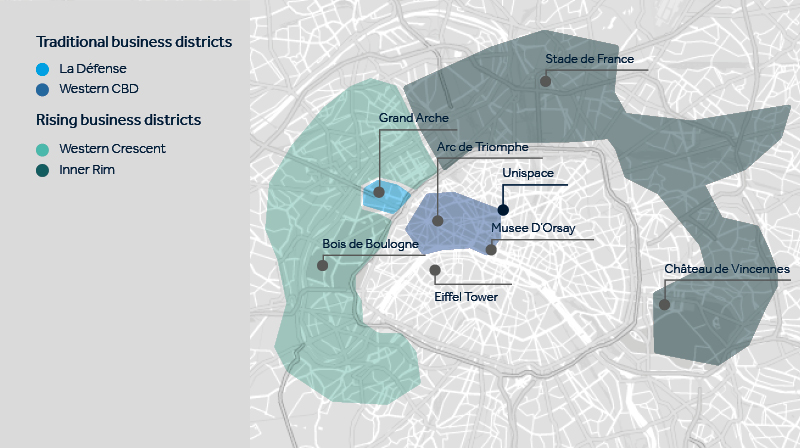 Transactions in the 5,000-10,000 sqm range in Paris are buzzing, but not necessarily in the traditional business districts, where take-up is 'lacklustre'. On the rise are the Western Crescent and Inner Rim (see map). According to Knight Frank, "The long-standing centralist view of Paris – with its leading core surrounded by incrementally less prestigious concentric circles – is in the process of changing. Companies continue to want well-connected, central premises. It is simply the perception of this centrality that is changing."
Unispace, with its well-established Paris base, is uniquely positioned to help its clients benefit from such opportunities. With strategy, design and delivery all available end-to-end under one roof, Unispace can respond to the 'profound change' in the way office space is designed and work is organised in France: "Gone is the anonymity which often afflicted corporate real estate… The focus is now on the spirit of the premises and their identity… buildings with personality and alternative districts", says Knight Frank."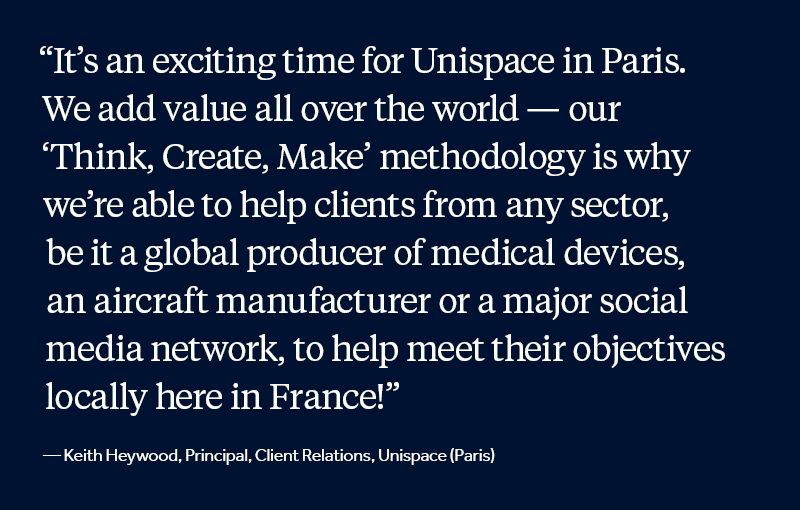 The French economy
France is now #2 in Europe for value and volume of venture capital fundraising, and 2017 saw the largest-ever volume of capital raised in France (more than Germany). France has 4 of the top-10 European banks (by global assets), and its public investment bank, Bpifrance, invests €20bn a year. The 2024 Olympic Games in Paris should deliver a huge boost across the economy: "[This] will come at the same time as the expected completion of the Grand Paris projects. Paris and its suburbs may emerge totally reinvented from this dual stimulus," says Daniel Cohen, Professor and Director of the Economics Department of École Normale Supérieure de Paris.
Paris and the financial sector post-Brexit
Mr. Macron is keen to mop up in financial services wherever he can, especially as London may prove more resistant than expected in this sector, and strong in all others. France has set a target of bringing 10,000 jobs over from London by 2019. According to the New York Times, "Hundreds of financial companies may need to relocate thousands of London-based workers before Britain leaves the [EU]... Otherwise, these companies could lose their financial passporting rights, which grants them privileged access to the 27 countries that will remain in the European Union".
Succumbing to Paris' charms
Paris offers great liveability and connections; this, combined with its economic ambitions, tempting incentives and highly educated workforce, could entice more firms to move in. Google, DeepMind and Facebook are all stepping up their French presence, while IBM is to recruit 1,800 AI specialists in France and Fujitsu is investing in the same technology. SAP will invest €2bn in R&D while Salesforce will invest €2.2bn by 2023. Paris is definitely one to watch.
Coming next in our series on post-Brexit decision-making: Dublin has been courting global investors for years and has had some major wins. How will the city stack up when the Brexit dust starts to settle?