As a business that sees the value in supporting young talent, we are excited for you to meet some of our interns and co-ops on a day that is all about celebrating the importance of equipping young people with the necessary skills for successful careers. Meet Frederico, Maggie, Awta and Chad to learn more about how our incredible young talent is making strides in both their education and in their roles at Unispace – all while juggling the challenging context of a pandemic over the past year.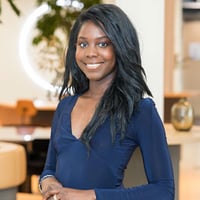 Awta Mendes, Client Partnership Researcher, London
Awta graduated with master's degree in Entrepreneurship and Cultural Industries at Kedge Business School. With a creative flair and a business mind, she is keen to progress in the field of research. She wants to grow in a company that promotes a healthy lifestyle, prioritizes social change, and feels motivating and progressive.
What made you decide to pursue a role at Unispace?
I've always been interested in working for a creative company that understands social changes and creates a work environment that reflects that; something I found at Unispace. Our world is constantly moving, social barriers are constantly being redefined, and working for a company that is this keen to learn, lead and adapt to new changes is a breath of fresh air. I feel my input is acknowledged and valued as a younger employee to creating an environment that is creative, safe, and inclusive.
What's it like working at Unispace?
It's very inspiring and motivating — I feel lucky to be surrounded by people who all have something to bring to the table. As a researcher, you need to be inquisitive, resilient, and diligent. Each day my confidence improves and there seem to be no limits to what can be achieved.
What is an important skill or lesson you've learned while working at Unispace?
The importance of adapting to change. COVID-19 has shown us the limitations of the traditional workplace. Now more than ever, we must be connected in a physically isolated world. Working on a global team that is truly collaborative despite the distance is proof that we can keep going even when we're apart.
How have you made education and learning new skills a part of your life?
Life is all about trial and error. The best way to know where you're going is to constantly see experiences as learning opportunities. I've had a few work experience opportunities within commercial real estate which helped shape my early career.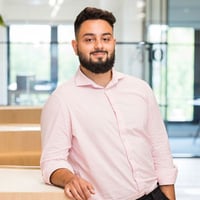 Frederico Espindola, Client Partnership Researcher, London

Frederico studied Architectural Engineering at the University of Nottingham and he's currently spending his second post-graduate position at Unispace. With a passion for client experience and creating a truly bespoke journey for our clients, he is eager to progress his sales experience at Unispace and hopes to be able to teach graduates like himself the sales process one day.
What made you decide to pursue a career at Unispace?
Unispace struck me as a company that truly invests in its employees, nurturing their abilities and skills, and giving them great support in their roles.
Any important lessons you've learned so far?
I'm learning how to work in and collaborate with a global team, from communication to understanding cultural nuances.
How have you made education and learning new skills a part of your life?
I am very focused on learning new things and new skills. I was pretty blown away to find out Unispace provides every team member with access to LinkedIn Learning – I use this tool a lot. I also spend a lot of time reading — for the past three years running, I've achieved my goal of reading at least 100 books per year.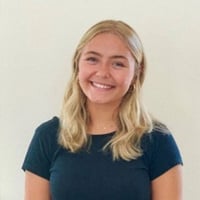 Maggie Scales, Global Brand and Communications Co-op, Boston

Maggie is studying Journalism and Political Science at Northeastern University, working on a six-month internship within the global brand and communications team. With a passion for writing, she's keen to develop skills that broaden her career path in communications.
What made you decide to pursue an internship at Unispace?
As a journalism and political science major, with a passion for writing and following current events, I always envisioned myself pursuing a career in a newsroom. I quickly took to the world of communications and public relations after taking classes at NU. The role at Unispace allows me to put to pair my writing skills with journalism knowledge, in a business environment. I've loved honing these skills for social media and our website.
How have you found working at Unispace?
I love both the people and the ability to grow within my role. I'm constantly dipping my toes into different projects and tasks, and that is something I'm incredibly grateful for.
How has this position shaped your career path?
My internship has opened my eyes up to a greater world of possibilities beyond working in a newsroom. I'm enjoying my time Unispace and will be considering pursuing communications, public relations, or marketing after I graduate.
How have you made education and learning new skills a part of your life?
Northeastern is all about the internship program — being able to hold a position in your desired field while completing your bachelor's degree is a truly incomparable opportunity. I'm thankful that I get to learn from some of the best professors and develop new skills with amazing companies like Unispace.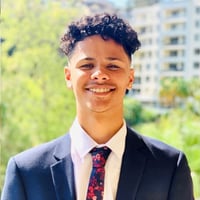 Chad Rogers, Intern, Sydney

Chad is in his second year AT Macquarie University in Sydney, studying for a bachelor's degree in business administration. He hopes to pursue a career in commercial real estate when he graduates.
What made you decide to pursue an internship/career at Unispace?
I wanted to get an authentic experience of the corporate world from a truly global organization. It's an exciting time for the workplace in general, so it was a great opportunity.
How have you found working at Unispace?
It's exciting and fast-paced – a great learning experience for me. The people are welcoming and supportive which has amplified my experience and I've had exposure to a variety of tasks that have really developed my business skills and industry knowledge.
How has this internship shaped your career path?
I've had the opportunity to apply skills learned at university, as well as gain an understanding of how an organization is run in reality, not just in theory. The power of excellent client experience shouldn't be underestimated, it can be what makes a business survive or fail. I'd love to explore this more and pursue a career in this industry within a client partnerships role after I graduate. It's ever-changing, which I find fascinating and very rewarding.
How have you made education and learning new skills a part of your life?
The importance of education has always been a part of my life as my mother is a teacher and I have been able to see the impact and success of students who valued education. I pursued the early entry scheme into my university and secured an internship to gain practical learning experience while studying the theory at university.

To find out about internship opportunities at Unispace contact Jonathan Field - Principal, Talent Acquisition Global Lead jonathan.field@unispace.com
Head to our culture page to learn more about working at Unispace.