As industry leaders at the forefront of medical technology and developments, Boston Scientific wanted to develop a new set of global workplace guidelines to pilot in Singapore that would enable new modes of hybrid work.
Having delivered over 31 projects for Boston Scientific globally, Unispace has developed a deep understanding of the business, its people and their goals. Through our global presence, we coordinated with Boston Scientific's global and local teams to seamlessly deliver their newly refurbished Singapore workplace in-line with their global guidelines. Shauna Fitzpatrick, Design Associate, EMEA at Unispace who has worked on 19 of Boston Scientific's projects, provided guidance to our team in Singapore to ensure consistency.
"We worked closely with the Unispace team on the ground who took fantastic care of the day-to-day running of the project. Through regular check-ins, we were able to meet the needs of the Boston Scientific team in Singapore while still adhering to the company's global guidelines," - Shauna Fitzpatrick, Design Associate, EMEA.
As part of the company's new guidelines, the office needed to cater to three groups of employees: onsite, hybrid, and remote, with each group characterised by its own unique workplace requirements. IT staff, for example, were categorised as onsite staff that required their own desks in the office, while sales staff, being remote employees, only came into the office once a week, and so were not allocated dedicated workstations. With these specifications in mind, we worked closely with the company to tailor the project's design scope and introduce new work settings and typologies to encompass the diversity in working styles across the Singapore team.
Through careful space planning, we were able to allow room for new spaces such as:
A new collaboration area for staff
An experience lab with client-facing demo space
Equipment rooms in the front-of-house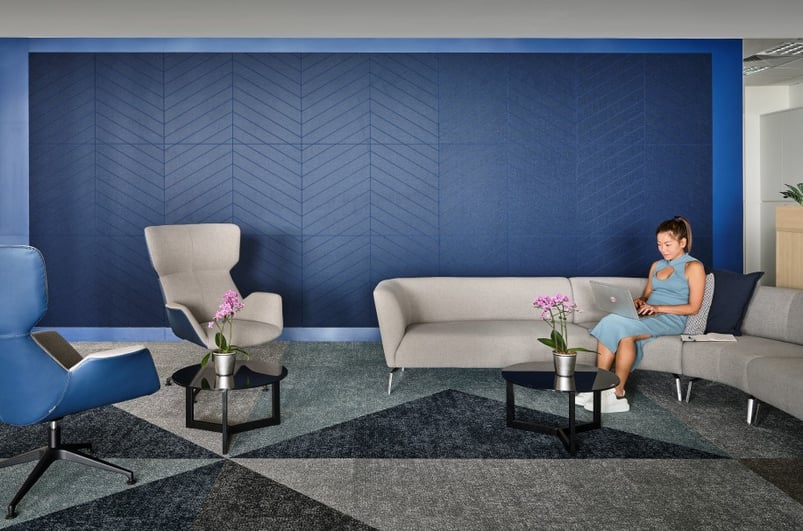 Boston Scientific combines innovative, futuristic thinking with a humanistic approach centred on care and wellbeing. To reflect this, our design juxtaposed modern workplace elements with natural biophilia, while also inserting notes of local flavour through the usage of familiar Singaporean patterns in the office's tiles, fabrics, and colours. Using light natural timbers and muted pastel tones, we also aimed to instil a sense of calmness and serenity in an otherwise bustling and collaborative environment. A seamless transition between office spaces was further achieved through the selective use of flooring finishes, lighting, and furniture type.
"Boston Scientific's revamped Singapore office represents a significant first step into the future of the workplace in a hybrid work model. With diverse work settings tailored to the requirements of each function integrating with shared collaboration footprints, our new workplace empowers employees with greater flexibility over how and where they work as well as inspires a sense of community, productivity, engagement and innovation." - Daphne Ong, Vice President for Human Resources, APAC, at Boston Scientific.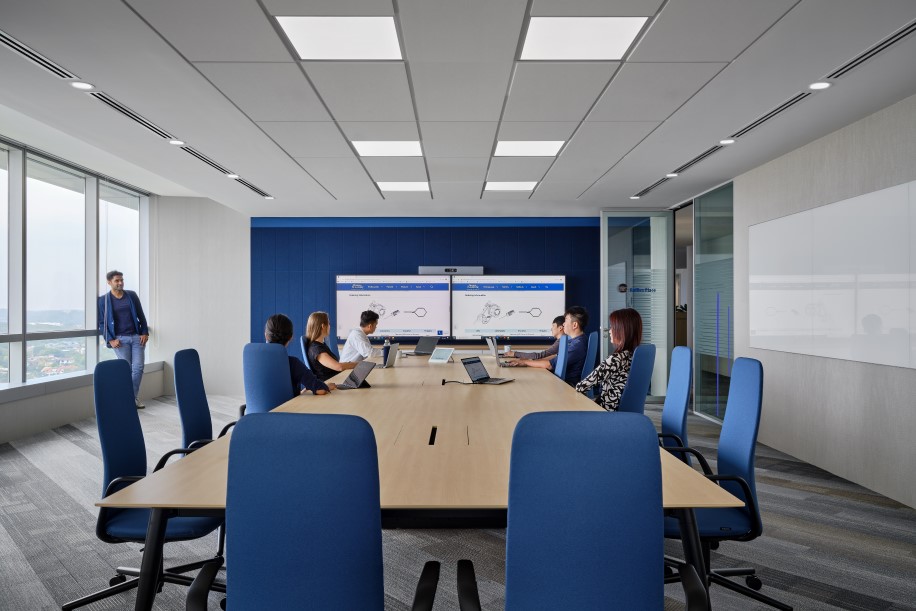 Thanks to the watchful eye of Alfie Hsieh, Assistant Project Manager at Unispace, the site was kept extremely clean with strict protocol for mask-wearing, temperature checks and 'safe entry' QR code check-ins daily for all workers. The site was accessible to Unispace at the beginning of December 2020 and was handed back on 28 January 2021, on time, on budget, and defect-free.
As companies gear up for their return to the office, the completion of Boston Scientific's new Singapore workspace serves as a future-proof solution to help its employees navigate present uncertainties, while also providing a glimpse into what workplace designs will look like in a post-pandemic world.