Our recent enterprise partnership with OpenSpace, a leading construction technology provider, has strengthened our ability to meet the ever-changing workplace needs of global brands.
Integrating technology to ensure a seamless construction and delivery process
Technology has become an essential component to every project we undertake, helping us to complete projects more efficiently while delivering an excellent customer experience. Especially in our current environment, leveraging OpenSpace's 360-image software platform, has allowed us to move construction forward on job sites and keep project teams and clients in the loop throughout the entire process.
"Our clients can now monitor the construction progress virtually from the comfort of their office chair...or beach chair."
- Vincent Poon, Regional Principal, Design - Digital Integration


A solutions-based platform
With OpenSpace, we are able to capture and document sites in minutes. Images are captured every half-second and automatically tied to the project plan. Project team members can add detailed images and notes to specific areas, increasing efficiencies during punch lists, observations and RFIs. Teams can also track progress from anywhere at any time, allowing you to see before and after images. From a traditionally manual process, OpenSpace provides a solution to complete construction more quickly and efficiently, while reducing margins for error and costs.
"OpenSpace has been an integral tool during the pandemic. It has allowed clients and our team members to safely stay up-to-date with the progress, safety and overall state of the project. All disciplines; from Pre-construction project management, design, delivery, and all upper management can be virtually on site when something arises. This allows the team members to arrive to an efficient resolution."
- Michael Cosimano, Site Manager


Improving workflow, tracking, and collaboration
Progressing construction remotely

Mediterranean Shipping Company (MSC) partnered with us to transform their 20,000 sqft. workplace into a modernized office, increasing areas for socialization, training, and executive responsibilities.

Throughout the project, our teams faced various Covid-19 related challenges. With the project team and client positioned throughout the country, and unable to travel to the job site, we were tasked with finding a solution to keep construction on schedule and support communication with internal and external teams.

OpenSpace enabled the project team to communicate throughout the project in nearly real time. New captures were uploaded weekly to provide the client with the project progression, and disciplines involved were able to keep routine discussions. Integrating technology into our process allowed us to seamless work through any items needing attention, both exciting milestones and issues to manage.

Adapting to new ways of working and using OpenSpace resulted in a happy and efficient end-to-end experience.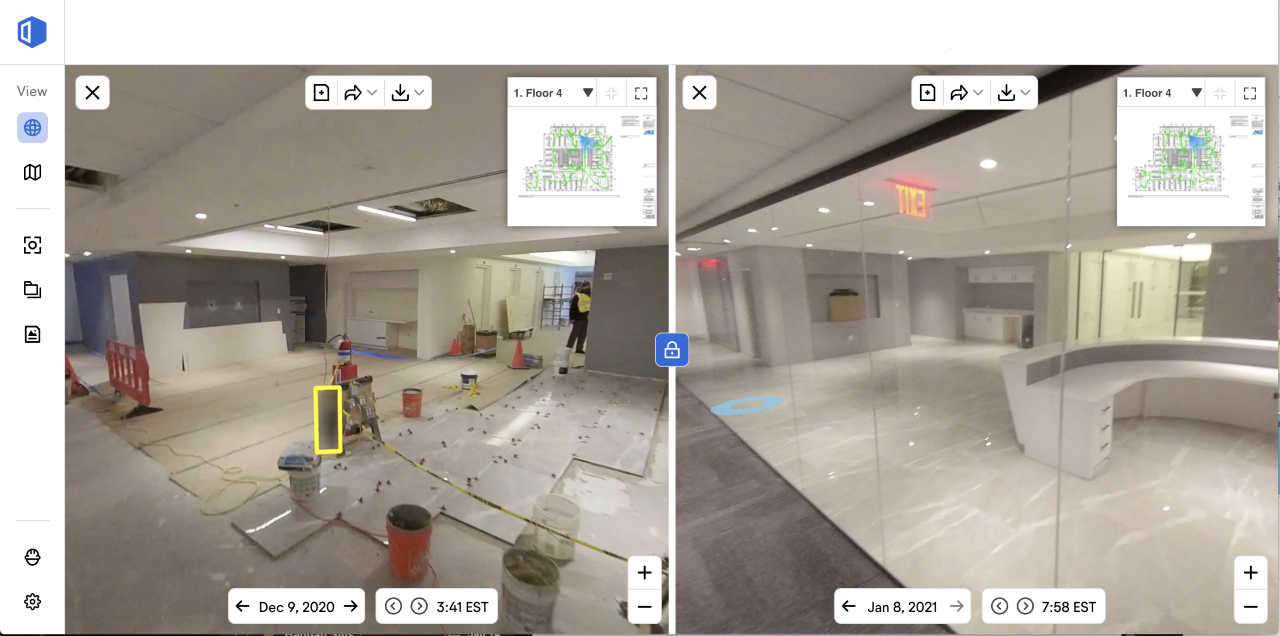 OpenSpace capture of project progression
Maintaining transparency and communication

Looking to expand their current office space to double its current size, a California-based software company chose us to complete their 20,000 sqft. project in Massachusetts.

One of the requirements of the project was matching the client's design standards while maintaining the existing conditions of the subleased space. With the decision-making team sitting in California and unable to travel for in-person meeting and site visits, our team leveraged OpenSpace to support project visibility and communication as design selections were made and construction progressed.

We were able to provide clear insights for the client prior to construction and through the duration of the project. Through OpenSpace's ability to integrate with other technologies our team uses, the client had full transparency from the start, like seeing design additions and being able to perform virtual punch list checks.

Both the project team and the client appreciated OpenSpace's virtual assistance with providing visibility and easy collaboration throughout the project.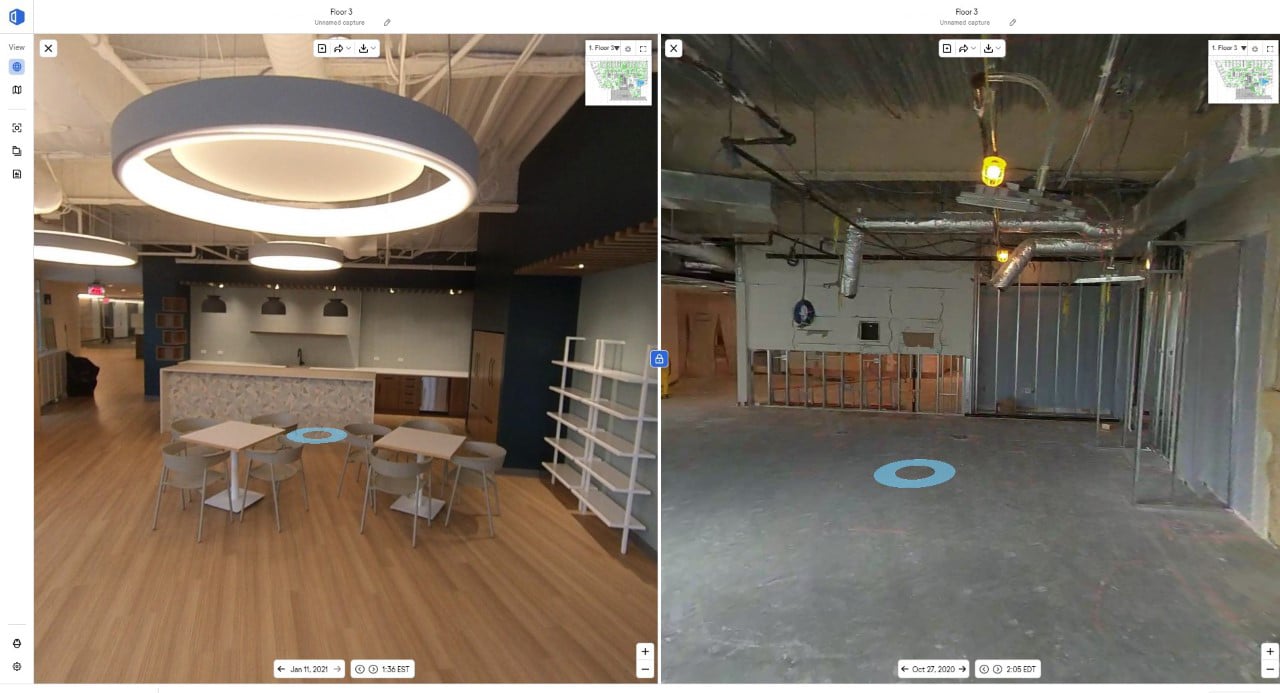 OpenSpace capture of project progression
OpenSpace arms our designers and engineers with a powerful tool, allowing them to view the job site in 3D and work collaboratively to resolve issues.  It provides our Project Managers and subcontractors with a better tracking process, enabling them to check site progress against project schedules and better plan their work. From a client standpoint, we're able to show them their designs coming to life through video captures and construction progress.
- Tracy Lea Neff, Regional Director, Delivery

Features and benefits

As our integrated approach continues to enable us to revolutionize the creation of workplace, bringing in digital innovations helps us to meet the pace of change and create a seamless experience geared entirely to the needs of our clients. Learn more about our agile approach that reduces risk, is up to 25% faster, and flexible enough to meet global businesses' workplace visions.


"

OpenSpace's platform

supports our commitment to creating a seamless experience for our clients.

It's been a solution to help us navigate challenges with the pandemic, enabling us to

provide th

e

same level of

consistency

, transparency and

borderless collaboration.

We

're excited to

continue to

bring transformative technology into our approach

as

we

push

the boundaries of workplace creation.

"


- Ryan

Caffyn

-Parsons, Managing Director, North America
Read more about our partnership with OpenSpace here.