At the very start of 2020, our London team moved into a
brand-new
office, our latest addition to the Unispace studio group, and now EMEA headquarters in St Katharine Docks. Spread across two floors
, it is complete
with an
immersive
events space, cinema room, collaboration zones,
buzzing
cafeteria and
over 7,000
sqft of terrace with
stunning views of Tower Bridge
.
Watch the video to take a look inside our London studio and see our full methodology in action:
The need for a new space
In our previous workplace, our teams were spread across five floors, siloed and found it hard to collaborate within and outside their teams. We wanted to fix this to improve wellbeing, teambuilding and productivity, as well as create a space where people felt proud to come to work, feeling welcome every day. Ultimately, doing what we do at Unispace, we needed somewhere that was a real showcase for our own unique end-to-end methodology.
We treated the new workplace as though it was for a client – implementing change management workshops, employee surveys and stakeholder meetings – to understand the main concerns we wanted to address, and uncover any hidden difficulties with existing ways of working.
Using our Think, Create, Make methodology, the London strategy, design and delivery teams worked seamlessly together to build a stunning workplace that actually works for our people. It's all about creating a borderless experience to bring people together and seamlessly blend hospitality in the workplace.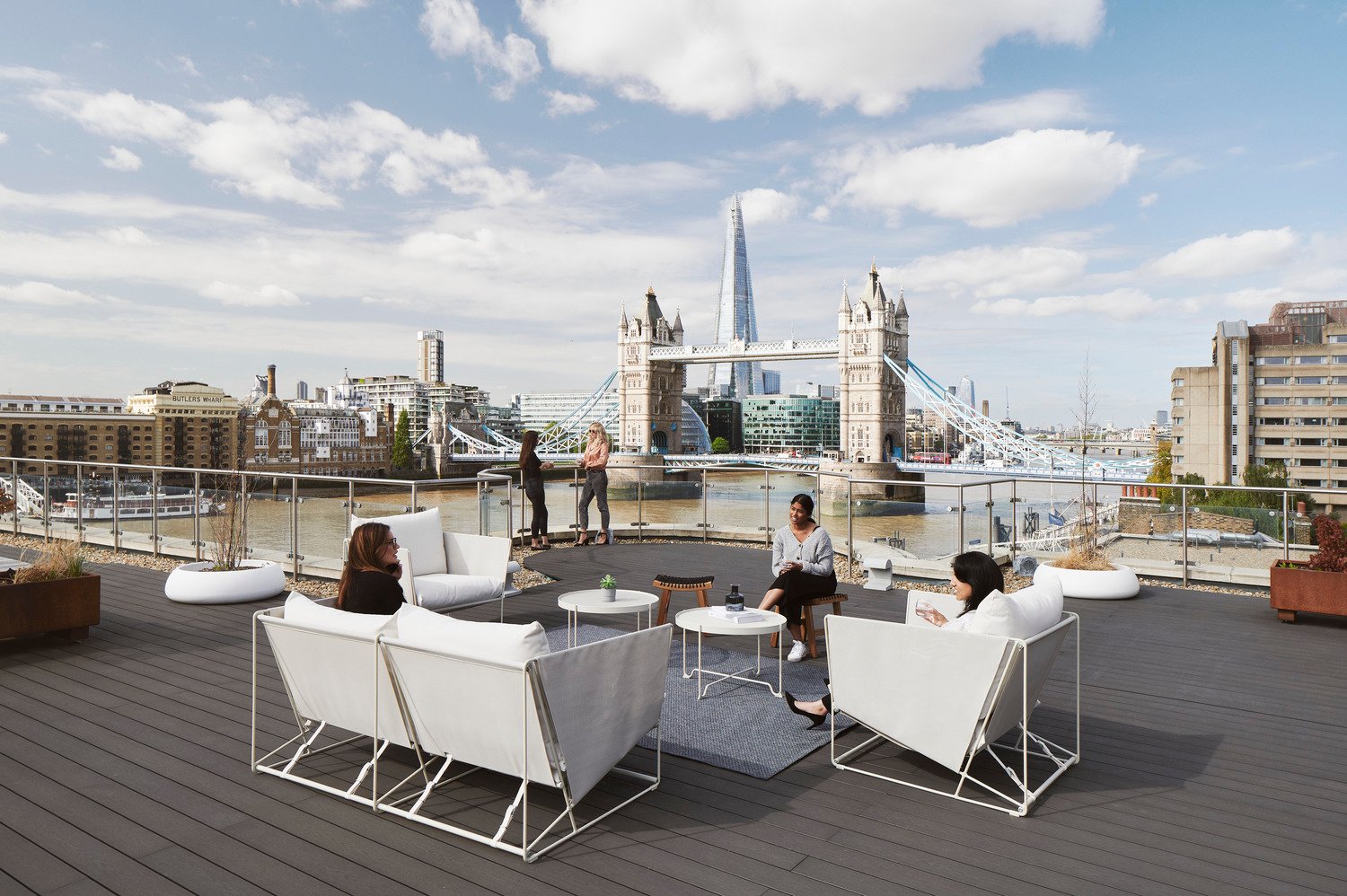 Location is everything
The next challenge was choosing the right location for our 100+ colleagues, and Devon House in St Katharine Docks became the perfect place. Not only was it a great location with transport links, local amenities and modern infrastructure, but it also fit a key theme of stunning waterside views, common in all our regional headquarters. In Sydney, we're by the famous Opera House and Sydney Harbour Bridge; in Boston, our US headquarters overlooks the Harbour and now in London, our studio sits along the Thames with envious views of Tower Bridge and The Shard.
Having previously separated teams across multiple floors, we were eager to create one open plan working floor with neighbourhoods to cater for a variety of workstyles. The aim was to enable better collaboration, focus work and problem-solving with plenty of choice in spaces. With 17 meeting rooms plus a town hall-style space for our in-house events, all are equipped with the latest video conferencing technology for colleagues to reserve with our online booking system or drop in, knowing there's space for ad-hoc meetings.
Future-proofing for the new normal
Our current working world needs an office that accommodates for flexibility, housing fixed users who come in every day, remote workers staying at home and everything in between. Using our Propeller Model, the office design includes a diverse range of spaces to suit each person's working style and needs while in the workplace. Whether it's problem-solving, innovation, or building a sense of community, we've created experiences that make our people want to be in the office rather than feel that they have to be there.
"Even before COVID struck, we were advocating a flexible approach to work. Our culture wasn't about presenteeism, it was about productivity and creativity." – Lawrence Mohiuddine, Managing Director, EMEA
Our studio includes boardrooms, soft seating, benches, booths, focus pods and AV/VC in all meeting rooms to give our colleagues a wide variety of choice depending on their working style – and during the pandemic, this was a welcome change for colleagues with distractions at home or those living in cramped living quarters.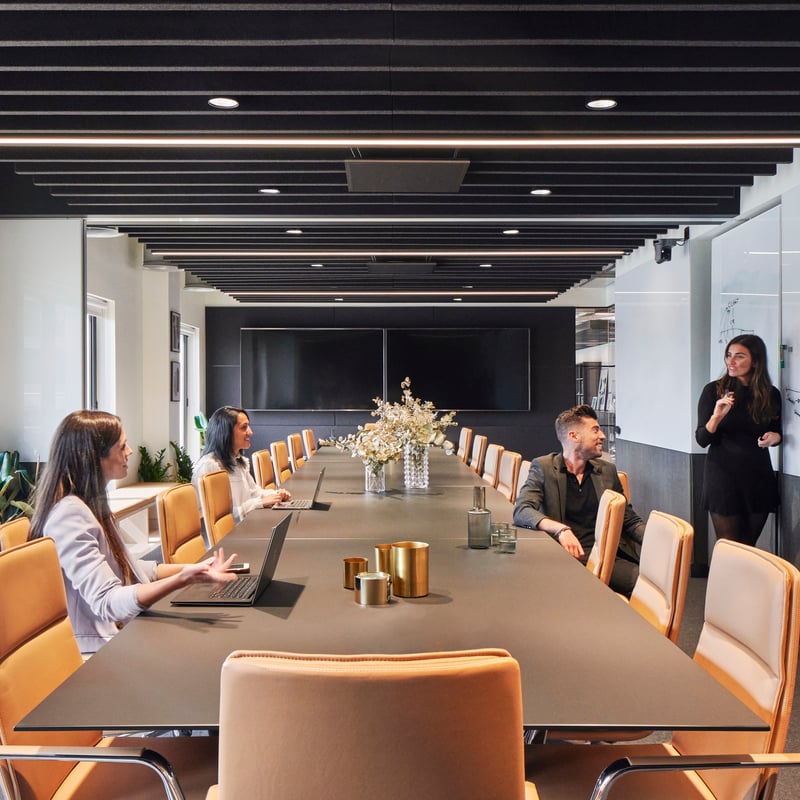 Ho

spitality

in the

workplace
While Level 4 of Devon House is our dedicated working floor, Level 5 is the client hospitality suite. Split into three sections, there's an immersive presentation room for client proposals that can transform into a cinema space for after-hours events, a working lounge that colleagues and clients are welcome to use, plus a bar area that serves healthy juices during the day and can be used for socialising in the evening. The whole floor has a luxurious feel to make our colleagues and guests feel welcomed and help them understand who the people are behind the Unispace brand.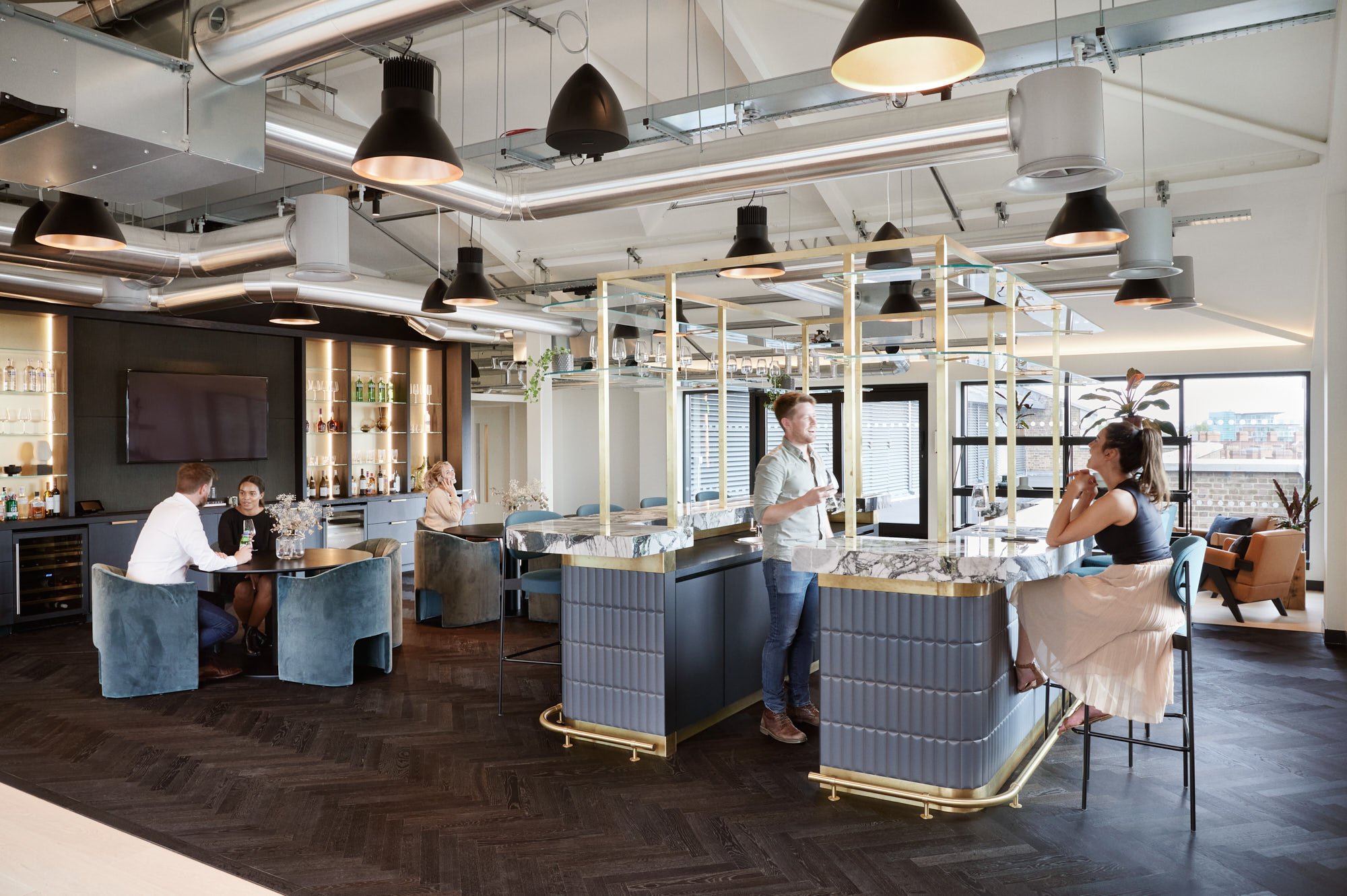 The importance of wellbeing
Wellness was a key factor in our new space and it was important to install plenty of planting and outdoor areas – especially in such a busy city like London. Every desk is height-adjustable for better posture, fixed with large screens that can be repositioned however the user chooses. There's no desk ownership with designated lockers for staff belongings and equipment, people are encouraged to move around and sit somewhere different every day. This helps our colleagues build relationships outside of their immediate teams and improve productivity by working in a space that suits varying moods day to day.
We also wanted to emphasise the importance of taking time out to eat. Without a communal area to eat and socialise, colleagues feel inclined to eat in front of their computer while continuing to work. At Devon House, the cafeteria is right next to the employee entrance to encourage people to make a coffee when they first enter, chat to colleagues and settle in before heading to a new desk for the day. It's also designed to be used all throughout the day for informal meetings, coffee breaks, lunchtime or as a touchdown space to do work. Establishing a better work-life balance with our people was a key goal for us.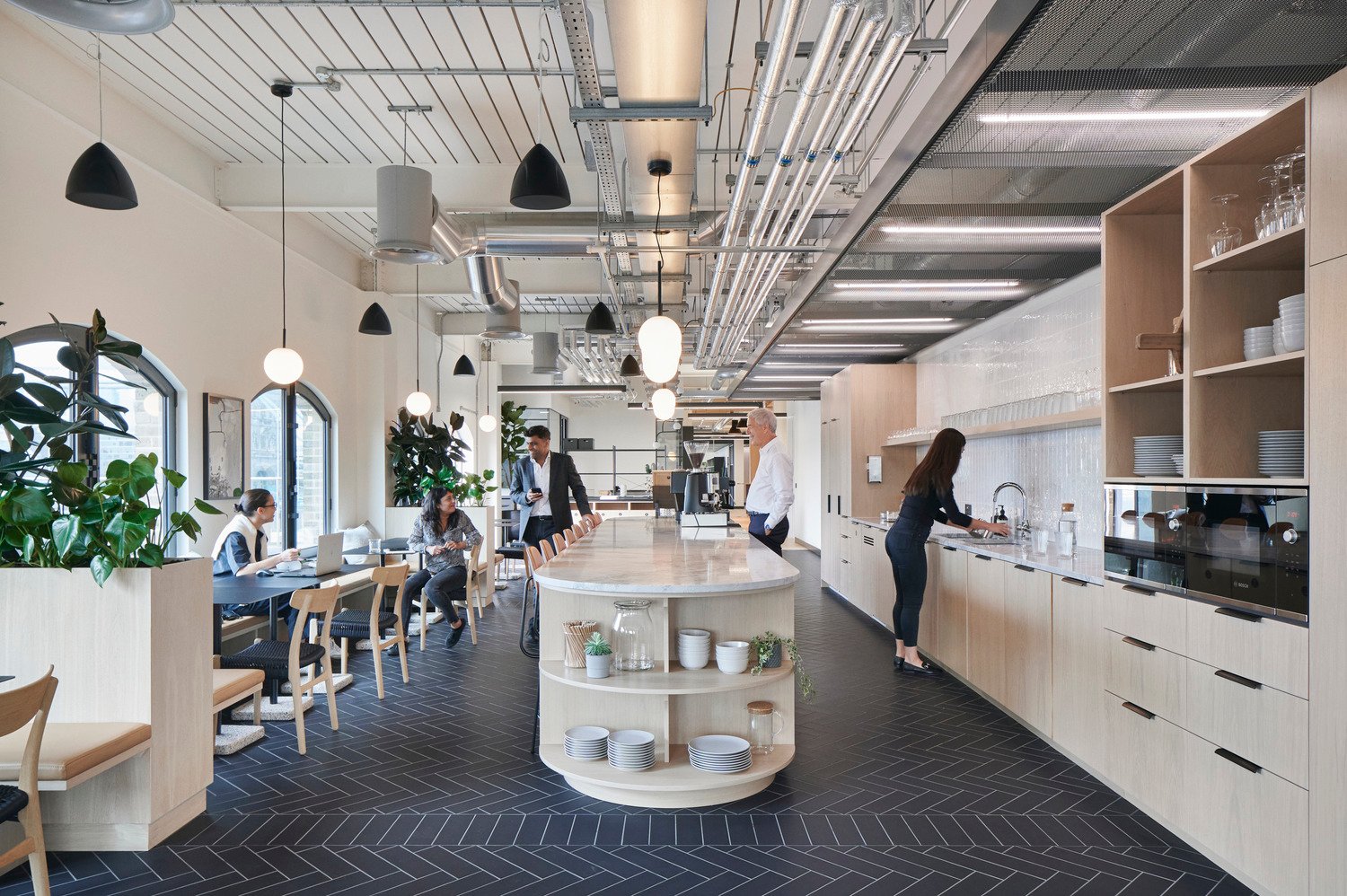 Overcoming challenges

along the way
Of course every project has their bumps along the way – for us it was the global pandemic. While our studio was delivered and finished prior to the Covid-19 outbreak, we were unable to fully test the effectiveness of our workplace with people working from home. However, our studio was future-proofed with The Propeller Model to allow colleagues to come back and use the space as lockdown eased throughout 2020 and 2021. After implementing procedures such as a one-way system around the floorplate, occupancy limits in meeting rooms and an increased cleaning schedule, anyone who wanted to escape to their home away from home was able to.
Want to learn more about Propeller and our unique methodology? Get in touch with the team today and we can show the benefits of our future-proof workplace model.